So here's a fun fact you didn't know about me- George Washington is my favorite President.  Always has been.  When I was younger, my family took a trip to Washington DC for a vacation.  My souvenir of choice was a framed George Washington print. It hung on my wall through high school.  (Sadly, I'm not sure what happened to it, my parents moved when I was away at college and I haven't seen it since). GW is awesome.  Well, I suppose he was awesome.  He was a pretty amazing man, with a very strong character and actions to stand behind that character. I'm not saying he was perfect, but in comparison to anyone that's remotely in the world of politics today, he sticks out like a bright shining star. Plus, he really liked chocolate.  So there's that.  It's like GW and I were destined to be besties.  Or something.
So, naturally, when American Heritage Chocolate invited me to be part of their #ChocolateHistory tour this fall, to visit 3 historical sites steeped in American History- including chocolate, I had no choice but to say yes.  The first stop on the tour was Monticello, Thomas Jefferson's home.  Racquel headed down for that trip, as I was previously engaged, and you can read about her weekend (and yummy chocolate).  Stop two? Visiting Mount Vernon.  George Washington's home. Next up is Old Salem Museums and Gardens.
And you guys, I went.
To George Washington's very own Mount Vernon.
I know. I KNOW! I kept it together (or tried to, but it was really really hard to contain my excitement) until we turned the corner of the path and found ourselves facing Mount Vernon. I was all "OMG!" and stuff, but then it was like wait, WHAT?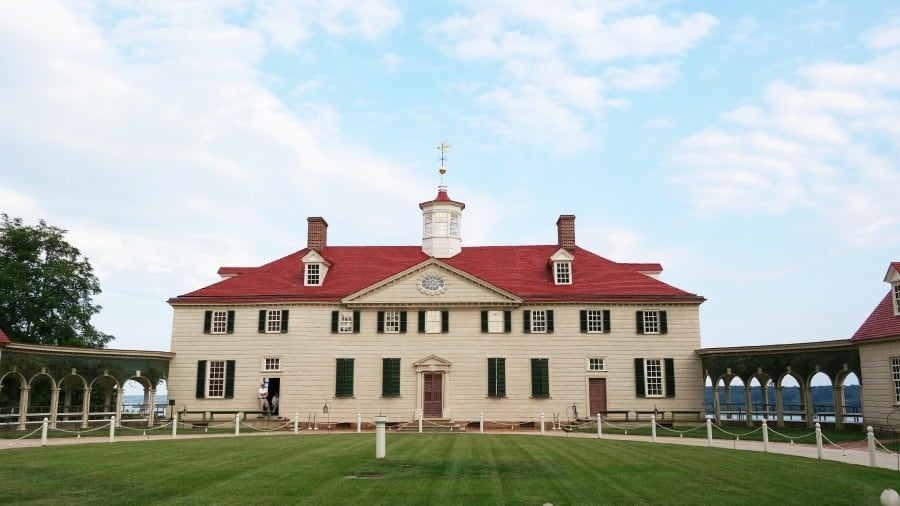 Mount Vernon isn't white anymore. Nope.
Turns out, while history doesn't change, things we find today can change what we know about history. And Mount Vernon wasn't white in GW's day, you guys.  It was not at all.
There's a lot that's changed around Mount Vernon.  I bet that's a little surprising to some of you. It was to me.
This room has been thought of as a dining room for, well, a really long time.  Turns out, it was a parlor, where guests would gather and conversate.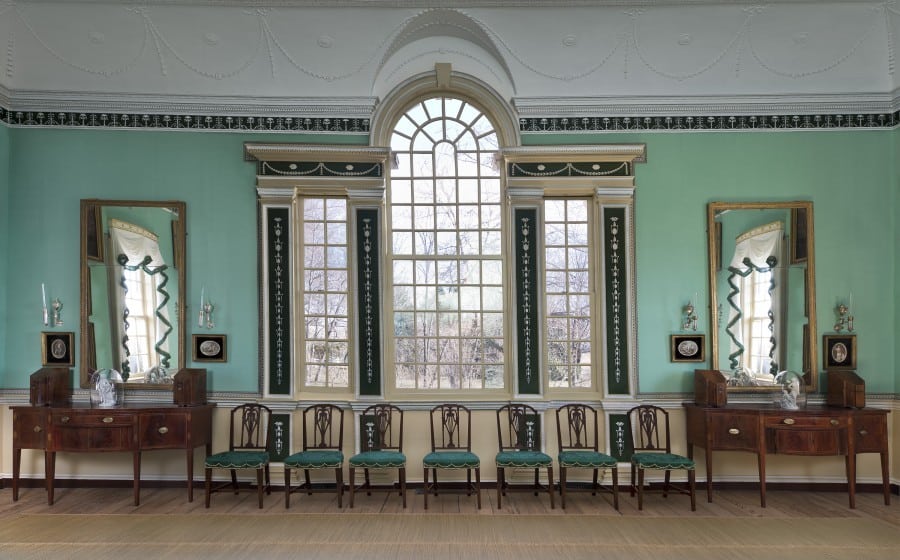 I just have to point out here that the house I grew up in was the same color as the walls of this room.  Coincidence? I think not. (Also photos from inside the mansion are shared with me by Mt. Vernon, as cameras are NOT allowed inside).
Fun fact: Look at the floors, how "plain" they are.  Even with the grandeur of the rooms in Mount Vernon, and the linens, decor, etc., the floors were plain and simple.  It's an interesting contrast.
So once you leave the Front Room, out you go onto the veranda and find yourself looking at this beautiful view of the Potomac River.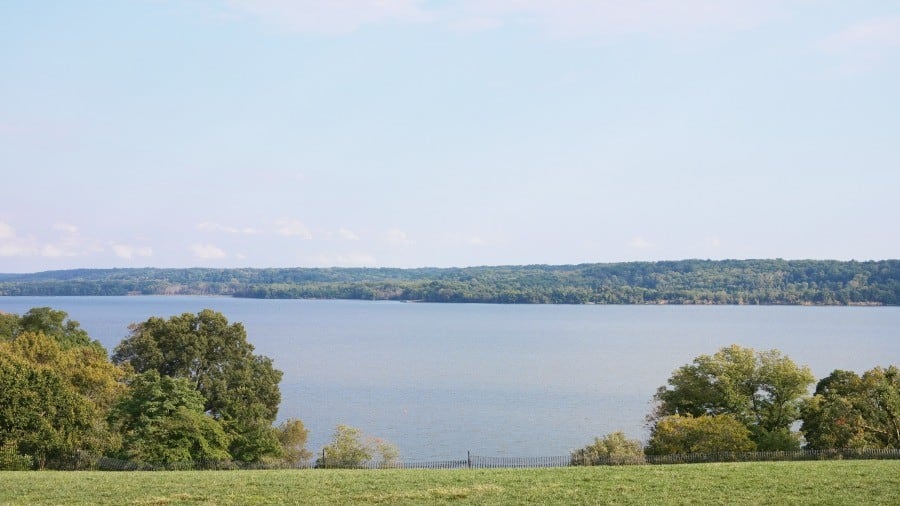 The truly amazing thing about this view is that it's quite the same as it was when the Washingtons lived at Mount Vernon. Thousands of acres on the opposite shore of the river were purchased and preserved- eventually turned into a state park, to preserve this view. It's truly an experience to stand where one of our Founding Fathers stood, to see what he would have seen in the same spot.  There aren't many places in the world that can be said of.
Another change that you may or may not notice- on the veranda, there are 24 wooden chairs for visitors to enjoy this view.  For many, many years, those chairs have been painted green.  Recent discoveries (again, history hasn't changed, but what we know of history has!) have proved that Mrs. Washington ordered 24 brown chairs, not green, and the folks at Mount Vernon painted them brown because of this. (You can see them in the photo below- and do you see the cupola? I climbed up TO that. The view is purported to be amazing. I saw a half second of the view and got quite anxious, so down I went).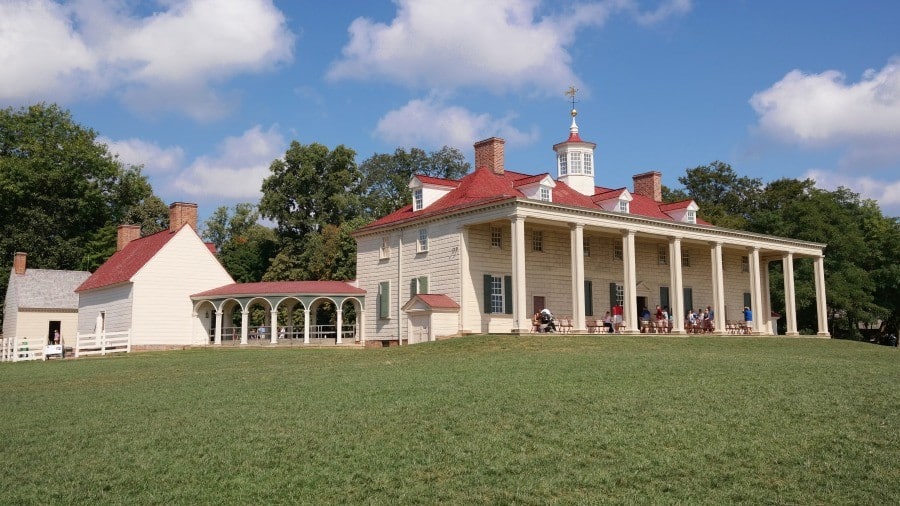 The changes might be surprising to you- they honestly were to me. I was surprised- and intrigued-when I saw this archaeological site behind the kitchen
It's surprising, but also really cool that no matter how long we've known about things, we're still looking, discovering and learning more about our past. It never really occurred to me before last weekend that there would be changes at these historical properties, but starting with my first view of the very-much-not-white-Mount-Vernon, my eyes are wide open now. It's actually renewed and refreshed my interest in our American History, and quite frankly, I think more of us SHOULD be visiting these places, and immersing ourselves in re-enactments.  it helps to make the words from the pages of our history books come alive, and really connect us with those who came before us.  Especially with our American History- we NEED to keep telling the stories, and re-watching them, because we need to keep them alive, and relevant, so that our generation, and the ones to follow, so that THEY will continue to be excited about it and remember all that many gave up so that we can live as we do today.
We actually came upon another archaeological site on the Mount Vernon property- my new friend Kelly and I had gone to see Washington's Tomb, and then to see the memorial to the slaves who'd lived on Mount Vernon as well.  Past that monument, and back a bit, we could see clearly where 4 "shroud graves" lay in the soil, and one of the volunteers working on the area explained to us that the goal is to not discover who lays under the graves, but to know where they are, so careful excavation is being done. I was quite amazed at how clear the graves were- simply by the color of the soil- neat, clean lines around where the bodies lay. We did not take photographs of this- I didn't feel right asking. I do wonder if those areas will be marked off somehow in order to preserve that area in time. The volunteer we spoke with comes down from NY state to help with the excavation-many of the volunteers drive a considerable distance in order to help preserve our history.
Changes have been made to the gardens at Mount Vernon (there's that archaeology popping up again), and there's an entire Education Center and Museum on the property that are worth the stop- and a few hours of your time.
The museum houses many beautiful (and not so beautiful, but historic and important) artifacts.  The Education Center offers an interactive, immersive experience for kids of all ages- even an area for littler kids to dress up and role play. Kids can take the oath of office right along with President Washington.  They can watch a 4D movie and hear the sounds George Washington would have heard. Sometimes, if you are lucky, you'll happen to be at Mount Vernon when there are folks doing a re-enactment like this one below and you can literally feel yourself step back in time.

No changes to Washington's bedroom- but it's here our first President slept, in a very private part of the mansion- not many were (or are) allowed to this part of the house, but we were privileged to be able to see it in person. I was quite surprised to see two closets in a bedroom from this time. The bedding and linens are changed seasonally in this room, but it's quite as it was when the Washingtons lived here.  Actually, once the President had passed, his wife boarded the room up and never went into it again.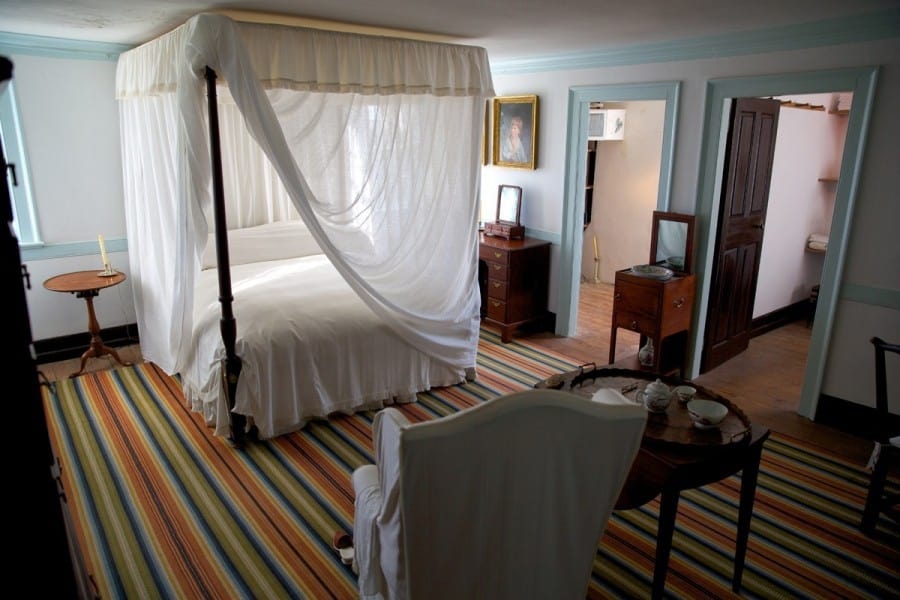 You can see the tray next to the chair, and while you might first think that's a setup for tea, it's really not.  Remember, this was the time of the Revolutionary War, and tea was hard to come by. Most folks drank a chocolate drink- not chocolate as we think of it, but a hot chocolate drink that was thick, and strong, and would wake you right up. You can taste the chocolate as it was when the Washingtons enjoyed it, at Mount Vernon and other historical locations across the country, just look for American Heritage Historic Chocolate. One common food you will see across the globe and throughout history is chocolate- how cool is that? I feel like maybe we should have whole history classes on chocolate now. In all schools. That would be delicious!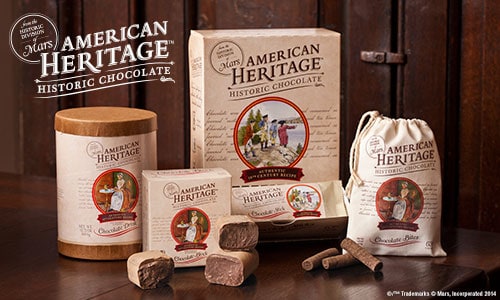 Frequently at Mount Vernon, at fairs, festivals and seasonally, you can enjoy some hot chocolate drink just as our ancestors did in the 1700s.  During the holiday season, the mansion is decorated with greenery and chocolate is served throughout the month. At fairs and festivals, American Heritage Chocolate often has a tent/booth set up where there are demonstrations of how the chocolate is readied for consumption and how it is prepared for drinking (or eating).  If you are lucky, you'll be able to have a little hands-on time with the ingredients. I did, and it was really quite fun!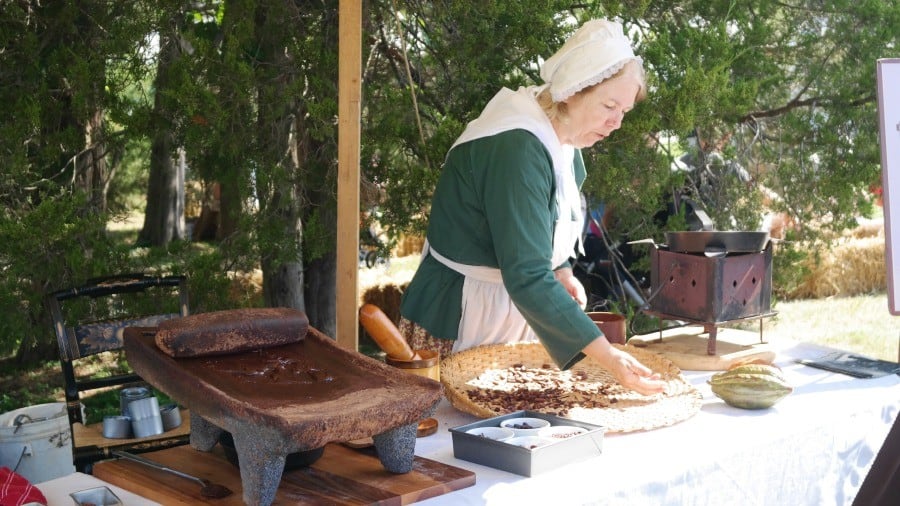 Here's me, working the mano on the metate (lava stone) to ready the chocolate for the molds. (You get mad bonus points if you know what those words mean…and I will tell you…in a yet-to-come recipe post).  See that grin on my face? That was plastered all over my face the whole entire weekend. Oh yes. I'm totally serious.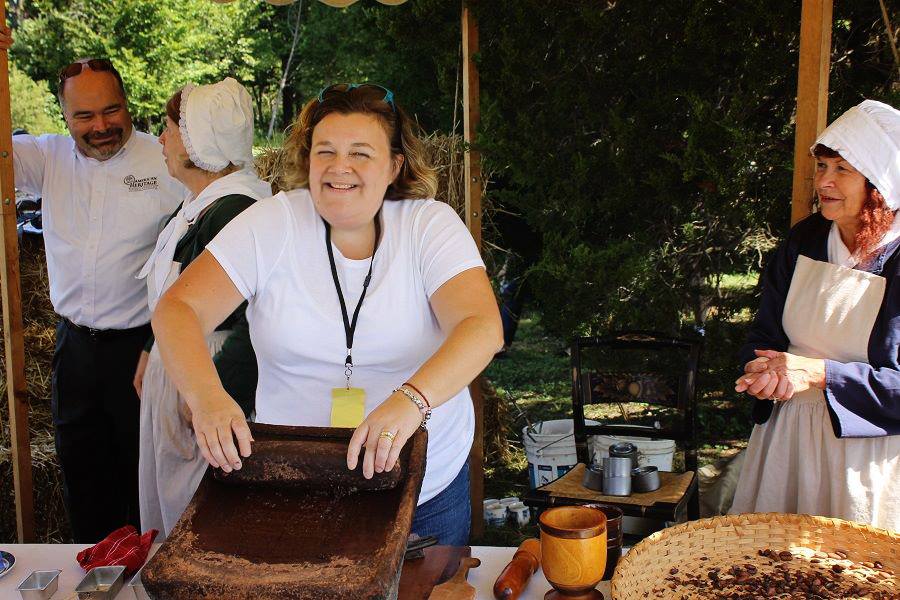 Once you've enjoyed exploring Mount Vernon, and gone to the Education Center and Museum, be sure to stop at the Mount Vernon Inn.  You can enjoy a brownie ice cream sundae made with American Heritage Historic Chocolate- and you can also enjoy some Mornay Chips. Just trust me.  Those are 2 MUST ORDER items on that menu. Plus, you'll want to enjoy Colonial Hoecakes. (George himself liked his hoecakes with butter and honey, along with a Chocolate Cream to drink, but I'm quite sure you'll love the modern take on these hoecakes!)
My only regret about my Mount Vernon visit is that I didn't get a chance to take a photo with George Washington.  Or Martha. I guess I have to go back! I can't wait to bring my family! In the meantime, we have some fun recipes we'll be sharing in the next few months using American Heritage Chocolate!!
This blog post is part of a paid SocialMoms and American Heritage blogging program. The opinions and ideas expressed here are my own.