Spending time outdoors in the summer is one of my favorite things to do. In fact, some of my most treasured memories are of being outside in summer – chasing fireflies with the neighborhood kids in our Underoos (mine were Wonder Woman, totally polyester and totally AWESOME), having campfires up at Camp Nokomis and midnight swims up at the lake house.
…with the summer weather comes a desire by most of us to be outdoors. Outdoors is a great place to be. It generally gets you moving more, you get some vitamin D, and there are endless activities to occupy your time. Plus, other people want to be outdoors so there are cookouts, BBQs, parties and events… all outside!!
BUT…duh…duh…duh…..being outside in summer also means tackling bugs. Mosquitoes in particular. They love my husband so, so much. Poor guy gets eaten alive all the time if he's not super careful to have mosquito repellent on or near his body. My husband isn't alone – according to a survey by OFF!®, 1 in 5 of Americans would be willing to give up all technology for a week to get rid of mosquito bites and nearly four in 10 would rather complete their tax return.
So how CAN you enjoy being outdoors without the pests being so pesty? Is it possible to be outdoors and not have mosquito bites? The answer is yes. There may always be that one rogue mosquito that is determined to bite you, but here are some of my personal tips, along with tips from the experts at OFF!®, to ward off those skeeters without a big hassle.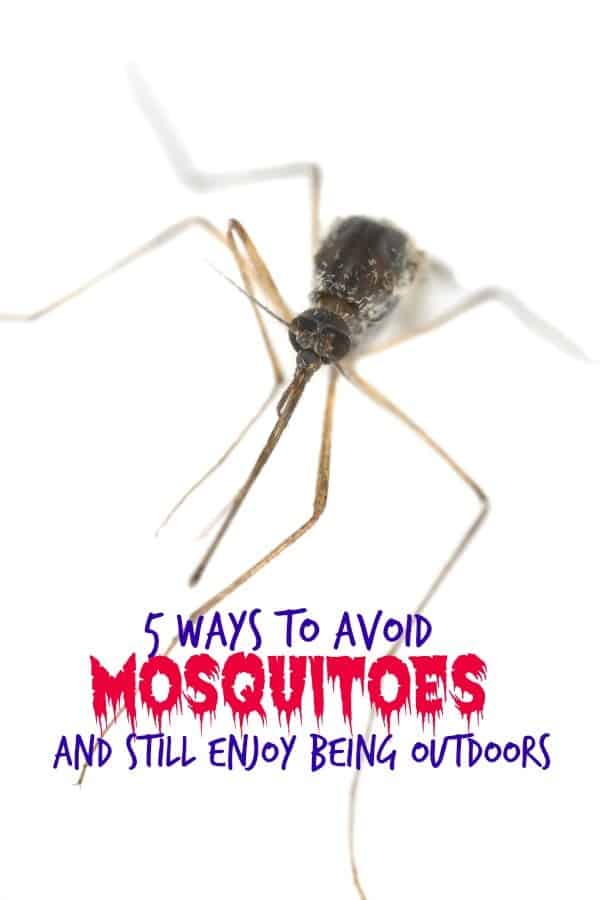 5 Ways to avoid mosquitoes
1.Keep multiple forms of personal repellents on hand
We use OFF!® Clip-On™ Mosquito Repellent ever since my friend Christina showed hers to me about five or so years ago. There have been a few updates to the product since then (like a little red light that tells you when you need a refill and a battery change), but it's the same great repellent…and it doesn't have to touch your skin. Like ever. Clip it on your belt/waistband, your purse, your camp chair or set it next to you. It does not have a scent and the little fan inside the unit makes for head-to-toe protection from those nasty little skeeters for up to 12 hours (each refill last 14 days within opening)! We can finally go enjoy watching fireworks without being bothered by mosquitoes!!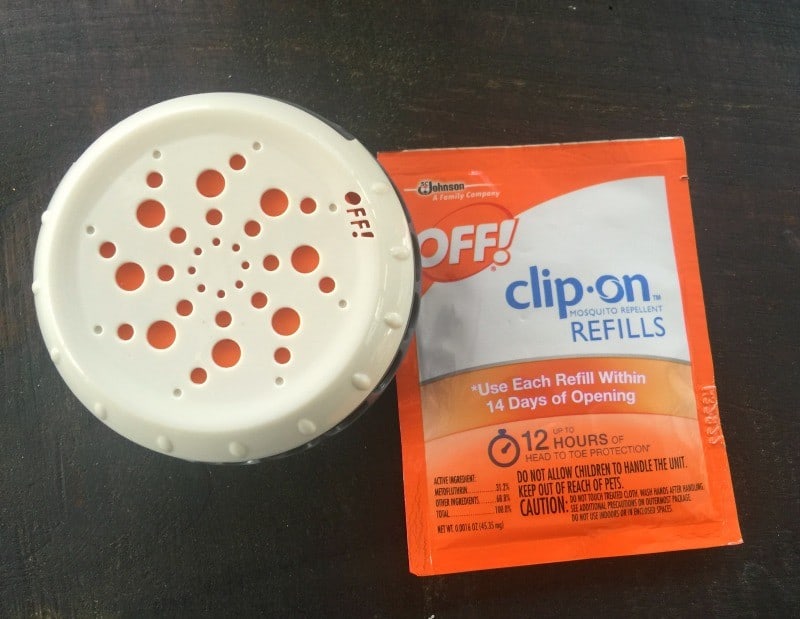 Now there are times when you won't have an OFF!® Clip-On™ Mosquito Repellent or an OFF!® Mosquito Lamp isn't handy. Maybe you're going to take your Scout troop on a geocaching trip or hiking up a mountain with friends? Those are times when you would likely want to have other repellent products handy – like a spray, lotion or even some towelettes.
We always keep the OFF! Deep Woods® Insect Repellent Towelettes on hand in the car. That way, I know if we make an impromptu stop somewhere, we're still covered bug-wise. This is especially good for us this year, as we've just discovered how fun letterboxing and geocaching are and we might be making random stops at any given time. We are not the ones for venturing into the woods sans protection.
2. Use large area repellents
Hanging outside with a group? Grab an OFF!® Mosquito Lamp.
As the candle burns, it activates the non-scented repellent from a refillable diffuser that provides up to 6 hours of protection. OFF!® Mosquito Lamp protects an area up to 10×10 feet and 10x larger than the leading citronella candle.*Based on AC Nielsen XAOC 52-week data ending on 1/31/15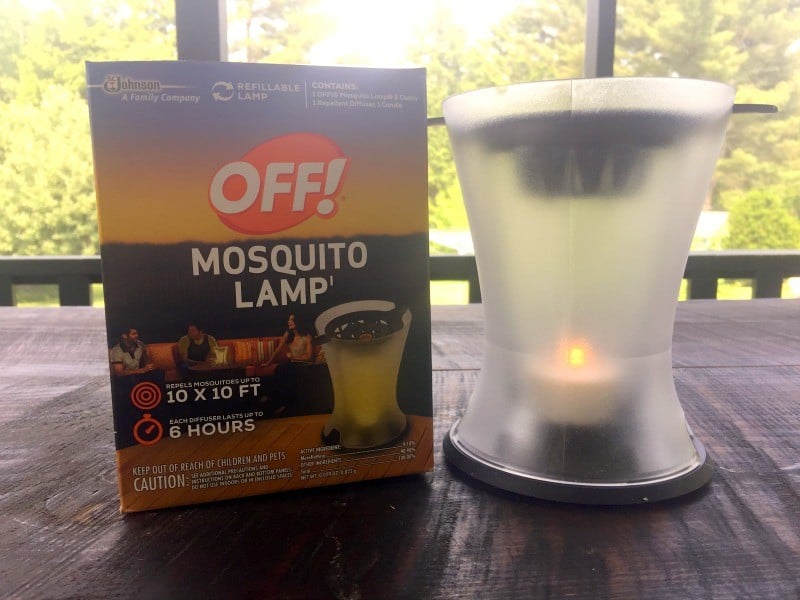 A few strategically placed Lamps can make a huge difference in your own enjoyment of your backyard – and that of your guests!
3. Clean up and dry it out
Standing water is a breeding ground for mosquitoes. Don't let anything that collects water sit in your yard! Keep up with your birdbath by changing its water frequently, empty buckets near the house and clean up other debris around your property where water can accumulate. Less standing water means fewer places for the little skeeters to breed.
4. Wear light colors
This is non-scientific but I've heard it from many sources: don't wear dark colors.  The mosquitoes like them. This one baffles me because if it's dark out, how would they know what color you're wearing? But maybe they see colors in the dark? Listen, I'll gladly forego the red shirt and navy shorts on the 4th of July if it means fewer bites.
5. Let your scent be au naturel
Skip the heavy perfumes, body sprays, scented lotions, etc. The more you smell, the more THEY smell you. Save the yummy smelling stuff for indoor activities.
OFF!® REALLY wants us all to #GetBackOutThere and enjoy the great outdoors, even in our great backyards! There are so, so many ways we can all enjoy the outdoors – from bird watching to running a marathon, hiking a mountain, fishing in a brook, playing frisbee with the dog in a park… I could go on and on. The important thing is that we DO get out there.  Again and again.  This summer, it may pay off in a way you couldn't have imagined.
Share how you "Get Back Out There" on Instagram using #GetBackOutThere and #OffSweeps and you could win $10,000 and more! The bonus? By entering, you'll BE outdoors, and who knows what adventures you'll stumble across along the way. What's YOUR favorite thing to do when you get back out there?
How do you avoid mosquitoes? Share how your family is going to "Get Back Out There" this summer!  
Thanks to OFF!® for sponsoring today's "5 Ways to Avoid Mosquitoes." All thoughts and opinions are my own.