This weekend was Memorial Day.  The official kick-off to summertime.  We celebrated as many did, with a (low-key) barbecue bash for family and friends. We had some friends over for a #BackyardBash and had a blast in between the rolling thunder that kept threatening downpours and lightning every time we got into the pool….but we had a blast and ended the party almost 3 hours later than we'd intended.  That must be the sign of a great party, no?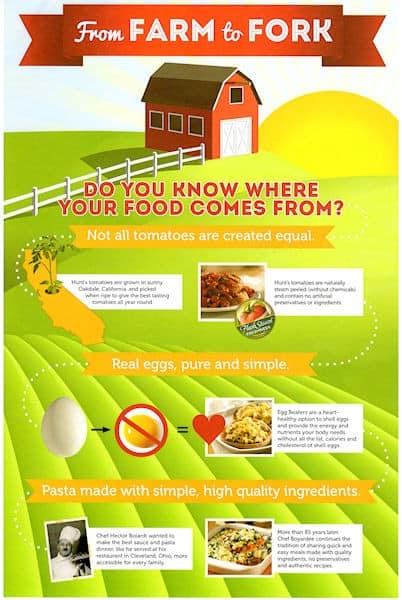 We talk to our kids a lot about where  food comes from.  We grow what we are able, here at home- we're fortunate to have a backyard that provides space to have a large garden, a compost bin area, blueberry bushes, raspberry bushes, and some extra "side" gardens.  We grow peppers, tomatoes, cucumbers (although we call them two-cumbers thanks to my youngest), beans, sugar snap peas, corn, lettuce, potatoes, carrots, rhubarb (check out my honey rhubarb iced tea, because it's a GREAT party beverage!), asparagus, strawberries and herbs.  The big kids actually have their own raised beds this year, we're doing square foot gardening with them- so they chose what would go into each of their beds and planted themselves.  Hands-on learning is what we do best around here, and since the kids love to help garden, this was a really easy way to talk about where our foods come from.  The first graders in my daughter's school are also learning about where their foods come from and are charting things on a graph- like what part of the plant their food comes from: root, seed, plant, leaves, flowers.  It's all very timely!!  We also visit local farms- and not always for the ice cream.  We like teaching the kids about where their foods come from, and how things work.
Before our party, I went to  Ready, Set, Eat to not just get ideas for what to make for OUR party, but also find some tips, money saving coupons, recipes and more! This site really lets you customize your experience- you can search by ingredients you have at home, how long you want to spend prepping the recipe, or find sales for ingredients. This is pretty close to a Brett-proof way to cook. I'm forever thinking oh! I'll make this! Only to find ingredients are astronomically priced and not on sale.  Or I go to make a recipe realizing way too late that I totally forgot a key ingredient.  I need someone to plan my meals and give me shopping lists – it's a dream I have.  Definitely a site to bookmark, because you'll want to go back again and again, and probably back yet again.
We checked out three recipes (some from Ready, Set, Eat)with our family and friends: Taco-roni (using Chef Boyardee)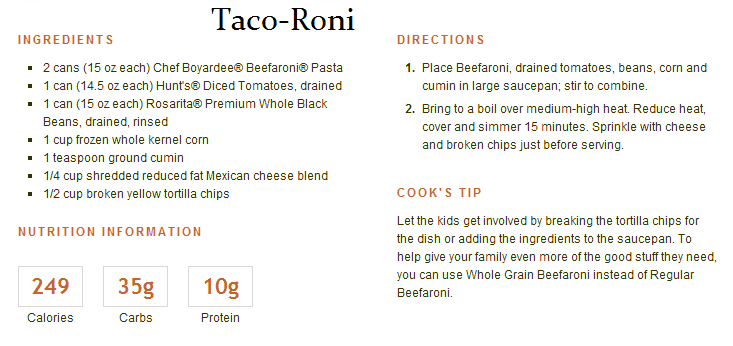 I'm such a dope. I forgot to take a photo of the adult version of this recipe- I did include the black beans for ours, and had the same blue tortilla chips cru
mbled atop…kind of fun and festive- and totally forgot a photo.  The kids' version has no black beans- but I did remember to  put the festive blue chips atop theirs.  We'll make this one again, the kids all loved it- for Fourth of July- and we'll be sure to use blue tortilla chips!
Greek Pasta Salad (using Hunts). This was a very new and different recipe for me but I'm all about feta cheese lately and pasta salad is almost always a hit.  (I decided to leave this recipe as I found it on Ready, Set Eat so you can see that it has indicator for a healthier recipe, plus tells you what is on sale for local stores (not my zip code).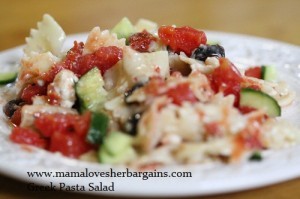 My son and younger daughter helped choose what to make and both were very excited to try the Peach-Blueberry Bread Pudding since we have huge blueberry bushes of our own outside, and love blueberries- but given that my older daughter and me are both allergic to peaches, I convinced them to opt for the ever-popular, marvelous yumminess of Chocolate Chip Cookies (using Egg Beaters).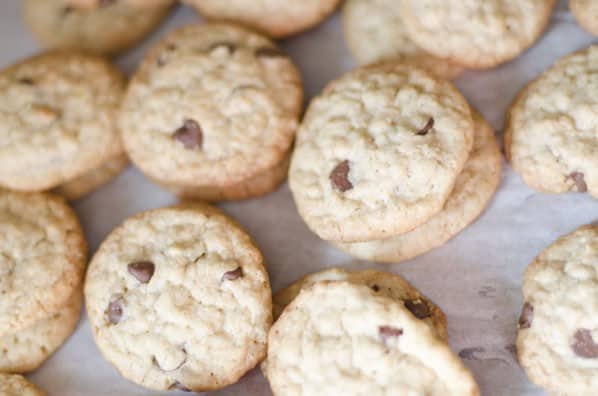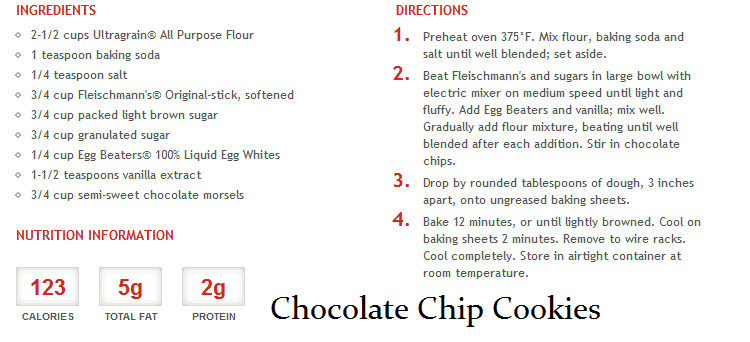 Now, we had some empty cans from these products that seemed to be screaming for us to use them, so we gave them a good rinse and planted some Lemon Basil and Tomato seeds.  We're excited to see how fast these sprout! (Pics to come- they are on my husband's camera at work!)
For the last part of our party we made a little time capsule and included photos of our family, photos of the kids' favorite toys, some glow-bracelets (we're  REALLY curious to see if they will glow in 5 years!!) and we asked each of the kids and ourselves, what do we think we will like to eat most in 5 years…and who will grow it?  So that page is tucked in as well.  The kids haven't decided yet if we should add anything else so we haven't buried our time capsule…hopefully this weekend. What would YOU put in? 
I wrote this review while participating in a campaign by Mom Central Consulting on behalf of ConAgra and received products to facilitate my review and a promotional item to thank me for my participation."