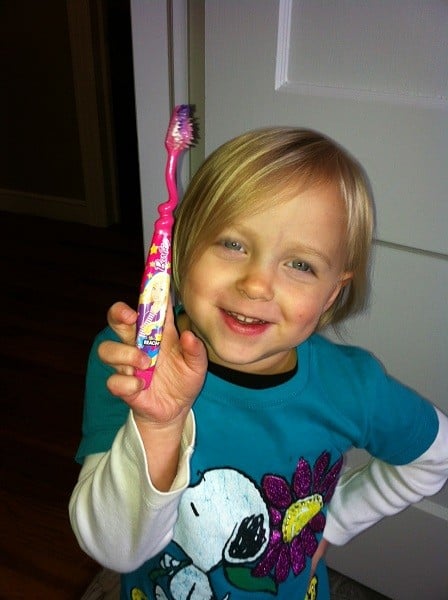 If you remember, we started the LISTERINE® SMART RINSE® Sweet Smart Oral Care Challenge a few weeks ago.  I wasn't sure how this would go- I have had a lot going on myself with family things and was a bit nervous that I'd forget.  As it turned out, I didn't need to worry.  The handy little calendar we were keeping track on was like a magnet for the kids and often they'd ask if THEY could mark of our brushing sessions themselves!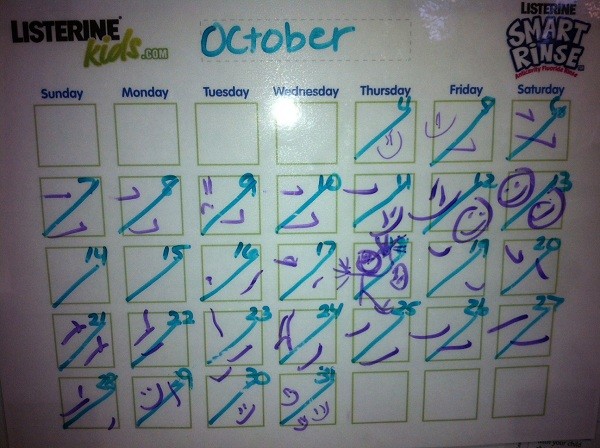 One thing that was hard for us in my house was the SMART RINSE– simply because my littlest one is only 3 and was very upset that SHE wasn't allowed to rinse, because she's a "big girl" now.  At 3 she is clearly not ready to swish a rinse around and spit it out- but when she's got an idea in her head, watch out world.  I came up with a compromise- I add a splash of the rinse to a cup of water, and I brush her teeth with it.  This way I know she's not getting a lot, but she thinks she is getting to be a big kid and is happy.  She's also been working very hard to perfect her spitting technique (what child doesn't think spitting is fun?)!
I was surprised at how easily the kids adjusted to the 3 step process of the Challenge.  Floss, brush, rinse.  We haven't done flossing without missing a few times, to be quite honest, but for the most part, we have.  The kids love flossing.  They view it more as digging for "treasure" and the treasure= sugar bugs.  I'm just glad they are glad to be learning more about taking care of their teeth.
Halloween passed just two days ago.  We were still without power so we were invited to a friends' house for lunch, and managed to not have candy…but after the kids' naps, the activities began, and lots of sugar was enjoyed by all.  Of course we did a very thorough brushing before bed…but, as it does every year, the candy sits taunting all of us.  In the interests of trying to be proactive about their teeth, a few years ago we began to offer the Candy Witch- aka Switch Witch- to the kids.  A few days after Halloween, if the kids leave their candy out in it's container, at bedtime, the witch will come at night.  When the kids wake up in the morning, they'll have a treat for them where the candy was.  It's usually a small token- something like we'd put into a stocking.  The remaining candy is brought to a local food bank or sent over to our troops.  Win, win all around.  It helps keep the kids from eating too much sugar, they still get the trick or treating fun, and we get to share our treats with others.
It also keeps their teeth safer.  Something that I think about often, especially knowing now that I am aware that oral disease is the number one chronic illness for children in the USA.  That's alarming to me, and so very preventable.  This is such an important issue, and we need to work to educate ourselves and our children about the importance of good oral care.
I am really liking the Smart Rinse for ME- my husband can tolerate rinsing with just about anything, but I can't do rinses that are really strong, or super "spicy" so I tend to use the kids' versions.  They are milder and just less likely to make me, well…react.  I'm swishing right along with the kids!
 This is a sponsored post with The Motherhood. Opinions are my own.
0