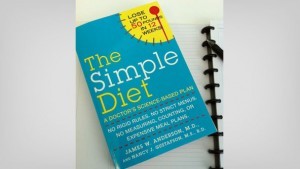 I have some exciting news- I will be co-hosting a chat on The Motherhood on Thursday, January 19 afrom 1-1:30 PM EST.  I'm very excited about this book and diet program, because it works with folks on a budget…something most of us live by!!  I just ordered my copy from Amazon and will be reading it ASAP when it arrives.  I have still been running (albeit infrequently, need to get back in the habit of every other day NOW) but I need to work on my insides too!
What: Weight Loss on a Budget: The Simple Diet with Dr. James Anderson, a live chat on The Motherhood.  We all indulged over the holidays, and now it's time to get back on track. Join Dr. James W. Anderson, author of The Simple Diet: A Doctor's Science-Based Plan, to talk about his effective, budget-friendly weight loss plan.  We'll be giving away five copies of the book, so be sure to log in and share your thoughts during the Talk for the chance to win!!!

When: Thursday, Jan. 19, at 1 p.m. ET.  We will chat for 30 minutes.
Where: On The Motherhood
Who: Dr. James Anderson, author of The Simple Diet, will be hosting the live chat, and I will be there co-hosting along with these amazing bloggers:
Rachael, Empowering Mommy, http://empoweringmommy.com/
Christy, Quirky Fusion, http://quirkyfusion.com/
Nicole, SAHM Reviews, http://www.sahmreviews.com/
Jenn, SuperJenn, http://www.superjenn.com/
We hope to see you there!