Why not make soup for dinner tonight. It's January, it's cold and snowy. What could be better than a cheesy, bacony, potatoey bite of deliciousness. Try out this potato soup recipe. You'll love it!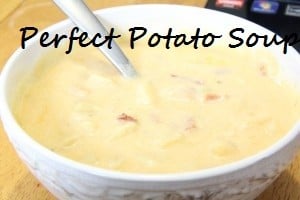 1/2 cup chopped onion ( I mince my onion and celery- I love the flavor added but not the texture)
1/2 cup chopped celery
8 tablespoons butter
5 cups diced peeled potatoes
2 (14 1/2 ounce) cans chicken broth
12 ounces shredded sharp cheddar cheese (I like the shredded cracker barrel cheese- extra sharp cheddar)
1 pint light whipping cream
2 cups water
8 ounces of cooked bacon plus more for garnish
4 tablespoons flour
1/2 teaspoon white pepper
1 teaspoon paprika
1 tablespoon dried parsley
Directions:
Chop onions and celery.

In a large saucepan, sauté onion and celery in 4 ounces of butter until tender.

Add potatoes and broth, bring to a boil.

Reduce heat, cover and simmer for 15-20 minutes till potatoes are tender.

In a small skillet, melt remaining 4 ounces of butter, add flour to make roux, cook roux over low heat until yellow blond in color and set aside.

To cooked potato and broth mixture, add water, cream and roux stirring continuously until mixture thickens.

Stir in the cheese, bacon bits, parsley, pepper and

Cook over low heat until the cheese is melted, stir continuously and remove from heat when cheese is melted.

Garnish with extra bacon, if desired. OR, toss it all into the crock pot on low for 6-8 hours. Add cheese in the last hour of cooking.
** Makes 5 servings, 4 ww points or 5 ww points+   Want more Weight Watchers Recipes? Check out Slap Dash Mom's Weight Watchers Recipe Collection!
5