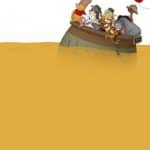 HELLO from Los Angeles!  I can't believe I am here!  What a whirlwind few days, and this day promises to be super exciting too.  Today is "press day" for Winnie the Pooh, so I'll be getting reacquainted with Pooh, Tigger, Rabbit, Roo and Piglet again, seeing some behind the scenes type stuff about the movie, and meeting the voices behind both Pooh and Rabbit! 
 I'm actually listening to the brand new soundtrack for this movie as I type, because the fabulous folks at Disney made up some goodie bags we received at checkin yesterday, including this cd.  It's awesome music and making me look forward even more to my day today.  (Which honestly shouldn't be starting quite yet but I was wide awake at 4:19 so what else is a blogger to do? )  When I say brand new, please note, the first song is the ever familiar and beloved "Winnie the Pooh" song from, well, forever, but Zooey Deschanel & M. Ward put a bit of an updated twist on the vocals and sounds.    This is, in my mind, a 'traditional' movie soundtrack :o)
This is a movie I am really excited about, because the stories of Pooh and his friends have always, always been favorites across my family, and being able to share this with my kids is just going to be so much fun.  I can't wait to see what the folks at Disney have done with the Hundred Acre Wood for 2011!!
Later this afternoon we'll be having a group interview with Jim Cummings, the voice of Pooh and Tigger (and, as we learned last night- also the voice of Ray from Princess and the Frog, and Spongebob Squarepants!!)  We will also meet Tom Kenny, the voice of Rabbit and have a group interview with him today, so if you have questions you'd love to ask them, post a comment here on the blog or on my Facebook page so I try to get them asked and answered!! 

My trip is courtesy of Disney & Dreamworks but all opinions are my own, as always. 
[ad#glam between posts]
0