I remember as a child, how fascinated I was by caterpillars. We had a neighbor who always had tons of woolly bear caterpillars in her yard every fall. I would spend hours collecting and studying them. So when I saw an advertisement for the Live Butterfly Garden, I knew that my children would be thrilled to try it out. This kit allows you to observe baby caterpillars mature into adult caterpillars, form a chrysallis and then emerge as a beautiful butterfly! How exciting is that! This is the perfect summertime activity and a great science lesson. You could easily incorporate this activity into an entire learning experience. At our house we talked about how a caterpillar becomes a butterfly, we checked out books at the library related to the topic and colored pictures of butterflies that I printed off the internet. This product is distributed by Insect Lore , who was generous enough to send us 2 Live Butterfly Gardens (one for each blogger) to try out. They have a great website were you can shop and learn about your insects. I highly recommend that you check out their site. They have some great information about butterflies, ants and other insects. The kids will have a great time learning about them. The first step: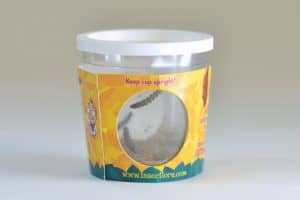 The Live Butterfly Garden is shipped with 5 Live Caterpillars! The kit includes your live caterpillars (shipped in a container with air holes, and food), instructions, a dropper to feed your butterflies and a pop up habitat. The instructions are simple to follow. The first thing you need to do is find an appropriate location for your caterpillars to develop. Not too cold, not too hot and not in the direct sunlight. My son put his on his bedroom dresser and it worked perfectly. Then you just watch! It's amazing to see the day to day growth of the caterpillars. They start out quite small, but grow exponentially each day! After about 8 days, all 5 of our caterpillars climbed to the top of the container and started forming chrysallis'. Step Two: Once all of the Chrysallis's were formed we then transferred them to the pop up habitat. This was really simple to do, but I would recommend having a helper. Simply open up the plastic caterpillar container, peel off the paper inside the lid (with the chrysallis's attached), and use a safety pin to attach it to the wall of the habitat. Attaching the paper to the wall of the habitat, just a couple of inches from the bottom is perfect. Then find a temperate location without a lot of draft to hang your habitat. Again, just watch and wait. One side note: The pop up habitat has a really handy velcro strap at the top. We simply used the velcro strap to attach the habitat to our curtain rod and it worked out great!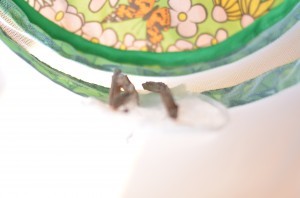 Step Three: Watch your butterflies emerge! After 8 or 9 days our butterflies started to emerge. We were actually able to witness one of the butterflies coming out of the chrysallis. The butterflies popped out, attached themselves to the wall of the habitat and hung out there for a while to dry their wings. They were absolutely gorgeous! The butterflies that come with this set are the Painted Lady Butterflies, which look similar to a monarch. Their life as a butterfly lasts about 3 weeks. We decided to observe ours for a few days and then set them free. Unfortunately, only 2 of our caterpillars turned into butterflies, but this was probably due to an accident involving my 2 year old and using the habitat as a projectile. Oops. Queen Bee and her children also did this activity and they had all 5 butterflies emerge.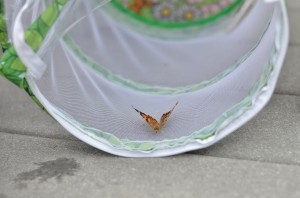 We simply placed some flowers on the bottom of the habitat and used the provided dropper to feed our butterflies sugar water everyday. They seemed perfectly content in the habitat and we enjoyed watching them. When it came time to release our butterflies into the wild, they were quite hesitant. I guess they were cozy in their little home! They didn't fly off right away, but hung around for a while. One of them even landed our my shoe and stayed there for a long time. Overall Impression: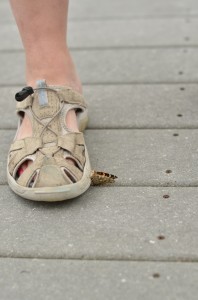 This was a super fun activity that my children REALLY enjoyed. In fact, they are begging me to order more caterpillars so we can do it again! It was a great learning experience for all of us, and it kept or family entertained for weeks. The entire process was really easy. There was no complicated set up or maintenance (which I always love). This kit would be easy for anyone to do at home. Our family highly recommend giving it a try. More about the Live Butterfly Garden: This item retails for $19.99 and was given the Oppenheim Best Toy Award. Three butterflies are guaranteed to be perfect specimens. Please allow approximately 3 weeks for your larvae to develop. Available only in the Continental U.S. and Alaska. Ages 4 & up. Check out all the products that Insect Lore has to offer, they have tons of other products including: Butterflies, Ants, Frogs & Aquatic Life, Insects& Spiders, Ladybugs, Worms, Plants, Education & Science, Fun & Games, DVD's & Books. Any of these items would make a great summer birthday gift! I received a sample of this product to facilitate my review. All opinions expressed are my own.
[ad#glam between posts]
0