This post about what to look for in a sports drink for kids is sponsored by Gatorade . Opinions are my own.
My kids are pretty active. They all do organized sports year round, and we try to be fairly active as a family unit. That means they are working hard at practice, games, meets and competitions regardless of the temperature. We all know how important staying hydrated is, and we work hard to encourage our three kids (and ourselves) to drink plenty of water no matter what the weather is.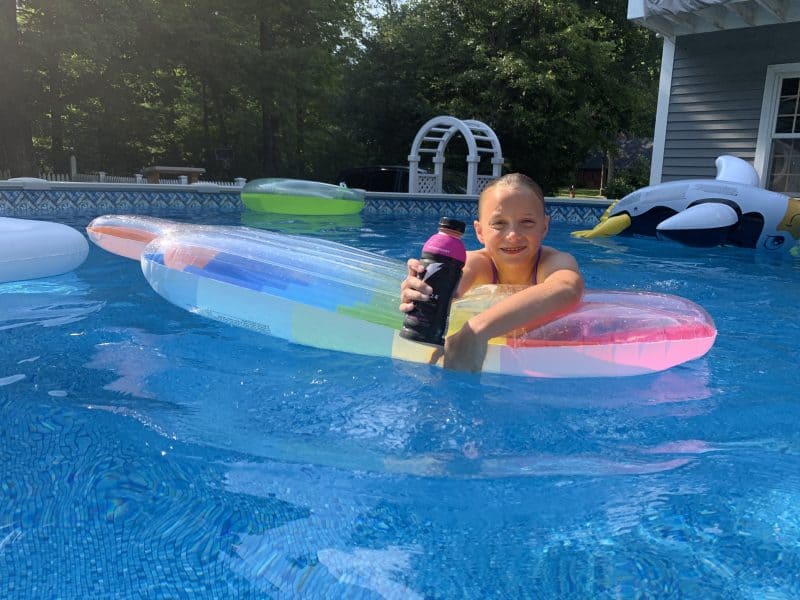 Summer's heat brings a new layer to the need for hydration. In a heat wave, just walking to the mailbox can make you really hot. Playing in the yard can exert you. Attending sports practices or games outdoors, swimming, biking, etc. all require a little extra attention to hydration, especially for young athletes, because kids very easily forget to pay attention to their water intake when they are busy playing.
We are fortunate to have a swimming pool in the yard, although we've told the kids hundreds of times how important it is to drink water even if you are "just" swimming. They don't realize they are exerting themselves because they are nice and cool in the water. But what I've come to learn in the past two or three years is that sometimes, water just isn't quite enough to replenish the electrolytes the kids lose in sweat as they swim, play soccer, ride bikes, etc. I've come to embrace sports drinks and encourage the kids to have them during or after any kind of workout, especially in warmer temperatures.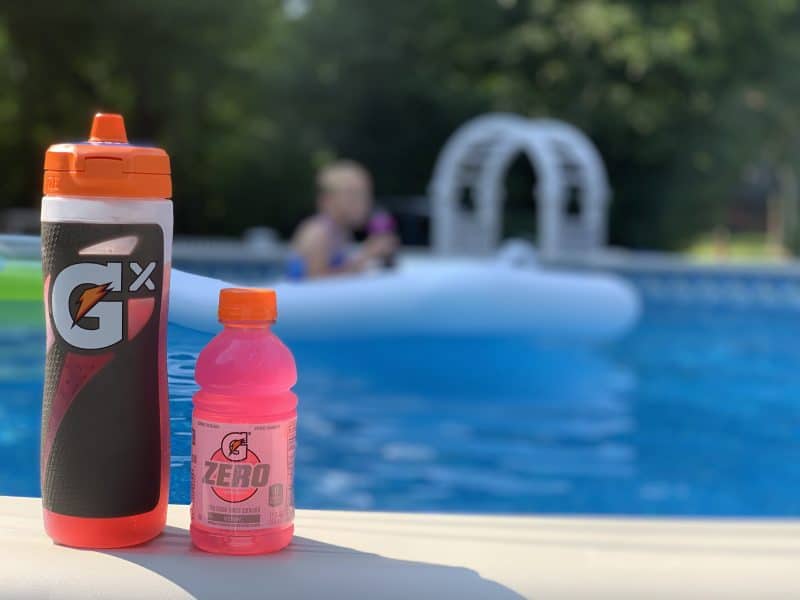 What to Look for in a Sports Drink for Kids
Not all sports drinks are created equal. As we learn more about the human body and hydration, companies like Gatorade are evolving and developing new formulas in order to offer more choices for athletes to choose a hydration option that works for their replenishment needs.
Sports drinks are made with water, salt and carbohydrates in some form.
Many have additional vitamins or nutrients added as well for optimal benefits. They generally have a mix of different kinds of carbs in order to maximize your body's ability to get the sugars to your muscles most efficiently.
Many sports drinks also have antioxidants and vitamins added for additional benefits. Some use the natural vitamins and antioxidants in the fruits which flavor the drinks as the base of the drink.
Carbs in Sports Drinks
Typically, a sports drink should have 6-8% carbohydrate concentration as recommended by the Academy of Nutrition and Dietetics. There are some types of sports drinks without carbs, like Gatorade Zero Sugar Thirst Quencher, for folks like me who are paying attention to carb intake or have medical needs that leave them needing to be consuming less carbohydrates. G2 has half the sugar of the original Gatorade Thirst Quencher, but again, all of the electrolytes.
Salt in Sports Drinks
It's salty. The electrolytes are salty, anyway. Electrolytes are salt minerals that help keep your body's fluid and ionic balance. They are what replenishes our bodies from a good workout.
Electro-what?
Electrolytes. Sodium, Potassium, Calcium, Magnesium, Chloride. Salt minerals.
Our tears and sweat taste salty because they ARE salty – and if you're sweating enough to taste, you're working hard enough to need some replenishment of electrolytes because you're experiencing electrolyte imbalance. 9 times out of ten, if not more often, my kids leave practice with hair dampened from sweat, red faces, and chugging from their water bottles. They work hard when they go. I see those signs and encourage a sports drink to get their systems back into balance.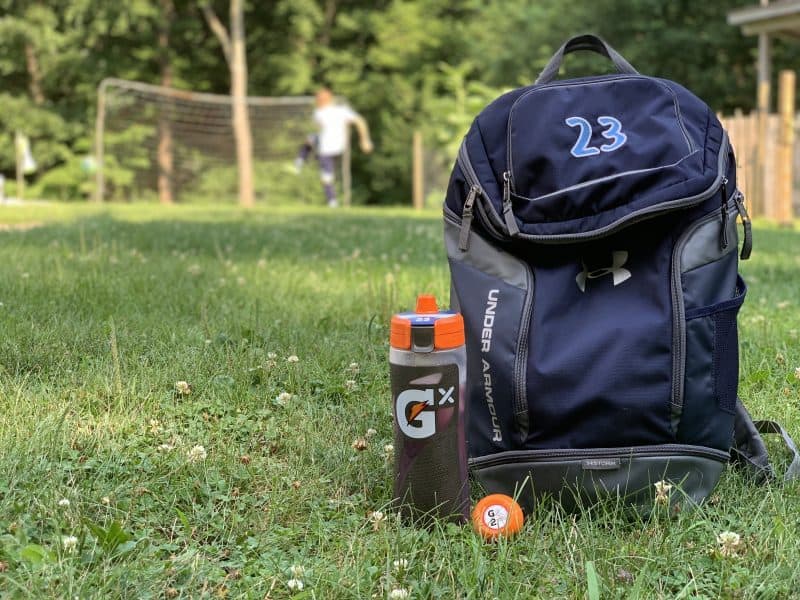 Sugar, sugar, aw, honey honey
Sports drinks aren't all the same. Obviously different companies have different ingredients and recipes, but there are also different kinds of sports drinks meant for different kinds of athletes. Athletes looking to curb caloric intake and/or sugar intake will look for a low-calorie or sugar free sports drink, which will still have the electrolytes their bodies need to replenish what they lost during their workout. Athletes looking to bulk up and build muscle aren't likely to look at lower carb options, and may choose to drink their sports drink up to an hour before their workout and again after.
As a mom, I'm aware of sugar intake for my family, and I also appreciate that there are options with less and no sugar on the market now. There are times that we've been super busy and eating out or on the run a lot and that tends to go hand in hand with higher sugars and carbs- so on those occasions, I absolutely look for lower sugar options for the kids.
When do you consume your sports drink?
Some athletes want to fuel pre-workout, others during, and some after. Some do a combination of all of these. You want to read your labels and know what the sports drink you are purchasing is meant for. You probably aren't going to want to go with a carb free sports drink for your child after a long day at a soccer tournament when they've played four games, but on a regular practice day? That may be a better time to go lower carb or no carb.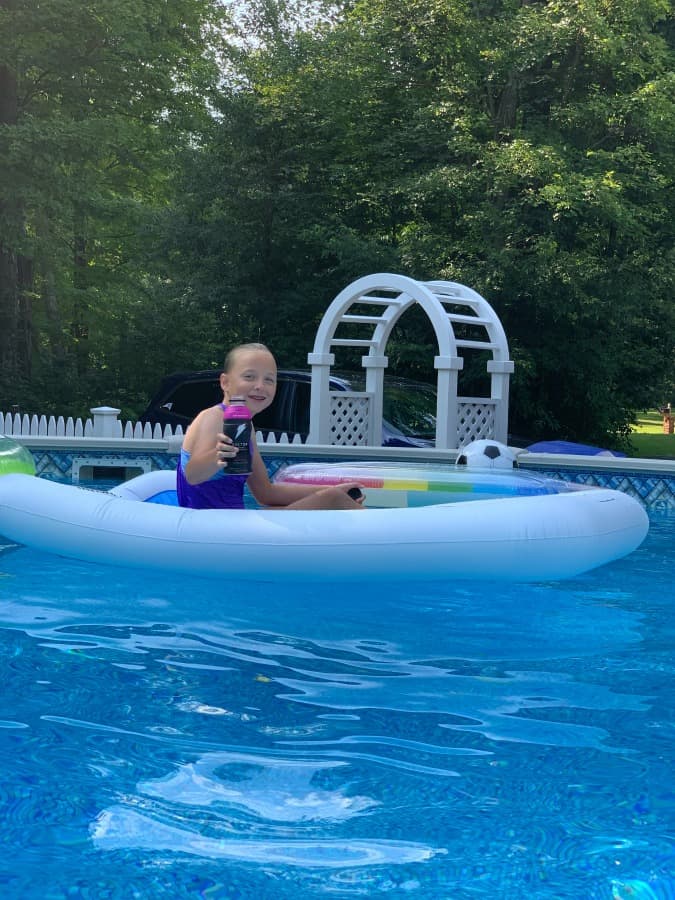 My girls both prefer to have a sports drink after a workout, game, bike ride or practice. My son likes to have his alternately with water during those same times, and then finish it when he's done working out. They know what makes them feel best, and I feel that as long as they are getting enough of what they need for water intake as well as replenishing what they exerted out, they can control their timing.
My oldest has 4 hours of gymnastics 3 days a week. Those are not days when I offer a zero sugar sports drink, because even with breaks, I know her body needs it. Between conditioning, drills and working skills and routines on equipment, she gives a LOT during those workouts and needs replenishment. Quickly.
Ingredients – What's in your sports drink?
Different sports drinks have different ingredients. Obviously the big ingredients are pretty similar across the board- water, salt and most often, sugars. But make sure the sports drink you reach for has enough the right electrolytes, like salt and potassium, to replace what's lost in sweat. Read your labels and make those purchases based on what you want to see on the ingredient list- and by what your kids will drink. The best sports drink in the world won't do anything for your child if s/he doesn't like the taste and refuses to drink it!
Gatorade has all of us covered. It has enough sodium to keep your active kids cool in the throes of a heat wave and a whole variety of hydration beverages to choose from – from Gatorade Thirst Quencher to the new BOLT24. Gatorade Thirst Quencher offers the sugars my son and daughter need during soccer practices. And Gatorade Zero gives my kids the electrolytes they need while swimming outside in the summer!
My kids LOVE Gx bottles, which come with a variety of Gatorade formula pods, and they're having fun sampling different flavors and doing some mix and match when a sibling is filling theirs as well.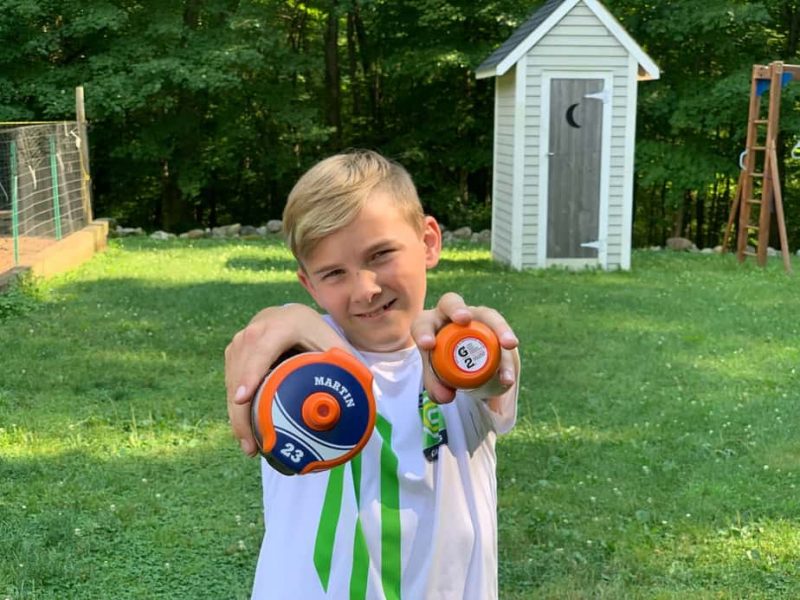 So, what do you look for in a sports drink?
Water. Salt. Sugars (most of the time). When looking at sports drinks for kids, I do not recommend looking at any sports drinks that include caffeine. While some pro athletes need caffeine, kids don't. Just look at what the nutrition label says, make sure it has enough sodium, find a flavor and variety you know your kids will drink, and go from there. That's it. Don't forget that dehydration happens easily in the warmer months, even if the kids are just playing in the pool, and they are going to need to stay hydrated and replenish lost electrolytes.