A lot of things can happen within your kitchen; after all, it's a very traffic heavy part of your home, and you're going to be using it multiple times a day, and there are a lot of appliances using up gas and electricity within that room! And because of this, a lot of breakdowns and other issues can occur within your kitchen, and if you're not someone who's up to date with their DIY skills, what are you supposed to do?
What's Going On In Your Kitchen?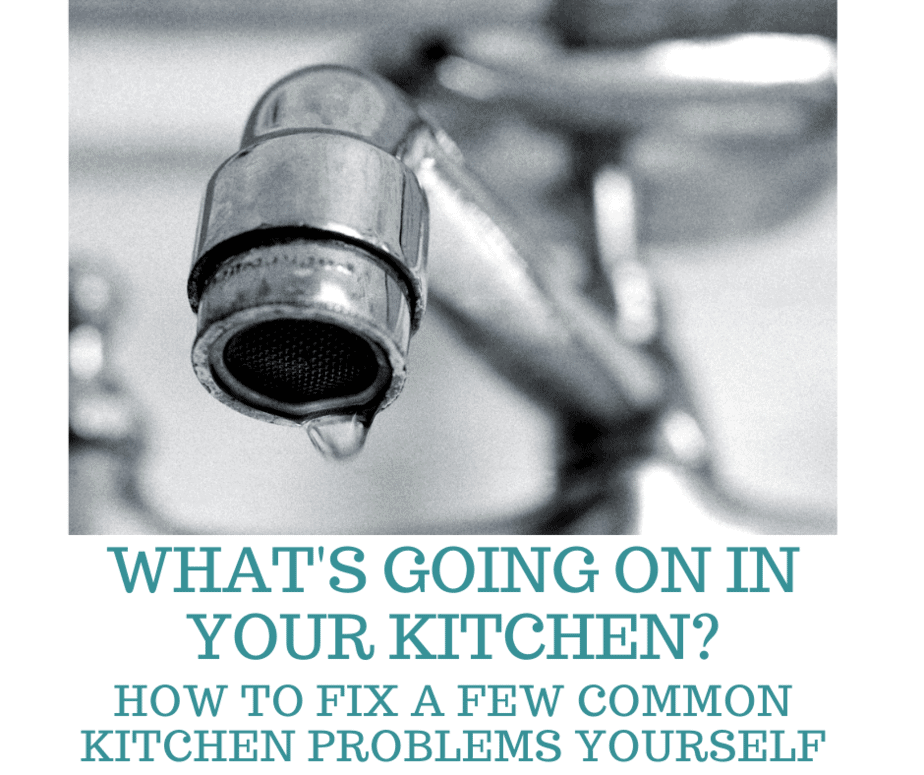 Well, it's time to work out what's going on in your kitchen. And most of all, it's time to learn how to fix a few common problems that hamper your ability to cook up a storm and enjoy a good meal every evening. So, here are a few things to look out for from our guest writer today.
A Clogged Sink
A clogged sink can cause a lot of problems; worst of all, you can't pour anything away, and that's a sink's main purpose! So, when you've got a blockage and you can't seem to shift it, no matter how much boiling water you pour down the drain, it's time to get your hands a bit dirty.
If you don't have a plunger to make use of, don't worry. And if you don't have any cleaning products to make use of either, you can pull some ingredients out of your cupboards. For example, baking soda and vinegar works quite well together when poured down a drain, in a ratio of 1 to 1. Cover up the drain, wait about 15 minutes, and then run your water again.
However, if this hasn't worked. It's time to get down under the sink and check the pipe yourself. You should be able to unscrew it, as long as you've got a bucket to catch any water that's trapped in there, and you've also turned the water off at the mains for a little while. Be sure to have gloves on whilst you're doing this too! Pull the blockage out of the pipe yourself, and be sure to throw it away in the outside bin, to make sure no smells come out of your sink or kitchen bin.
A Broken Kitchen Drawer
A broken kitchen drawer isn't immediately a disaster, sure, but it can be quite annoying, and who knows how many forks, knives and spoons are trapped behind there? So you're going to need to do some work here – the drawer is one of the easiest things you can fix yourself, so don't worry about making a mess here.
Start by pulling the drawer out all the way, so you can work on it properly. Make sure you've got a screwdriver here, to check the bolts and screws, and then figure out what's going on. Is it not sliding properly? Has something fallen out? Maybe you've got a broken bit of wood back there, because your drawer is quite old and has been through some tough times?
Don't worry, you can fix all of these problems with a little bit of time and elbow grease. And if you want to know where to source the right materials for gluing on wood or changing the screws, be sure to follow the guides available here for a more in depth look to fixing both the front and insides of the drawer in question.
The Fridge Isn't Cold Enough
First of all, make sure the fridge is plugged in properly, and that it's getting enough power from the socket it's connected to. Similarly, make sure you've got the right setting within the fridge, because this may be the source of your problem. If both of these are just fine, make sure you pull the fridge out from where it stands and make sure the vents aren't blocked either (even by dust!). You may also need to check the condenser fan, to ensure there's no blockages there either.
Whilst we're here, why not get to know your fridge and how it works? Because some very common problems can crop up all the time within the fridge, and a lot of your food is stored within it. Indeed, if your fridge is old, and seems to be going out the door sooner rather than later, you're going to want to either replace the entire thing, or work out which parts within the system could do with upgrading. If your fridge is older than 10 years, be sure to get a whole new unit. But, if you're on the frugal side, or you don't want to get a whole new fridge (unless the insurance could fork out for you), finding spare parts is the best way forward.
First of all, make sure you know what model of fridge you're working with. For example, if you've got a Westinghouse fridge freezer, you're going to need to look for westinghouse spare parts, rather than using LG or Kenmore suitable parts. Then you're going to need to work out how to take your fridge apart in a safe way – here's a little tutorial you might want to follow, if you have no clue how to approach this:
If you've got some screwdrivers on hand, this shouldn't be too hard. And then you're probably going to want to follow a tutorial or two on how to replace a door seal or an ice compressor, for example. These are common parts that might stop working and need some TLC.
Are You in Charge of Your Kitchen?
You deserve to know what's going on in your kitchen; most of all, you need to know if anything dangerous is occurring, to ensure you can do something about it. And a kitchen doesn't have to be daunting to tackle either – you can do a lot of DIY repairs here!
So make sure you keep the above tips in mind, and you've done a bit of research, and don't be afraid to flex your DIY muscle either – just be safe whilet you do so.