Children's birthday parties are the perfect time to make memories and celebrate another year of your child growing older. Creating a birthday party that is both memorable and fun can be easy when you give these 10 tips for planning the perfect children's birthday party a try. The key to a great party is keeping it simple and of course having as much fun as you can. Pair these must haves with Hoodsie Cups and you have the perfect recipe for birthday party success. Why Hoodsie Cups?  Seriously, I think every single birthday party I attended (or class party at school) had Hoodsie Cups.  All of them.  The birthday song would be sung, the cake was cut…and it was ON when the that bag with the 2 stacks of those magical little white cups with red polka dots came out.  Party time!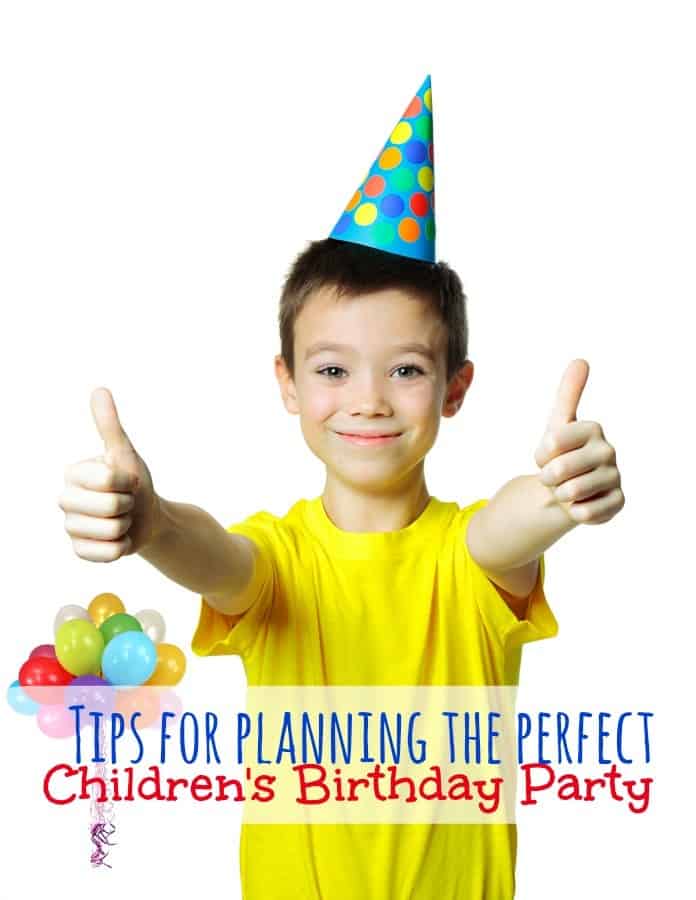 Here are some helpful tips to help you plan a birthday party your child will always remember.
1. Bring children in on the planning.
Adults tend to want to control things, but a children's birthday party is the perfect time to let loose. Let the child give some feedback on what they want and what seems like fun to them. They will enjoy being a part of the planning process. A friend of mine was planning this amazing themed party for her son last year and he told her what he wanted most was to run around his favorite playground and have birthday cake with his buddies.  She saved a ton of money and EVERYONE had an amazing time.
2. Appeal to the senses.
Kids love using their senses to explore. Provide them a chance to use all their senses. Music appeals to hearing, decorations to sight, and of course cake and Hoodsie Cups for taste- and with 3 oz of half chocolate and half vanilla ice cream, how can you go wrong?   Have crafts for them to enjoy the sense of touch as well! Kids are all crazy about Kinetic Sand right now-make your own!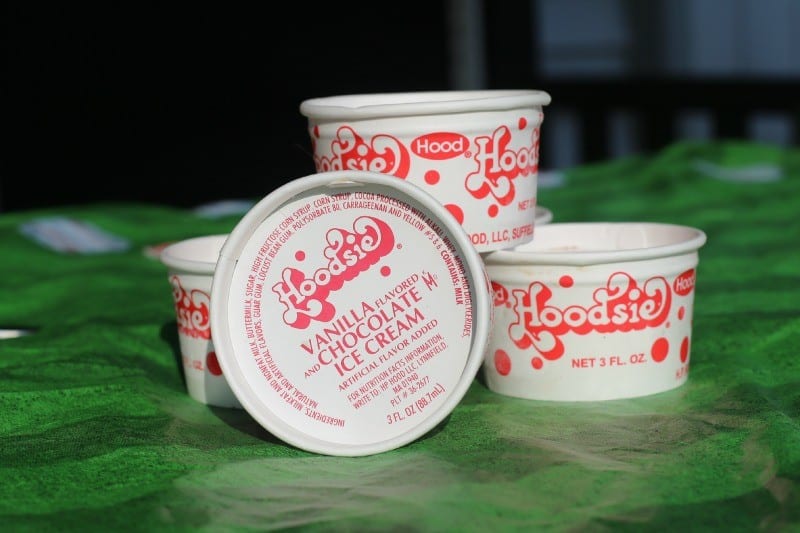 3. Make your own décor.
Birthday party décor doesn't have to be pricey. Try some colorful balloons and let children design the rest. Make your own signs, banners, and centerpieces using dollar store crafting supplies. Use the balloons as party favors, and you have less mess to clean up when you are done!  Tie a simple treat onto the string and your mess leaves with the party favor. Use things like themed cupcake wrappers to portion food into serving sizes- a little bit of them can make a big impression with attention to detail like that!
4. Don't forget the music!
Turn to Pandora or another free music station to set the tone of the party. Choose from one of the many family friendly children's music stations so you have the perfect backdrop for your bash.
5. Opt for self serve snacks.
Don't get so fancy with food that children can't feed themselves. Provide a buffet of hands on snacks and foods that are easy to grab and go. Individual cups of veggies and dip?  Yes, please. Fruit kebabs on a stick?  Absolutely. Hoodsie Cups help you avoid the hassle of scooping out ice cream and instead give kids the chance to grab their own dessert whenever they are ready…and they are just the right serving size (3 oz) for kiddos.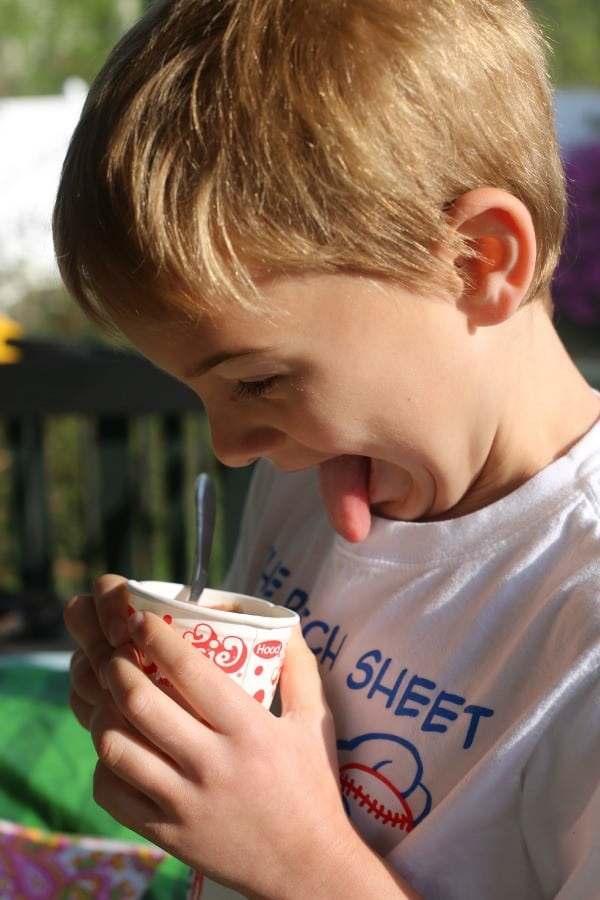 6. Don't forget the games.
Kids love birthday party games. Opt for easy and old fashion games such as musical chairs so kids have the chance to get active and have some fun! If it's summer, set out a few buckets and a whole bunch of squirt guns! Pop some black cutout circles onto a few rolls of upright paper towel rolls and go snowman bowling… simple can be just as much fun as anything else!
7. Let the children provide the entertainment.
Have the children do a talent show or dress up and do a fashion show or skits for entertainment. Chances are they will love the chance to get creative and make each other laugh.
8. Provide activity stations.
Provide simple activity stations that include things like crafts, games, and snacks that children can rotate among. This will keep them busy and keep boredom from setting in. Crafts can also double as the take home favor, so you're getting a two-fer that way.  Set out materials to make Kinetic Sand- with several color options, kids can make their own color sand and bring it home to play with later.  Feeling industrious?  Make cute containers for kids to package their sand in.
9. Don't forget the party favors.
Hit up the dollar store for simple party favors that children can take home. Bubbles, sidewalk chalk, and small toys are all affordable and practical options.  Or, as I mentioned above, give each guest a balloon as their favor- you can even attach a small trinket to the balloon with their name on it.  Having a summer party? Tie a small water gun to the balloon.  Double duty! Look at the craft ideas you have for the party- if the kids are painting bird houses, that's absolutely a great favor!
10. Keep clean up simple.
You hate to have a huge mess when everyone leaves. Put food and drink out in single serving sizes- less waste. Opt for disposable party products and keep large trash bags on hand so clean up is a breeze!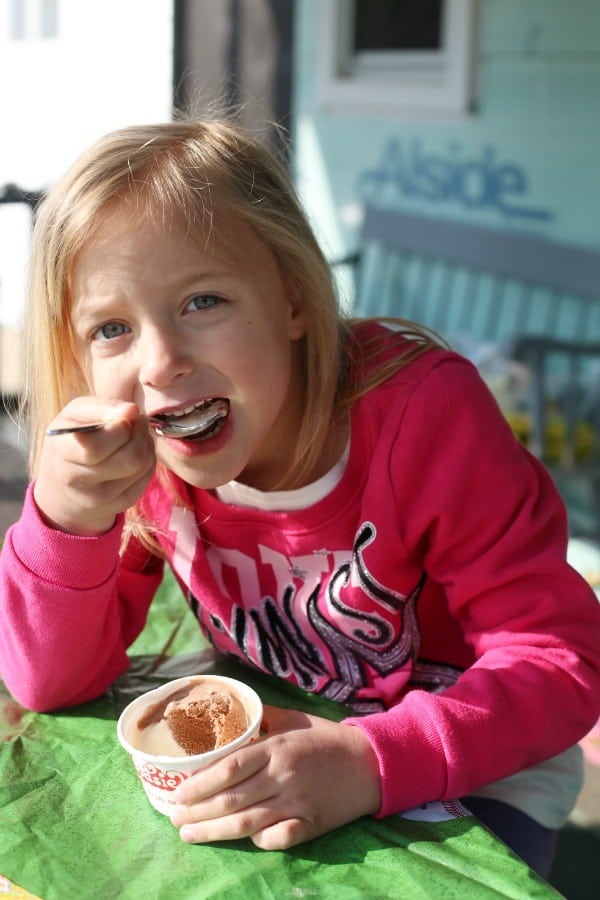 See how simple throwing a children's birthday party can be? Give these 10 party planning trips a try and you can plan a birthday party that won't soon be forgotten!
I received compensation from Hood in exchange for writing this post. Although this is a sponsored post, all opinions are my own.