I'm participating in a sponsored campaign to support Straight Talk Wireless' "Give a Minute, Help Make-a-Wish" campaign at Walmart stores through my affiliation with One2OneNetwork.  Opinions are my own. Just yesterday, as I was heading to church, I could hear what seemed like endless horns honking.  I got several texts all in a row asking if I knew what the horns and sirens were for.  I didn't at the time.  Later, in a town Facebook group, someone indicated that the sirens and horns we had all heard were part of the 590+ truck convoy raising funds for Make-a-Wish!
Having had friends who have directly experienced the wonderful and amazing things that Make-a-Wish has to offer, I will always support their causes and campaigns.  My friend Roxanne is at Disney World right now with her Liam for their Make-a-Wish trip, and another friend's son Henry was having a special playroom built that would be accessible for him through Make-a-Wish (he passed away before it could be completed).  Other friends and family have enjoyed amazing experiences that they'd not otherwise have been able to because of Make-a-Wish.
Share the video on the home page via Facebook, Twitter, or Pinterest. From now until September 28, every time it's shared, Straight Talk Wireless will donate $1 to Make-A-Wish.
This Saturday and next, I encourage you to stop by and take a minute to learn about StraightTalkWish at your local participating Walmart. Not near a Walmart that's participating? Busy?  Sharing this link on Twitter, Facebook and Pinterest also means $1 goes to Make-a-Wish!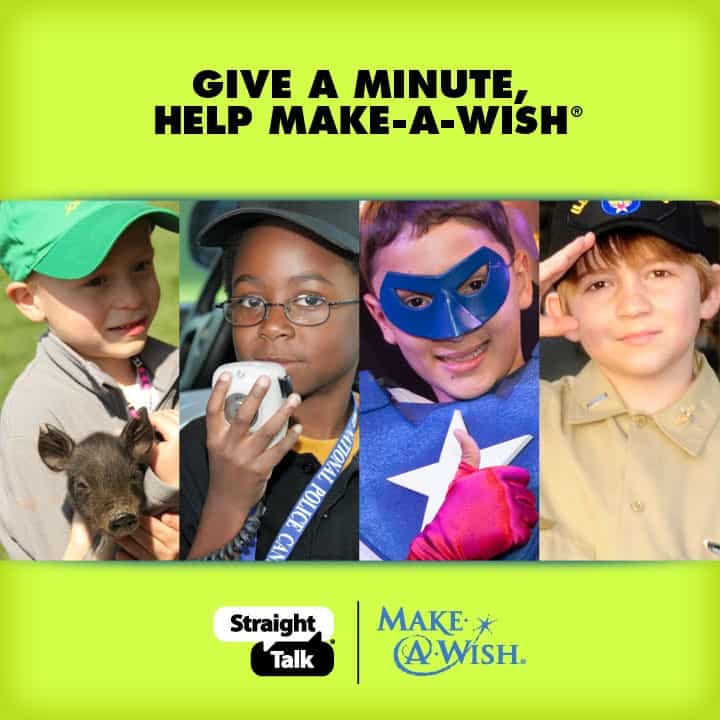 Help spread the word- and remember, EVERY tweet, Facebook Share and Pin shared directly from the  Video URL and #StraightTalkWish Hashtag means $1 donated to Make-a-Wish by Straight Talk!