Over the summer I started to hear a lot about Cool Whip Frosting. I even hosted a twitter party focused on Cool Whip Frosting.  It wasn't easy to find around here, until quite recently.  I still can't find the chocolate kind but give me some time. I'm nothing if not persistent. So last week…I finally brought some of this adorably packaged frosting home and popped it into the freezer, thinking how fun it would be to do some cupcakes or something with the kids after school. (Write this down: Cool Whip Frosting is found in the freezer section of your grocery. Three flavors: Vanilla, Cream Cheese and Chocolate, unless you live near me in Connecticut….either no one wants to send chocolate over here or someone's hoarding it.  Either way, I'm out of luck, you are out of luck.  For now).
Today was the day to do something fun after school, for absolutely no reason. That's kind of the "thing" about the Cool Whip Frosting.  It's whipped and sweet and a really fun way to do something special for absolutely no reason!  So today, we declared it to be FROSTING day! Cool Whip wants us to celebrate the little things in life.  Like "yay! Mommy found the last gift on the shopping list! No more holiday shopping!" is a good reason.  Anything goes. Frosting for dinner!
Sadly,my husband doesn't always applaud my thinking when that thinking includes a tub of frosting being the dinnertime meal. So I decided that I'd make some Hot Chocolate Cupcakes to go underneath the cupcakes, and then reluctantly baked some chicken and made some rice to go with it.  You know.  For the kids and stuff.  So we had the cupcakes AFTER the healthy meal (which did include salad, thankyouverymuch).
Here's the thing about the way I do recipes. I'm not a foodie.  I like easy, simple recipes that are, as my family says, Brett-proof.  I'm not Martha Stewart. So.  If you want to know how to make Hot Chocolate Cupcakes with Marshmallow Cool Whip Frosting, read the next section.  If not, skip to the bottom where I share the giveaway details.  (The cupcakes are totally worth making.  Super easy).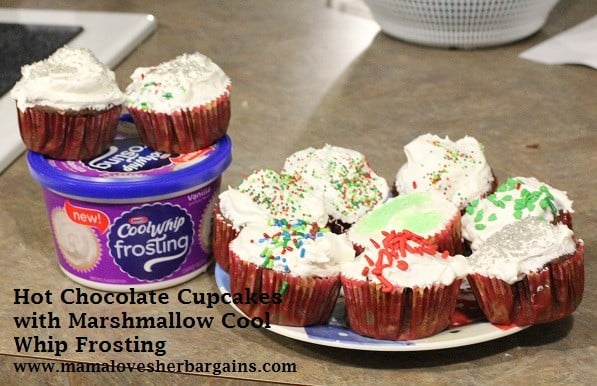 Hot Chocolate Cupcakes: 
1 chocolate cake mix 3 packets hot cocoa mix (or 1 cup hot cocoa mix) (with mini marshamallows will add a certain  level of awesomeness something but these are your cupcakes, and I leave this decision up to you).
whatever the cake mix tells you to do (which is normally something like eggs, water, oil?)
Follow instructions on the box- and here's where it gets really tricky- add in the cocoa mix as you add the other ingredients.  A little at a time, all at once.  It doesn't matter. Just get it in there. You can do cake or cupcakes. I did cupcakes. (Then the littles can all decorate their own and no one ends up pulling hair or screaming).
Marshmallow Cool Whip Frosting:
1 tub Cool Whip Frosting (Vanilla)
1/2 cup Marshmallow Fluff (I'm sure there are many wonderful people who make homemade fluff. I'm not one of them).
Fold the fluff into the frosting.
Now- when the cupcakes or cakes are cool, frost them with the newly-made Marshmallow Cool Whip Frosting.  Voila.  Hot chocolate in a cupcake form.
If you want to go all fancy and stuff, add some shots (some of you, I understand, refer to these as "jimmies" or "sprinkles" but you are wrong.  They are shots.  Ask my sisters. They agree with me). or crushed candy cane.
COOL WHIP Frosting would like to provide one US reader  with a "reasons to celebrate" COOL WHIP Frosting pack valued at $100 which includes:
3 Gratuity coupons (so remember to find us in the freezer aisle!)
Heart shaped silicone cupcake mold tray
Baking by Flavor – Recipe book by Lisa Yockelson
Cupcake Liners
Stainless Steel Cake Icing Spatula by MIU
Cake Stand plus Cover Set
To Enter: Leave a comment telling one what your favorite "non" reason to celebrate is!
Want extra entries?Leave a separate comment for each entry method you do and either leave your username or the URL of your "share"
*Click on any image or link in this post about Recalls (andit's a great app to download!) Comment here that you clicked (can be done 1x/day)
*Leave a relevant comment on this post 
* *
*Pin this post with the recipe +1
*
*Follow Cool Whip on 

*Leave a comment on any non-giveaway post +1 entry/day
*Share this giveaway on any social networking site- +1 entry per share per day (can be done on multiple sites)
This giveaway will end on December 29 2012 at 11:59 pm EST. Winner has 24 hours to confirm shipping info.
I am working in partnership with the COOL WHIP brand and I am receiving product samples for my participation in this campaign. All thoughts/opinions are 100% my own.