I love soup.  I've had a longstanding love affair with it.  Given that we're expecting rain this weekend, ALL weekend, I can tell you that I will be making soup at least one weekend day and letting it simmer on the stove or in my crock pot all day long.  I thought I'd share with you 21 fabulous soup recipes for Sunday Dinner which are all great for simmering or leaving in the crock pot all day!!
You'll find some quick to cook soups in this collection, and you'll also find some Vegan and Vegetarian options.  Some healthier, Weight Watchers Friendly options…Even paleo and gluten free!! YUMMY! I aim to please all palates!

At least I don't have to think a lot about the meal plans this week- I can just do a whole lot of soups. I'm very intrigued by the kielbasa soup- I've never had kielbasa in soup but the whole family really likes kielbasa so I'm going to make that on a super busy weeknight.  Soup doesn't have to just be for Sunday Dinner. I just like some serious comfort food on Sundays and soup just tastes like Grama's house to me, you know?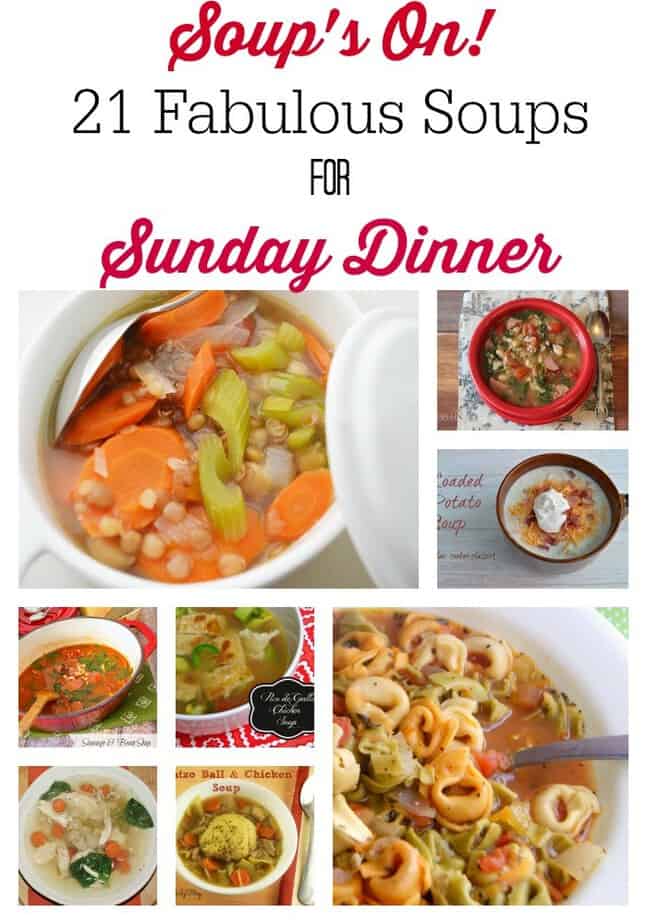 I adore soup, but what do you say about soup? I was chatting with my friend, Laura, about our love of soup and she inspired me to write this silly little poem…
 Ode to Soup
Oh soup, how do I love thee?
Let me count the ways….
You fill my belly
You hydrate me
You fuel my energy
So I can write more silly poems.
You feed my family
And save me work
Without you, I'd be lost.
Oh, soup, how I love thee.
You are often hot
Sometimes cold
I don't know many who eat you I lukewarm
I can put you in my crockpot
I can toss you in a pan
I can bring you to a friend
You are so versatile
I can eat you all year round
Oh, soup, how I love thee!
What are YOUR favorite soups to make or eat?
This post is part of a partnership with Foodie.com.  Opinions are my own.