I've spent nearly 20 years as a Kitchen and Bath Designer and there is still not much that excites me more than a remodeling project, even if it isn't my own!  If it IS my own, all the better!  A bathroom remodel is one of the most common home improvement projects and it's also one of the easiest and most cost effective ways to add appeal to your home without needing a huge budget. Like so many of our other home projects we've talked about this year, Sears is here when it comes to bathroom remodeling needs too.  They are sure to talk to you about these 5 Things to Think About When Remodeling Your Bathroom.  #HouseExperts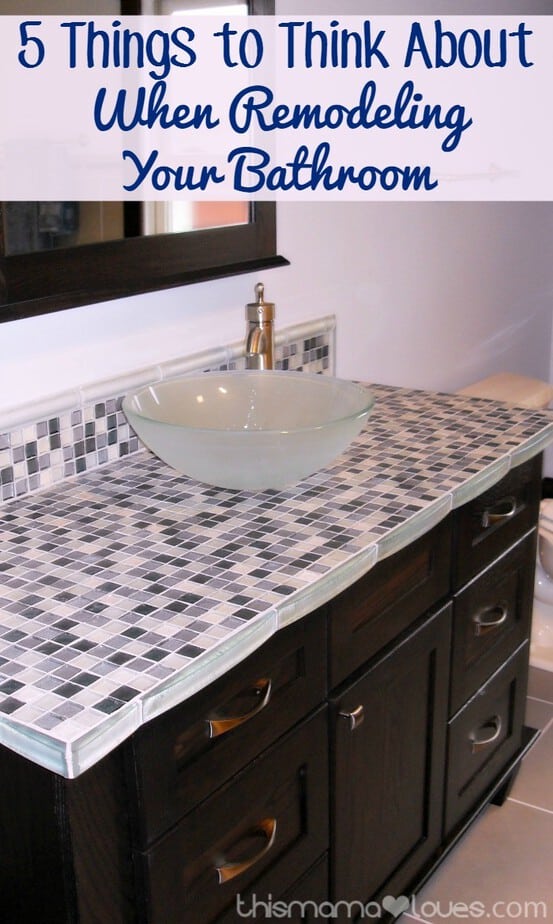 5 Things to Think About When Remodeling Your Bathroom 
Maybe you are tearing your entire bathroom apart – cabinets are coming out, flooring is being torn up, old paneling is being torn off the wall, plumbing fixtures are going…  Or maybe you're just doing a little bit of freshening up – a fresh coat of paint, a new countertop and sink, a new faucet?  There are a lot of things to think about when remodeling a bathroom but the following 5 things are the major components you may be thinking about redoing.
Flooring
From the ground up, the flooring is the foundation of your bathroom remodel.  Maybe your floor is in great condition and you love it so you're not planning to replace it.  Maybe your cabinets are great but your floor is out dated and has got to go!  Before you get too far into your bath remodel make sure that your flooring, and subfloor, is in good condition.  If you're rearranging your floor plan (moving things around) you're more than likely going to need new flooring.  When it comes to flooring options there are a lot of choices but not all are great for bathroom use.  You need something that is suitable for wet areas and a Sears expert can help guide you in the right direction.
Now through 11/30/2016 Sears is offering Up to 12 month Special Financing available on installed Flooring purchases over $1,500.  Offer is not valid on prior sales or in combination with any other offer.
Cabinets
Cabinetry is the next biggest part of your bathroom remodel.  Again, you may or may not be replacing your cabinetry.  If you are, there are so many choices available!  The variety of door styles, wood species, finishes, and combinations are almost limitless.  Then the combination of how cabinets can be laid out to fit your space goes on and on!  If you're doing a complete bathroom remodel and moving around cabinets, toilet, and tub/shower then you can really change how your cabinetry is set up.  Maybe you currently have a tiny little vanity with only one sink but you'd love a double sink with more storage.  A bathroom remodeling expert can create a design for you that can transform your space into the bathroom you're dreaming of (within reason of course!).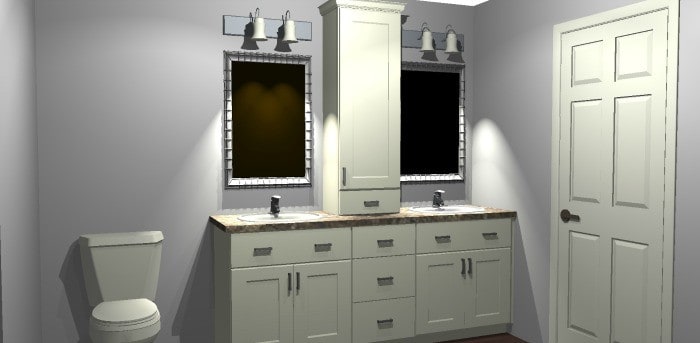 Now through 11/30/2016 you can save $500 on cabinet replacement or refacing purchases of $1,500 or more. Or save $500 on Bathroom remodels of $1,500 or more.  Offers  are not valid on prior sales or in combination with any other offers.
Toilets, Tubs, Showers
This part of your bathroom remodel is huge.  The shower, or tub, is literally huge!  These items take up a lot of space in your bathroom and require a lot of planning too.  Tubs and showers often come in 1 piece units or units that are multiple pieces and the size of your doorways (and hallways) make a difference in what kind of unit you need when you decide to replace these pieces.  You can also choose freestanding tubs, like the old fashioned claw foot pieces or drop in tubs that sit into beautifully tiled surrounds.  Showers can also be created out of gorgeous tile.  There are endless possibilities!  And toilets…well, not all toilets are created equally.  There are short ones and tall ones, round ones and elongated ones, fancy and plain, insulated tanks, and some with more powerful water capacity.  Some toilets have fancy handles or the flusher is a button on top, some the tanks are sold separate, and most the seats aren't included.  Many toilets can be bought to match the style of your sinks, tubs, and faucets.  Again, so much to consider!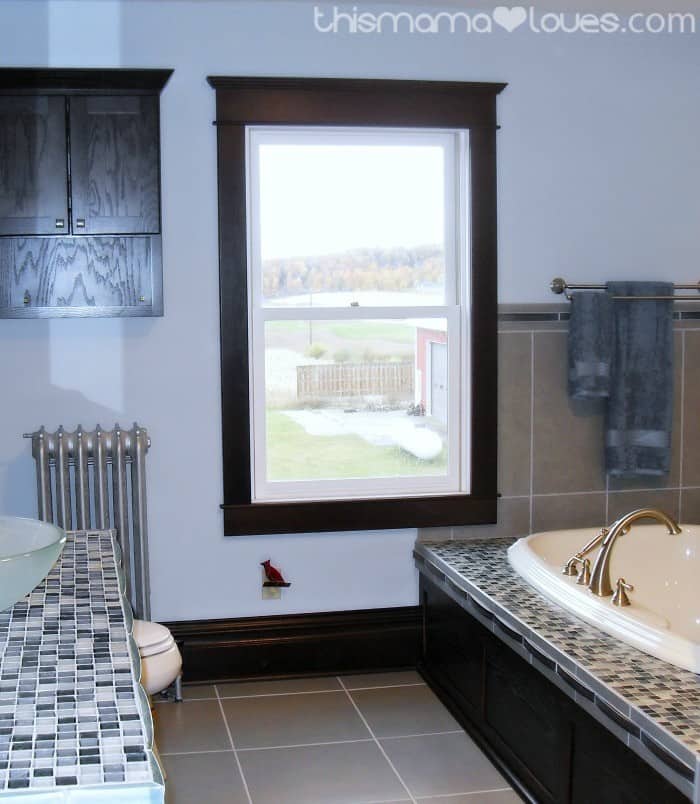 Countertops
You may not have replaced your cabinets, flooring, or shower but your countertop and sink can really change the look of your bathroom.  Most of the countertop surfaces that are available for the kitchen can be used for bathrooms too.  Options like granite, quartz, and solid surface make beautiful bathroom tops and there are gorgeous sinks that can be dropped in or undermounted to create a custom look. You could also choose a tile countertop or even a simple one piece cultured stone vanity top.  A Sears expert can share so much information with you and help you choose the surface that is right for you!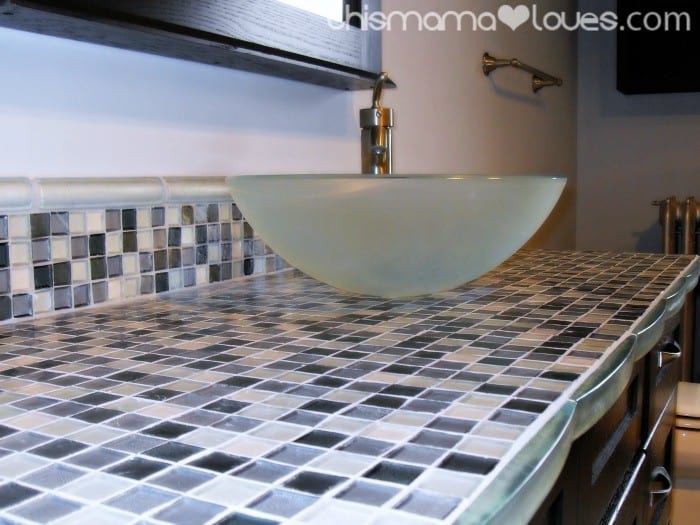 Now through 11/30/2016 you can save $250 on countertop only purchases of $1,500 or more. Offer is not valid on prior sales or in combination with any other offers.
Accessories
Accessories, the finishing touches, those final details that make the bathroom look just perfect and reflect your personality.  The accessories include faucets, shower heads, cabinet door & drawer knobs or pulls, towel bars& robe hooks, toilet paper holders, mirrors, light fixtures, mirrors, accent pieces and more.  Many of these items come in "suites" which are coordinating sets where the style of all the pieces have a similar look and feel.  You may choose to go this route or you may choose to go with different styles in all the same finish.
Sears Home Services knows a lot about bathroom remodeling and they also know a lot about the common DIY Bathroom Remodel Mistakes.  They have some great tips for how to avoid them (other than obvious, hiring an expert).  Check out their DIY Bathroom Remodel Mistakes and How to Avoid Them for a little expert advice!
Do you have a bathroom remodel on the agenda this fall?