This is a sponsored post about a new at home fertility treatment option called The Stork.  Opinions are, as always, my own. I've surprised many folks when they learn that I've had fertility issues.  My kids are 25 and 23 months apart, so I can see why that might make people wonder.  I was fortunate. I got my happy ending(s).  But I won't forget the journey to get where I am, and I remember all too well the nights crying myself to sleep because yet another pregnancy test had been positive and then….there was my period, just a few days late.  Month after month.  It was worse after I miscarried. For us, the HSG testing combined with Clomid was the magical combination and helped bless us with our first 2 kids.  We didn't "have" to do IUI or injections- or more invasive procedures.  We were lucky.  We are lucky. But I can tell you that faced with the idea of having to give the doctor a sample, I'm not sure how comfortable my husband would have been to even talk with a physician about that, let alone produce that sample.  Having to do something so intimate and so private in a medical office isn't exactly a comfortable setting, and not anyone's ideal way to get pregnant.  That's why, when asked if I'd attend a webinar to learn more about this at home fertility treatment option, I needed to learn more.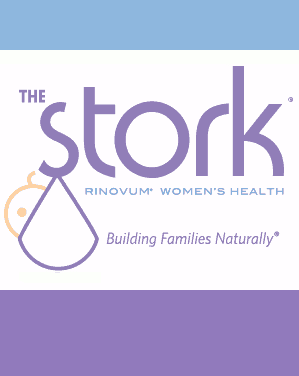 The Stork was designed as a natural, cost-effective option to help couples bridge the gap between natural conception and more aggressive treatments. It can be used in the privacy of the home without affecting daily routine- both for couples with no known fertility issues and for those who are experiencing difficulty conceiving. 1 in 6 couples are known to have fertility issues in the US.  That's a much higher rate than I'd imagined. While it makes me sad, indeed, it really makes me happy that there are companies who are working to make fertility options more accessible to the masses. I have friends who have literally had to make the choice to either be able to afford IVF once with a low chance of success due to their individual fertility issues, or to purchase a home.  No one should have to make choices like that.
That's right.  There's a cost-effective fertility option (I know, I always thought that was an oxymoron, because fertility options are NOT cost-effective?!) available AND…you can use it at HOME.  Without going into great detail, The Stork works very much like a condom– or with a condom….I am including a video clip below.  But basically, you have regular intercourse, but once the man has ejaculated, he rolls the condom off, washes his hands, removes the condom from the cervical cap, and then the cap is attached to the applicator….and in just a few steps, that cervical cap is placed where it needs to be most and those sperm are given their own sort of "fast pass" to where they need to go.  There's no guarantees it will work, as with anything relating to fertility, but it's a big boost and hopefully enough to get those sperm where they need to be to fertilize an egg.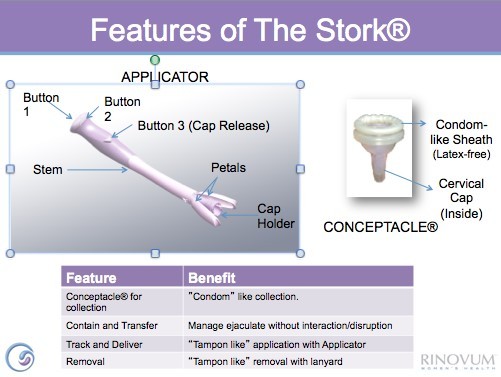 The Stork Conception System is indicated for assisted insemination in instances where low sperm count, sperm immobility, or hostile vaginal environment has been diagnosed. The system (cervical cap in a condom-like silicone sheath) is used to collect semen into a cervical cap, and then deliver the cap to the outside of the cervix as an aid to conception. It is to be used at home following physician instructions.
Because of the low price on The Stork, many physicians are recommending that couples do this process three times/month during a women's optimal ovulation cycle.  The folks at Rinovum Women's Health, the company that makes this product, are pushing to have The Stork available over the counter (OTC) in 2014, working to be priced around $79 (per treatment) at places like CVS and Walgreens so that it's available and accessible to anyone with or without insurance.
The Stork isn't meant to replace your doctor.  It's meant to be an affordable option when you are realizing that you aren't having sex for fun and more for the purpose of trying to get pregnant- but it's not happening….and hopefully keeps you from having to go into more invasive and costly procedures.   Low sperm count, low motility, hostile environment or ovulation timing issues are some of the things that this product may be able to help couples with.  The folks at Rinovum Women's Health are doing a clinical study and if you are in the Pittsburgh area, reach out to them if you are interested in being part of that study.
I know this is an option we would have explored- would you?