Chai is a spiced and perfumed wellness tea whose flavor is distinctive and sharp. While the word chai literally means "tea" in many parts of the world, it refers to a specific type of tea.
Chai tea is not only delicious, but it is also quite healthy! Black tea, ginger, cinnamon, cloves, cardamom, and other healthy elements are all present in chai.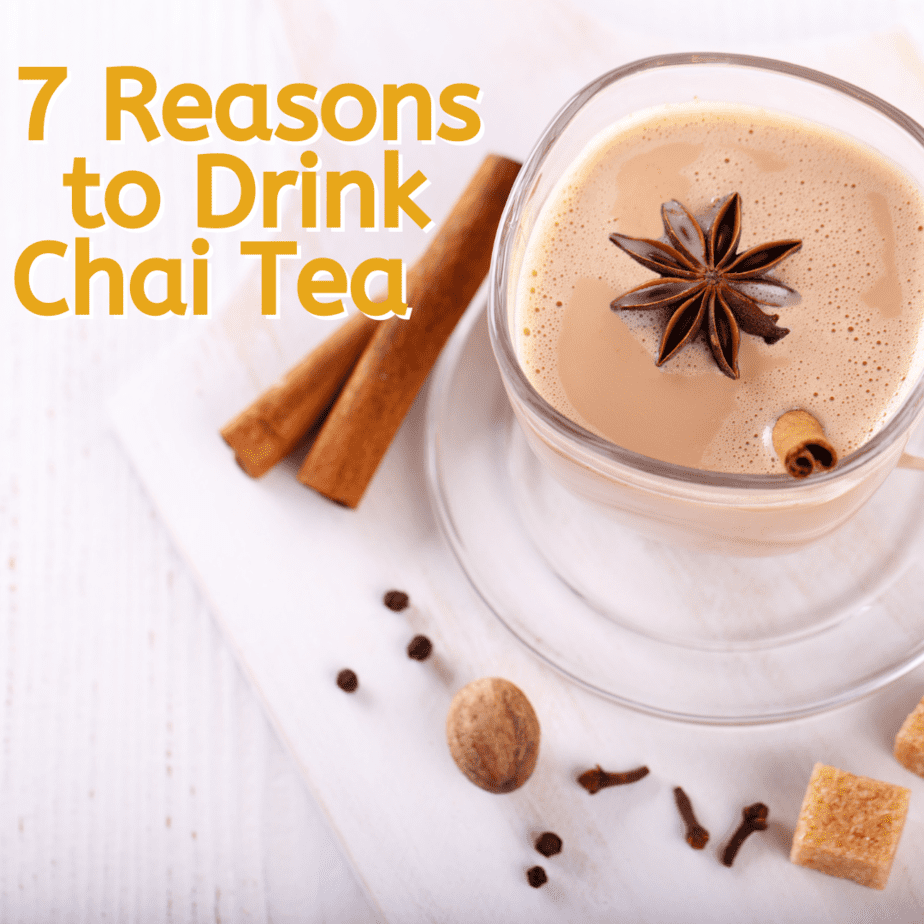 7 Reasons to Drink Chai Tea
When you prepare a cup of chai, you'll reap the following 7 health benefits.
It improves your immune system
Chai tea may help in the immune system's improvement. Ginger contains antibiotic properties that can help you stay healthy by warding off hazardous infections.
Because of its anti-inflammatory properties, ginger can also help keep your immune system in good health. Additionally, catechins, which are found in a black tea like chai tea, can help to lower the risk of viral infection.
Helps to relieve nausea
It's impossible to have chai without ginger. Without ginger, no cup of chai is complete. A cup of chai tea can help to relieve sickness and soothe upset stomachs. Ginger has been known to relieve nausea and morning sickness connected with pregnancy, so it can help you feel better if you're feeling sick.
Controlling blood sugar levels
Whether you have diabetes or not, maintaining a healthy blood sugar level is critical. Weight control, long-term health, and your body's ability to produce insulin are all tied to blood sugar levels.
The anti-stress flavonoids, or polyphenols, found in chai also have an effect on blood sugar levels. Black tea varieties (like chai) have been shown in studies to help lower blood sugar levels after meals, allowing them to return to normal sooner.
This is especially advantageous for people who don't produce enough insulin because black tea can help you regulate your blood sugar more quickly.
Fasting blood sugar levels are connected to diabetes, however study suggests that loose leaf chai tea can help lower fasting blood sugar levels. One study linked chai's cinnamon to this effect, while another suggests ginger may also be involved.
Reduced anxiety
Are you stressed out? With just a few sips of loose leaf chai tea, you may be able to relax your mind and relieve stress.
While simply drinking a steaming pot of tea is a relaxing activity in and of itself, tea also includes nutrients that are inherently soothing. All types of tea, including chai, are high in antioxidants.
These antioxidants, also known as polyphenols, operate as antioxidants, limiting the damage caused by free radicals. Free radicals can be neutralized by flavonoids before they cause damage to your cells.
Chai blends are especially beneficial for reducing oxidative stress. Catechins and theaflavins, two flavonoids that fight stress specifically, are rich in them. Every time you make chai tea, get enough of these helpful nutrients to counteract the potentially negative consequences of oxidative stress.
Reduce inflammation
Inflammation causes havoc on the body, causing conditions such as autoimmune illnesses, malignancies of various types, heart disease, diabetes, and even allergies.
While tea by itself will not be enough to alleviate these symptoms, it can be a significant help in reducing chronic inflammation by calming your body's inflammatory response.
Chai also helps reduce inflammation and enhance health by combating oxidative stress throughout the body. Oxidative stress causes inflammatory disorders by altering proteins and genes. Inflammation and inflammation-causing stress can both be treated with chai in one warm cup.
Muscle aches and pains bother you? A delicious cup of chai tea can help in this effort. Ginger has also been demonstrated to help calm tight muscles and lessen pain. Ginger can help relieve muscle discomfort and soreness induced by exercise, according to a recent study.
Healthy for your skin
Black tea has a number of skin-friendly vitamins and minerals. Tea consumption is also a fantastic way to stay hydrated, which can make your skin look healthy, fresh, and nourished in addition to these helpful ingredients.
Fights off colds
If you're feeling a bit run down, a cup of chai can truly help to relieve cold symptoms or perhaps prevent colds altogether. Catechins in black tea have antiviral qualities and may help to prevent common illnesses like colds and the flu, while ginger has antibacterial qualities that can aid in the treatment of infections like strep throat.
Final word
The health benefits of chai aren't limited to this blend. Learn how to prepare the ideal cup of tea and the health and wellness benefits of all types of tea blends.
Ultimately, tea is a wonderful winter beverage for soothing your body, mind, and heart. So, with a warm cup of tea to accompany you, we wish you stay healthy and safe this winter.