7 Ways to Be a More Efficient Blogger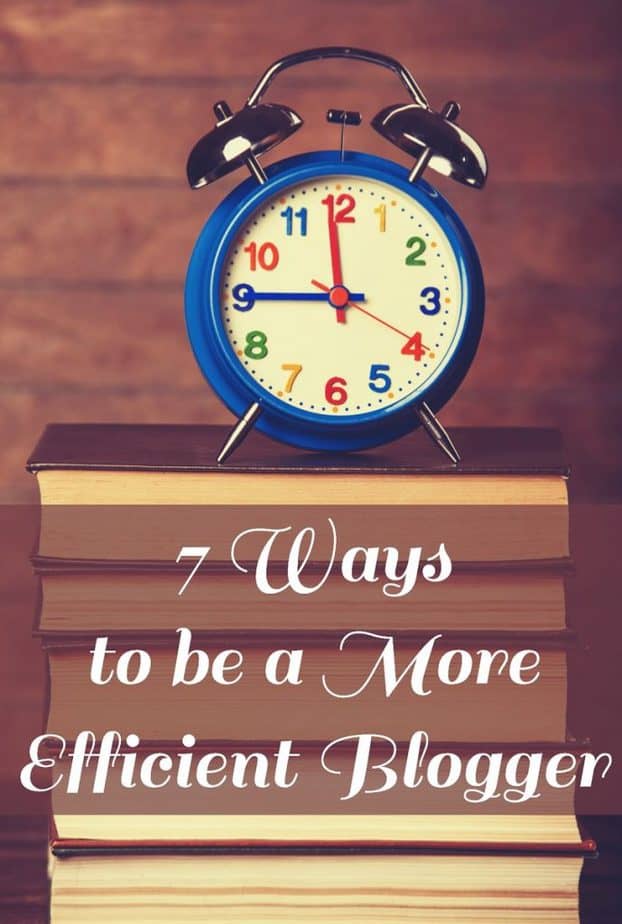 Becoming a more efficient blogger just takes a little planning and effort. Using these tips will get you started!
Have a schedule. You knew I was going to say this, right? Setting up a schedule can be a daunting task, especially if you're not the schedule type. However, it's going to save you time – and time is money!
I have a schedule for writing blog posts (do at least 3 real content posts a week – then add sponsored stuff in between), and a schedule for social media posts.
Utilize apps and tools. HootSuite is pretty much an all-in-1 blogging tool that will make your life 100 times easier. Well, your blogging life at least. It's FREE to use, up to 5 social media accounts. You can schedule posts for your Facebook groups, schedule all of your tweets for the week, and it wil take less than an hour if you sit down (log out of Facebook) and do it all at once.
Create an editorial calendar. This isn't a new tip by any means, but it's tried and true. No need to reinvent the wheel! Having your editorial calendar at least roughly planned out will help keep the ideas flowing. You can expand on posts ideas or even create series posts, all by looking at your calendar!
List posts are golden. Yes, content is king – real content, SEO'd, typed in paragraphs – but list posts are easy, and get shared on social media so much more! List posts are also great to get your creative juices flowing. If you come up with "10 Uses for Essential Oils", you then can expand on that post and do "How to Use Thieves Oil Effectively". If those posts do well, keep expanding – and always link back to your other (related) posts to help with your SEO.
Use a blogging checklist. You can make your own blogging checklist, or use one that's already made for you, but chances are it will need some tweaking. Instead of mindlessly writing a post and thinking, "Hmmm. What do I do now? Oh, look, Facebook notifications!", you'll know that you finished a blog post so the next step is XYZ.
Designate an office space. Even if it's just a corner, or a closet, or a desk area… you need an office space! I completely understand not having any extra space, but if your blog is going to make money, make the space! One of my friends even shares a playroom with her kids. When they play, she works, and when she isn't working, she brings her laptop in her bedroom so the kids can't accidentally break it.
Designate office hours. While you are probably rolling your eyes at this tip, it's very important to take a break sometimes. Yes, you might miss things – but that's perfectly fine. You'll always be missing something, but you will move on and get over it and better things will come your way. Especially if you have kids, a partner, etc you need office hours (even if they're odd) to keep everything together.
Check out How to Write Your First Blog Post too!