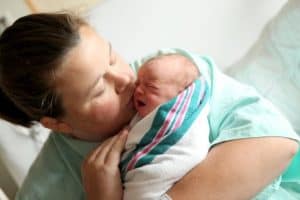 Growing up, I always knew I wanted to be a mom.  It's just something I knew, deep down, that I wanted.  I also knew I wanted a LOT of kids, although thankfully for my sanity, God gave me the number of kids I'm meant to have, and am able to handle (most of the time, anyway…).   Being the youngest of 8 kids, most of whom are at least 15 years older than I am meant that I was exposed to marriages and families at a younger age than many.  I have siblings with a parent home full time, siblings with a parent working from home full time, and siblings with a parent working out of the home full time- or both parents working out of the home full time.  It helped me to see and observe each situation and helped me to know that if we were able to swing things, I'd want to be home full time with my children.  I wanted to be a soccer mom driving a minivan.  Different combinations worked in all of their families but I knew what I wanted for my own one day.
Thankfully, when I met my husband, he wanted for me to be home with the kids when they were young as well.   We saved and saved what we could while I was pregnant with our oldest and still working.  I wanted to be a stay home mom and that was the goal.
Of course, wouldn't you know it, I started working part time for our town, taking meeting minutes for some of the Boards and Commissions in town.  Not a ton of money, but meetings occur in the evening, often after the kids are in bed, and we wouldn't need to pay for any kind of childcare.  Win!  Already, within 1 year of being a stay home mom, I was working again….if only part time.  I have a few other things I do part time, as well…I kind of stumbled upon the Board Clerk job, after hearing about it from a dear friend, although there are so many websites out there that offer ways to find work either in or outside of the home, much like www.workingmums.co.uk and other sites. I haven't looked a lot but I believe there are sites to help folks like you and me to find work to do from home!
Two years ago, This Mama Loves Her Bargains was born.  This was never something I had imagined would become what it has- I have had opportunities and experiences I'd never have had otherwise, and I have been able to help others along the way.  What an amazing gift and blessing my site has become- and isn't it funny that me, the girl who wanted to be a stay home mommy, went from working part time out of the home to working from home- with my OWN business!?  Apparently, I want to be home with my kids full time but in a working capacity.  Who knew?  Someone sure did!
I want to be clear on something- this is in no way, shape nor form saying that staying home or not is best for anyone- I don't believe there are many black and white issues with parents working and childcare situations. I think you have to do the best you can with what you have and do what is best for your family.  I find it funny that I always thought I would be one way, and as it turns out, God had other plans for me to do something different.
How about you?  Did you always have a feeling about what you wanted to be when you "grew up"?  Have your feelngs and dreams changed?  Do you think there is one "right" answer to staying home/working out of the home?