Abominable Yeti Snacks with Printable Bag Toppers!
This Holiday Season, cozy up with Abominable, the #1 Original Animated Movie of the Year! My family loved Abominable in theaters, and now that it's available on Digital, we're excited to watch together at home. Especially now that we've got snow on the ground here in New England. We've always fallen in love with the characters in DreamWorks Animation films, and the adorable blue eyed yeti named Everest might be the cutest of them all. Our sponsor for today's post is Universal Pictures Home Entertainment. Scroll down to the bottom for an Abominable download code giveaway!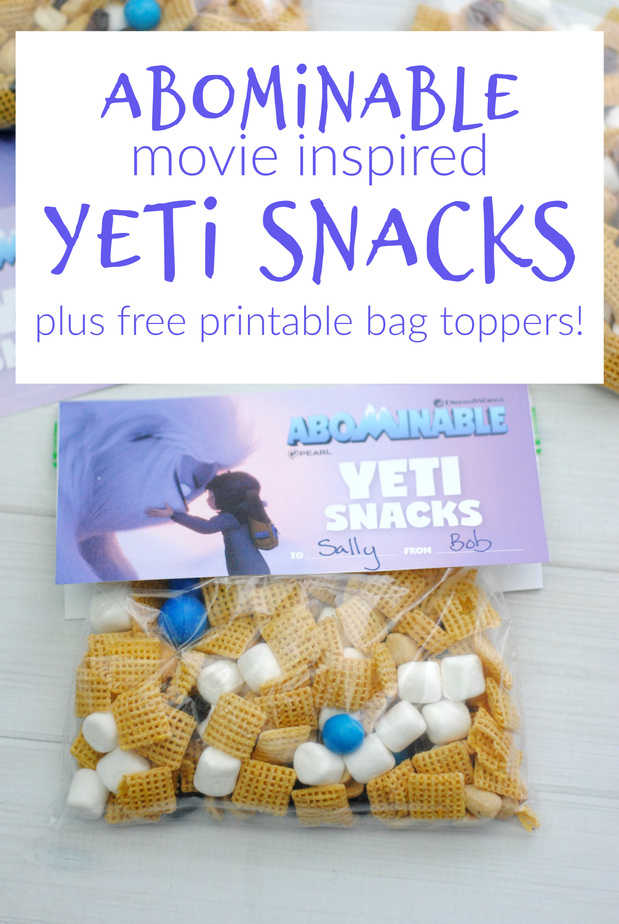 One of our favorite things to do as a family is to snuggle up under blankets with furry friends and watch movies with special snacks – and this month, since it's the holidays, we've decided to make a new Abominable movie inspired snack to not just enjoy while viewing, but also to make into cute little gifts to share with friends!
Watching Abominable and munching on Yeti Snacks? Yes, please!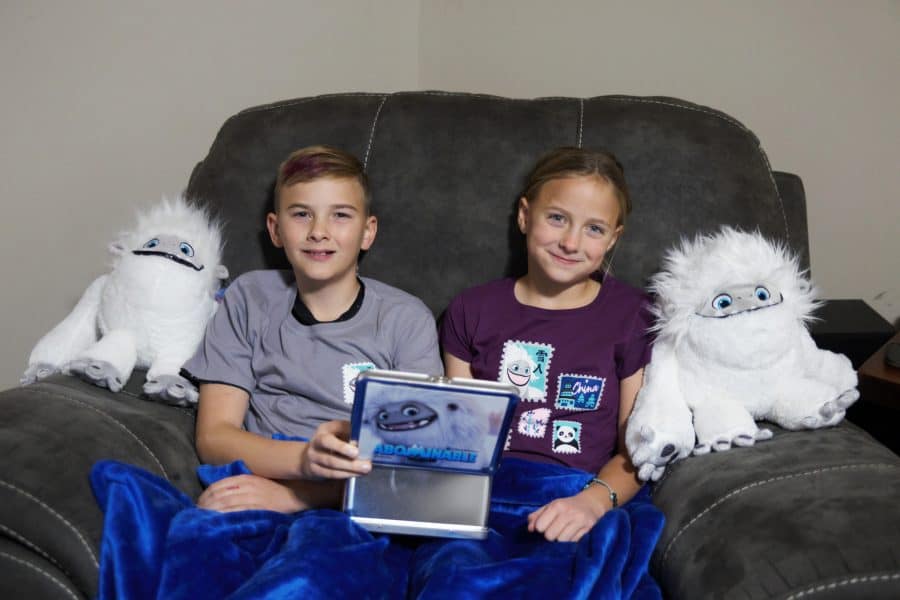 ABOMINABLE – Now on Digital and coming to Blu-ray & DVD December 17!
Abominable is a beautiful story about never giving up and how a little positivity can go a long way. A teen girl named Yi and her two friends help the lovable Everest find his way home. Filled with adventure and magical experiences, the movie is a great pick for your next family movie night. Plus with the Blu-ray and DVD coming out on December 17, it's a great stocking stuffer idea this holiday season! Check out the trailer below and then let's make some Yeti Snacks!
From the studios who brought us the amazing How to Train Your Dragon movies, DreamWorks Animation and Pearl Studio's co-production Abominable takes audiences on an epic 2,000-mile adventure from the streets of Shanghai to the breathtaking Himalayan snowscapes.
When teenage Yi (Chloe Bennet, Marvel's Agents of S.H.I.E.L.D.) encounters a young Yeti on the roof of her apartment building in Shanghai, she and her mischievous friends, Jin (Tenzing Norgay Trainor) and Peng (Albert Tsai), name him "Everest" and embark on an epic quest to reunite the magical creature with his family at the highest point on Earth.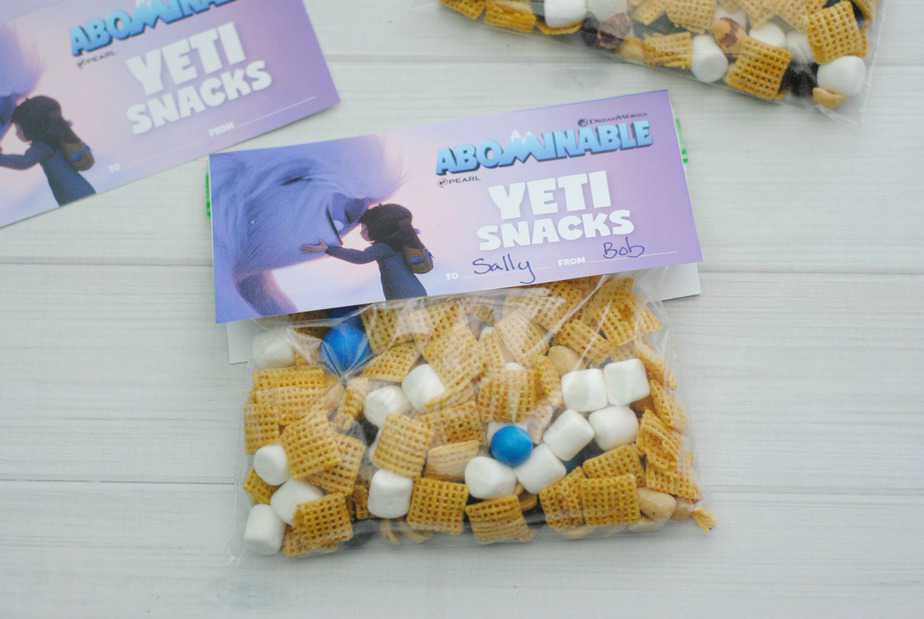 Abominable Yeti Snacks
Ingredients:
3 C. Chex cereal
1 C. dry roasted peanuts
1 C. raisins
1 C. mini marshmallows
1 C. blue M&M's candies (any flavor)
Small sandwich bags or clear treat bags
Tape or stapler
Directions: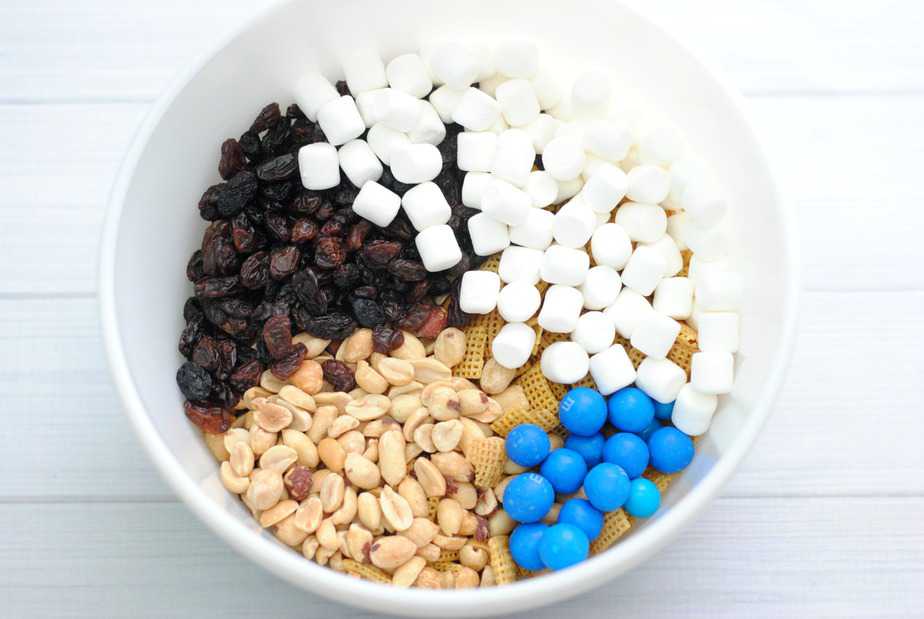 Mix all Yeti snacks ingredients in a bowl or a large plastic bag.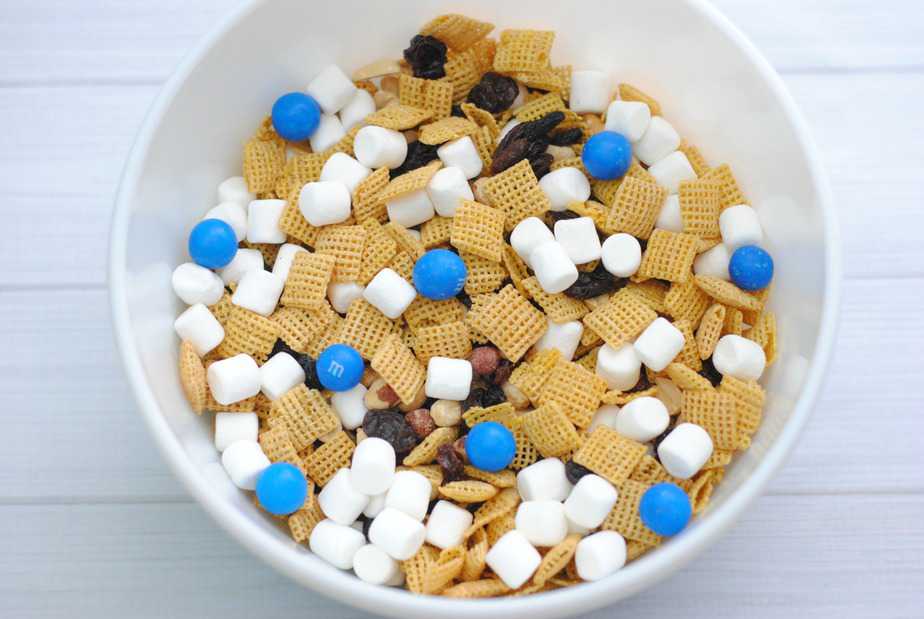 Print the Abominable
Yeti bag topper
gift tag, then cut them out and fold each in half. You can also click the image of it below to download the pdf file.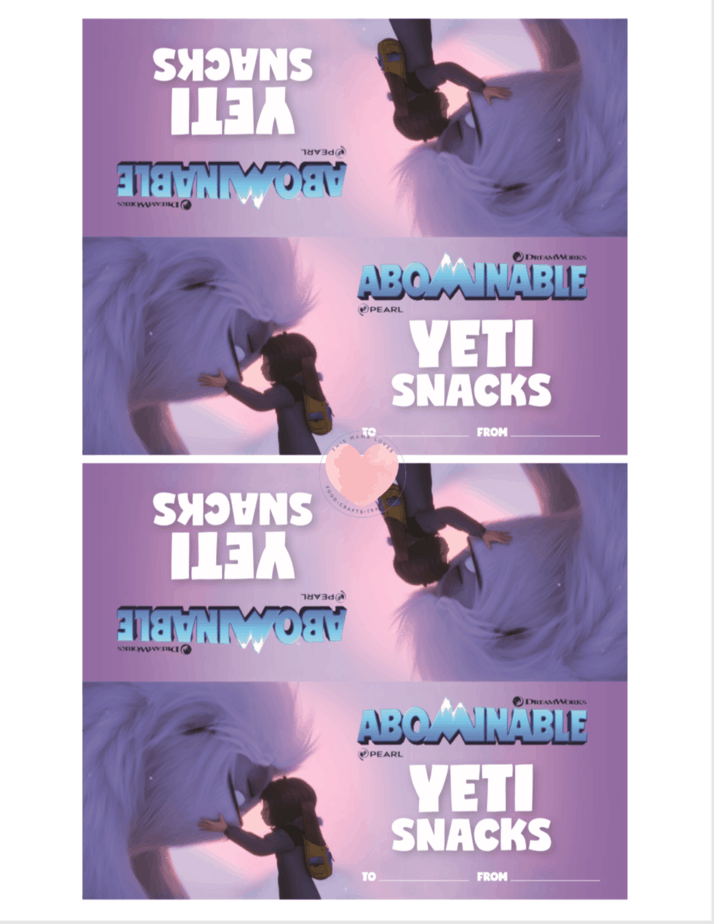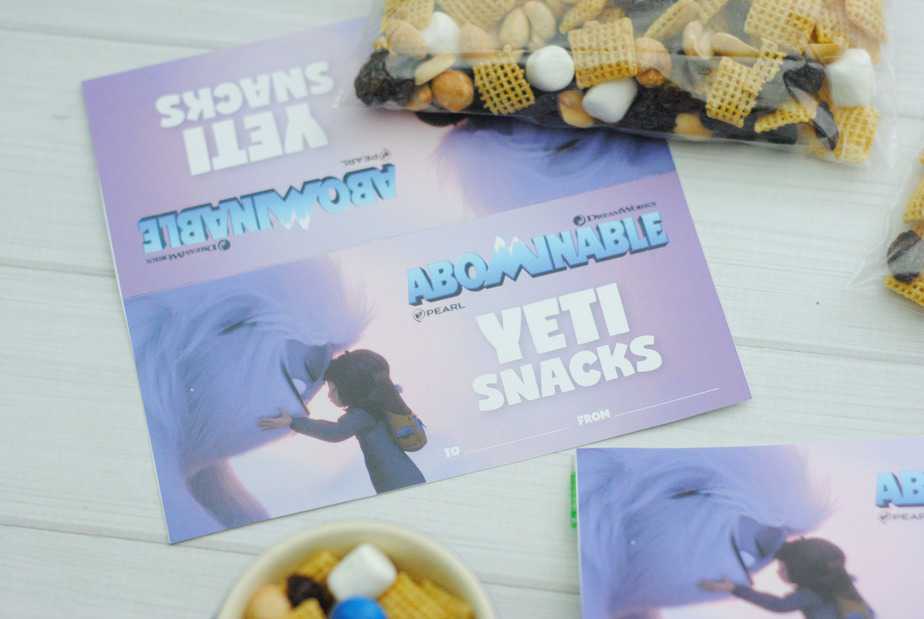 I definitely suggest printing on cardstock for gifting if you are able! They will hold up much better, although you can totally use regular printer paper as needed.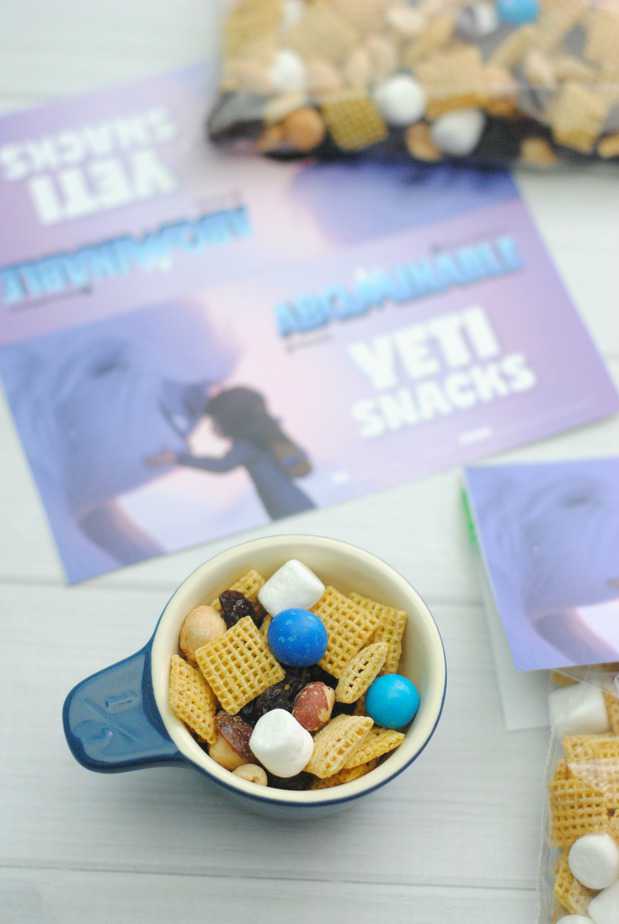 Add 1 cup of Yeti trail mix to a plastic sandwich bag or treat bag and seal shut.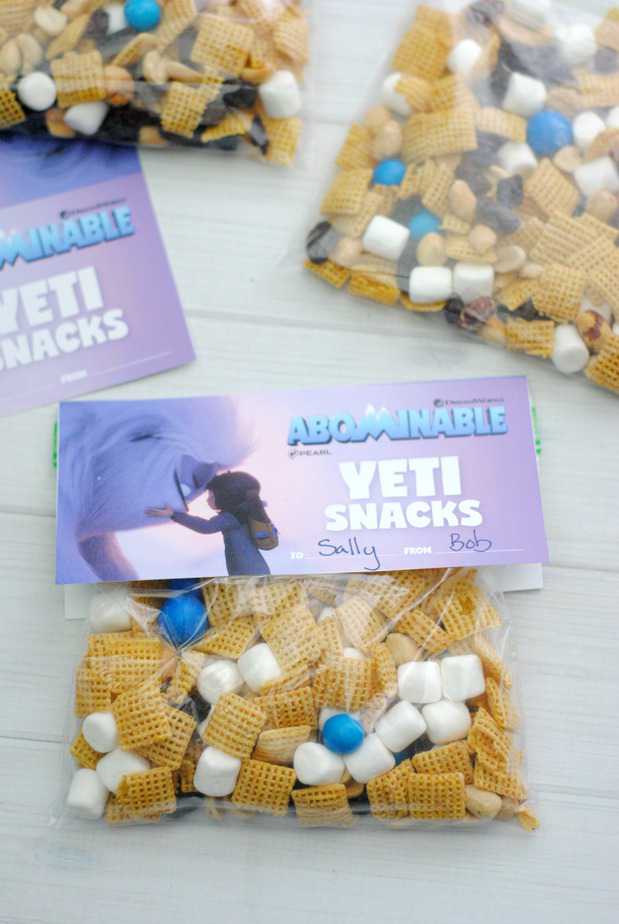 Attach the gift tag with tape or stapler over on top of the bag.
*Makes approximately 5 cups of Yeti trail mix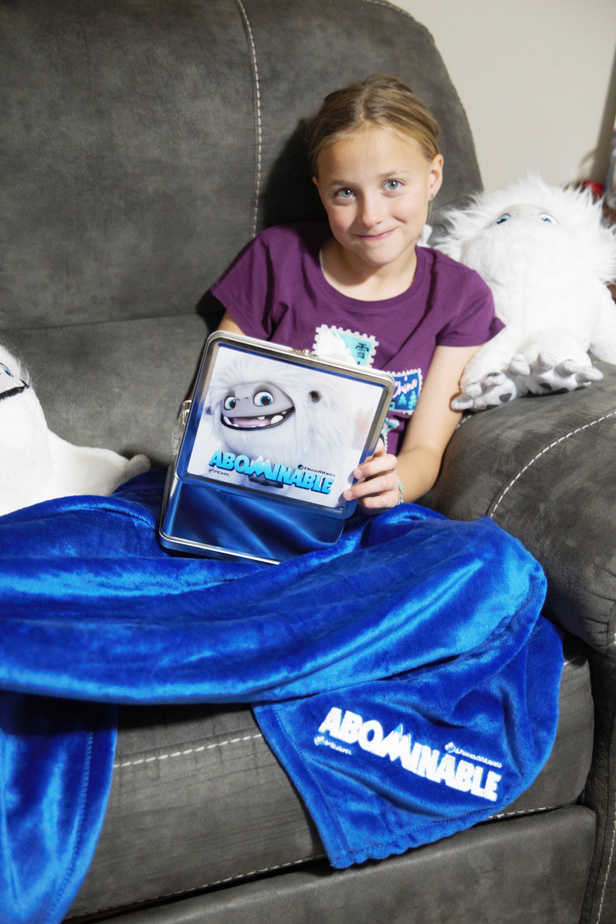 Adorable Gift Idea Alert: Make a batch of this yeti snack mix, bag it up with the toppers (download below) plus the Abominable DVD/Blu-Ray to watch at home! Abominable is a story about friendship, so what's better than gifting friends with a great movie night?! Get YETI for a fun movie night!
And if you're a fan of the film, be sure to check out TeaCollection.com where you'll find their limited edition line of clothing in partnership with the film. The kids are loving their Everest t-shirts!
One reader will win a special code to download Abominable on VUDU- to enter, leave a relevant comment on this post! Giveaway ends at 11:59 pm EST on 12/8/19.
Giveaway open to anyone who can access VUDU.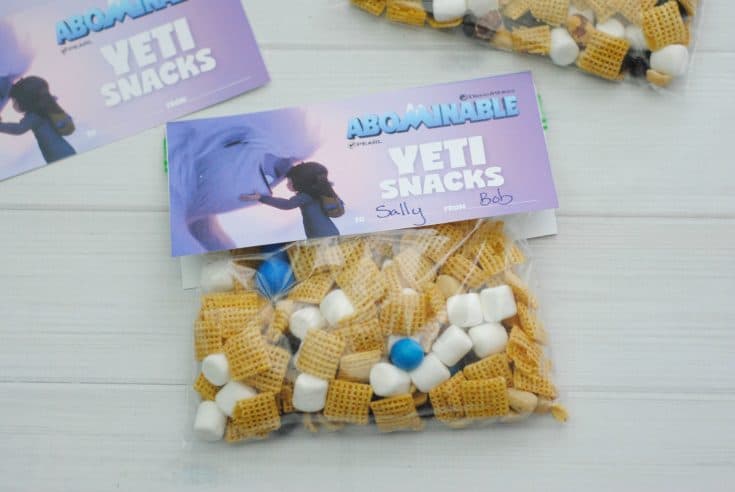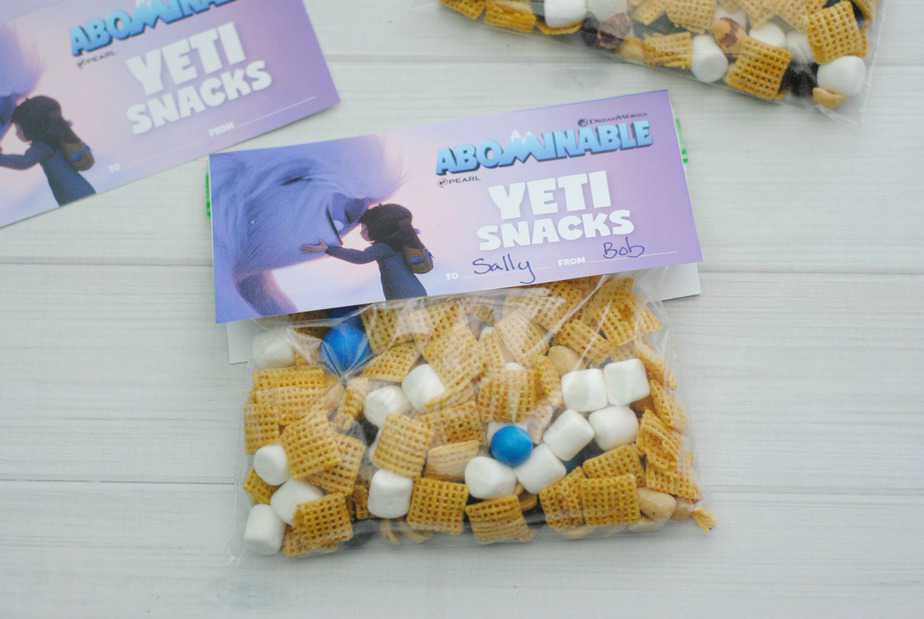 Yield:

5 cups
Abominable Yeti Snacks
Additional Time:
5 minutes
You're going to love making these Yeti snacks - and even gifting some to friends with the downloadable bag toppers! This yummy Everest sthe Yeti snacks are inspired by the Abominable movie! #AbominableMovie
Ingredients
3 C. Chex cereal 
1 C. dry roasted peanuts
1 C. raisins
1 C. mini marshmallows 
1 C. blue M&M's candies (any flavor) 
Small sandwich bags or clear treat bags 
Tape or stapler
Instructions
Mix together all ingredients in a bowl. Set aside.
Print the provided gift tag, cut and fold in half.
Add 1 cup of Yeti trail mix to each sandwich bag and seal shut.
Attach the gift tag with tape or stapler over on top of the bag.
Recommended Products
As an Amazon Associate and member of other affiliate programs, I earn from qualifying purchases.