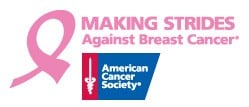 A few weeks ago, I shared how breast cancer has affected my life…and how it's affected just about everyone's life.  One of the ways it's affected me, and so many others, is the call to DO SOMETHING to help.  One of the simplest ways that we can DO something to help is to participate in events like American Cancer Socitety's Making Strides Against Breast Cancer.  Making Strides walks are happening in communities all across the US and I will be walking here at the Hartford, CT location on October 21.  Want to walk? You can find a Making Strides walk and information about it here.  Even if you aren't able to attend or participate, you can donate to support a truly wonderful cause.  It's a very moving experience to attend an event like this, with survivors, supporters, and those who are currently fighting breast cancer.  It's an awe-inspiring experience and very powerful.  It's a nice way for so many to be able to feel like they are doing something to fight this battle, you know?
Participating in events like Making Strides doesn't have to mean a huge cost, or that you have to do a full 5 mile walk.  There are both 3 and 5 mile walks, and I am sure that more volunteers can always be used.  Even just being there to cheer on participants can make a difference!  This is my "page" for Making Strides so you can see some different options- or make a donation to support the cause.  The atmosphere at Making Strides promises to be full of hope and inspiration.  Monies raised at events like this go towards groundbreaking research, comprehensive support and access to mammograms.  In fact, when you sign up, at least for women, you will be asked if you'd like reminders emailed to you about getting a mammogram- and when you would like that reminder.
Apparently, you can even win an iPad – check this out!
JOIN OUR FALL FUNDRAISING CHALLENGE AND WIN AN iPAD!
Fall is here and it's time to focus on fundraising—and possibly win a new iPad! From September 26 – October 6 we're holding our Fall Fundraising Challenge. Contact everyone you know and ask them to support you with a donation.  The top 3 fundraisers who harvest the most cumulative donations* during the Challenge timeframe will receive a new iPad!  If you are registered for a Making Strides event, you're automatically eligible to participate. Official Rules.
American Cancer Society (ACS) is working hard to fight breast cancer with their Making Strides initiative. This nationwide breast cancer walk is striving to support those that have been affected, empower others, and cheer on survivors, all while fighting to end this disease.
Making Strides Against Breast Cancer is the American Cancer Society's nationwide series of walking events to raise funds and awareness to end breast cancer.
Disclosure: Compensation was provided by the American Cancer Society (ACS) via Glam Media.  The opinions expressed herein are those of the author and are not indicative of the opinions or positions of the American Cancer Society (ACS).