AMERICAN HERITAGE® Chocolate + Cracker Barrel Twitter Party
I don't know if you've heard yet, but, for a limited time, AMERICAN HERITAGE® Chocolate Bites are now availableat your local Cracker Barrel Old Country Store. Experience chocolate as our ancestors did while supplies last!! We have a very deep love and affection for chocolate in our house, and we adore history… and Cracker Barrel. So naturally, we're a little excited that some of our favorite things are teamed up and I really need to go to Cracker Barrel very soon. #chocolatehistory #crackerbarrel I'm so excited about it that I am going to give some chocolate and Cracker Barrel fun away!!  See below for our Twitter Party Details!
Have you always wanted to try AMERICAN HERITAGE® Chocolate?? It just got a whole lot easier since AMERICAN HERITAGE® Chocolate Bites are now available at Cracker Barrel's 630 stores in 42 states! Get yours now! AMERICAN HERITAGE® Chocolate Bites are the perfect mouthful of rich, slightly spicy chocolate. It's chocolate, but with enough spice to make it interesting…and bring a little excitement to your palate. We love it.  (We bake with it a lot!!)
All AMERICAN HERITAGE® Chocolate products are certified Kosher, made with all-natural ingredients and no preservatives. Our chocolate is fashioned from recipes from the 18th century and use a sprinkling of spices such as cinnamon, nutmeg, vanilla, orange and red pepper. It's made with the ingredients that were available in the 1750's and it's really the same chocolate that our forefathers would have had.  So really, you can drink the same chocolate that George Washington did. Pretty cool, right?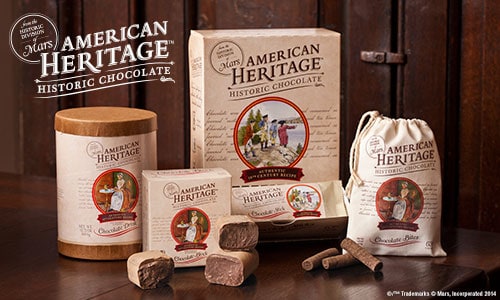 Individually wrapped, AMERICAN HERITAGE® Chocolate Bites come in a keepsake muslin bag and are ideal for eating and sharing.
Join us for a Twitter Party to celebrate this partnership!
When April 6 from 1-2pm ET
Where Twitter.
Who: Follow @choc_history and @CrackerBarrel and me! @brettbmartin and use the #ChocolateHistory #CrackerBarrel hashtags to join us!
Prizes: Four prizes will be awarded total, one every 15 minutes of Twitter Party.  Prize packs will include: complete AMERICAN HERITAGE® Chocolate product line, "Great Moments in Chocolate History" book, $25 Cracker Barrel gift card
RSVP Below to be eligible to win!

SOCIAL PROFILES: