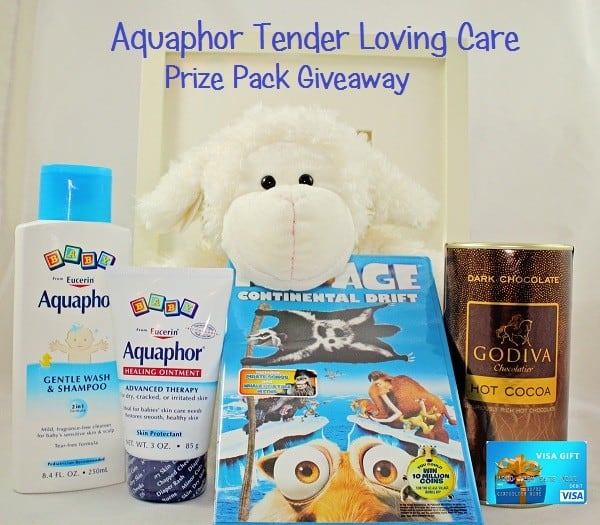 Aquaphor was one of the first brand names I remember other moms recommending on a message board when we were trying to conceive our first child.  It's so great, they said.  So versatile.  Great quality.  So obviously, as time progressed and I got pregnant, and started preparing for baby, I purchased some of Aquaphor's Baby Healing Ointment.  At first, I bought the tube.  Then I got some of the gentle baby wash and shampoo.  It wasn't very long into my pregnancy that I discovered one of the many, many "surprises" that come along with the pregnancy hormones- skin changes.
Almost overnight my hands went from normal hands to dried up hands that felt like they were going to crack.  I was hooked.  I used the Aquaphor ointment on my hands, my feet, dry ankles, lips…everywhere.  By the time the baby came, I was on my second tube.  I got that tube, and a big tub.  Then I actually had a baby (and then two babies, and then the third baby) and we found we used Aquaphor Baby products very regularly.  When my mom started declining and started to need oxygen, I brought her a tub of Aquaphor.  She used it to soothe the irritated skin under her nose.
There are many uses for Aquaphor besides for baby care -caregivers for older children, adults and seniors who have incontinence issues can also use Aquaphor as a treatment for protection and for relief.
I think my personal favorite application for Aquaphor's Baby healing ointment (now that my littlest is 3) is to keep the kids lips, cheeks, nose and chin from getting chapped when playing outdoors.  We woke up to well over 3 feet of snow this morning, with drifts 6-8 feet high in places in our yard- there was nothing that would keep my kids inside.  They were ready to head outside before 7am .  Of course, they had absolutely nowhere to go since they couldn't actually walk…but they all had Aquaphor on their little faces to protect their skin from the cold harsh wind (blizzard conditions lingering) and cold, wet snow.  I have been known to put some on my husband's cheeks too before he heads out to snowblow the driveway.  I think I've done it so many times he does it on his own now!
Aquaphor DEFINITELY helps us to enjoy our favorite winter activity- playing outside in the snow !!!
After a long day of playing outside, coming in to dry off and warm up, going back out…we were all pretty beat.  The kids were all in agreement that Aquaphor ROCKS! because they sent us Ice Age Continental Drift with some other goodies and we all snuggled in with blankets, hot cocoa, and enjoyed a relaxing family movie night.  I think we made a lot of memories this weekend- with the blizzard, not seeing out the bathroom window upstairs because there was a huge drift on the roof below it, playing hide and seek in the snowbanks…movie to end the day…that's what this life is all about.
I received a prize package from Aquaphor to thank me for taking the time to share this post. Opinions are my own.
0