This is a sponsored review about the Tricky Stories: Magic Castle – kids game for iPad and iPhone.  Opinions are my own.   Tricky Stories: Magic Castle is a new kids game for iPad and iPhone releasing 8/29/13 (download on iTunes). At first glance, I kind of thought this app was almost a virtual sticker book- but upon exploring a bit, and watching the kids interact, I quickly realized it was much more.  This app is kind of like a felt board and puppet show blended together into an interactive game on your device.  There's the scenery and buildings that are "set" in place, but your child can engage and move different components and characters around to their heart's delight.  That scary, fire-breathing dragon may be on the verge of capturing the king's castle, but wait! Along in the distance comes the stereotypical knight in shining armor to save the day.  Or, if your kids are like mine, maybe the princess throws a giant birthday cake at the dragon and ties balloons to the dragon so he floats away, never to be seen again.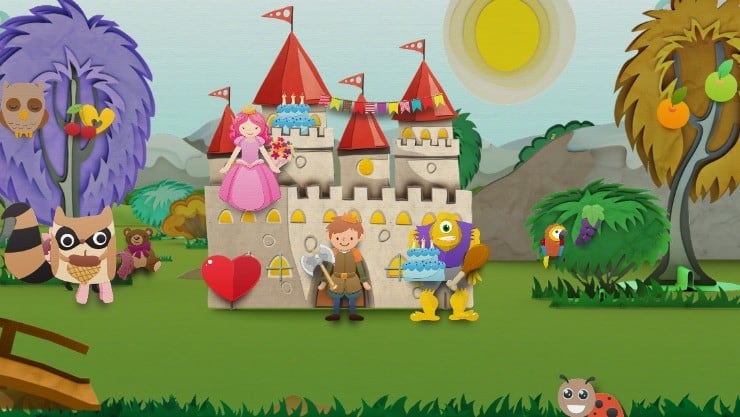 The monster is really happy because he tricked his friend the prince into chopping up firewood so he doesn't have to do a lot of work.  The princess has flowers she wants to bring to her teacher who lives over the bridge and past all the flowers. The raccoon lost his special friend Bear last week at the park but the lady bug brought it back to him and he's happy today.  (Description by my 4 year old)
My kids spend a lot of time doing dramatic play and imaginative play.  They'll play with the Lego guys and the My Little Ponies who will all ride together to free a stuffed dog who's been put in time out by the big mean mommy (um, that's probably me).  This app isn't going to take away any of that fun, but your child can have similar fun engaging and interacting with the people, places, animals and things that you find on the different pages of the Tricky Stories: Magic Castle app.
One really fun thing I like (and the kids adore) is that you can take polaroid-like snapshots of the scenes you create.  Which may mean your camera roll is looking similar to this, although I can almost promise you that your kids will likely stare at you when you say "oh! those look like polaroid pictures!" because they have no idea what a polaroid is.  These develop instantly, no need to shake them or wait for them to show up.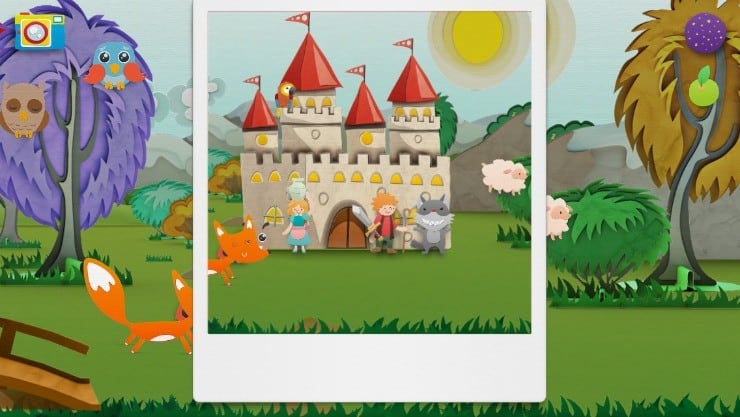 In this photo, the kids were telling me that the fox is playing hide and seek but he's not winning and he's going to get really sad. The princess is planning to bring out a cake and make a surprise party so he doesn't feel bad all day.  (Description by my 5 year old)
We had a double appointment at the pediatrician this week for both girls' physicals.  That meant my son  was along for both visits, and stuck in an exam room with not much to do.  We read several books together, but he was bored and getting very antsy.  I set the iPad out on the exam table and within a moment, he and little sister were playing around and happily entertaining themselves while big sister was out getting her checkup stuff taken care of.
This app will be available for 1.99 starting August 29th (today).  It's fun, it's affordable, and definitely an app that kids can go back to over and over again without it being the same every time.
What are your favorite apps? Are you planning to download Magic Castle?  I want to know what your thoughts are!