This post is the last in a series about back to school fashion as part of my involvement with the #kidsgotstyle campaign with Glam Media. On Friday, my whole family went to Target for some back to school shopping.  As much as I want to say it was fun, well, it was exhausting.  Parts of it were fun- but my husband had this idea in his head that we could get my son's stuff quickly and then head to Home Depot and Lowe's to look at flooring options for the breezeway.  In under an hour.  (I am going to assume that most of you, like me, found that idea amusing!). My son's never really wanted to choose his own clothes before- so this was a big day for both him and me.  It wasn't necessarily easy for me to let go and let him take charge, but it was actually pretty fun to watch him.  Target asked us to go shopping and using our Stylagram they sent as a guide, let our little guy get some back to school fashions.If you haven't seen it, this is the Stylagram we got from Target- isn't it awesome?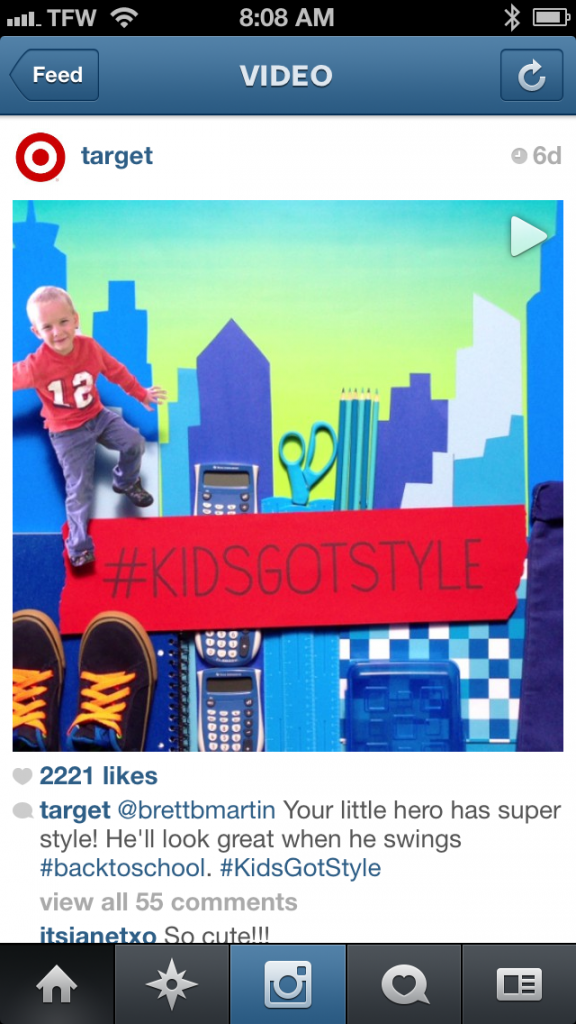 Here's our little guy with his new super cool Shaun White flip flops, Minecraft Tee and Cherokee pants.


As you can see above, he's pretty happy with his choices.  His first and TOP PRIORITY was the flip flops above- Shaun White's line, and they are red.  Both sisters got flip flops in recent weeks and my little guy was feeling really left out.  He was happy to have such cool flip flops AND to be able to choose himself.  The pants were a great find- they are definitely too long, but he hates snaps or buttons on pants and these have neither…so he's a happy guy.  He chose the same pants in 2 colors!  Below, he's wearing the same Cherokee pants and Minecraft tee but this time with a nice plaid shirt over it- which will be great for cooler weather and also for church!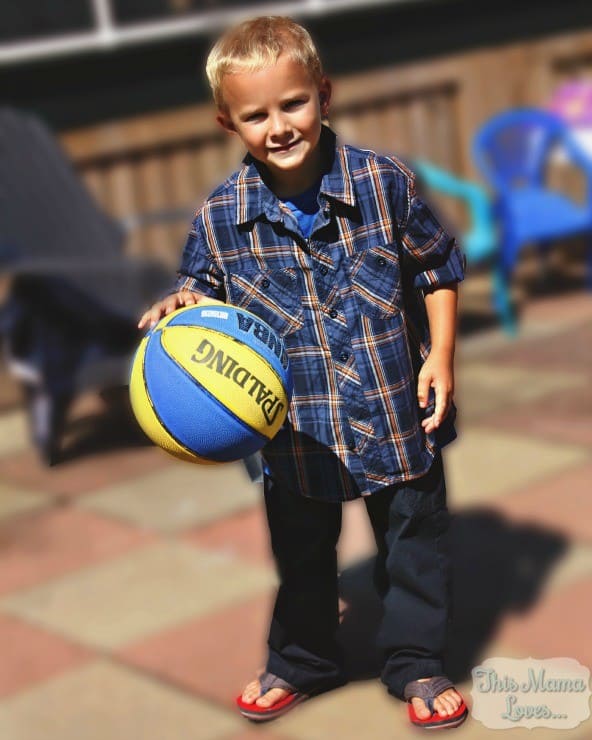 My son also discovered the hat options at Target when we were there.  With his Alopecia, I like to be sure he's got hats he won't mind wearing- and while he's not got any bald spots right now, that can change in an instant.  So…we have a "cool" new Iron Man hat in his closet. (You can see little sister in the background looking for some boxer shorts for big brother to wear-isn't she helpful?)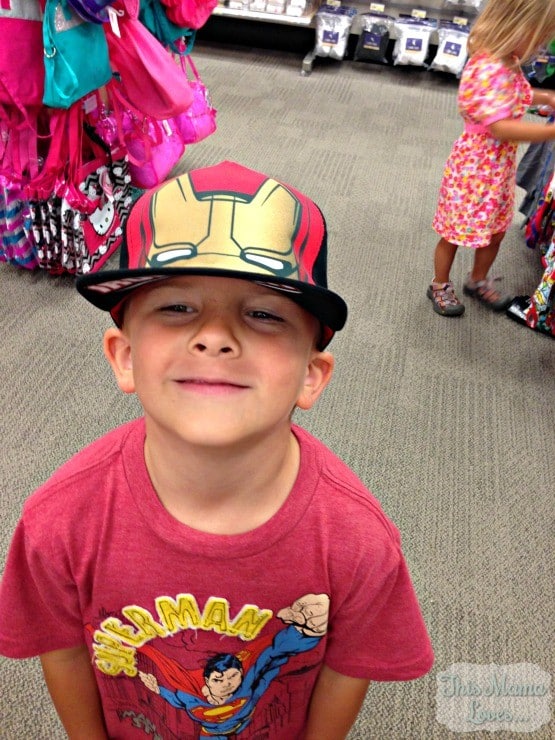 Once he had his hat, we had to go back to look at more cool tee shirts.  Which is how we ended up with a second Minecraft tee. He's happy.  I'm happy that he's got clothes he's going to want to wear.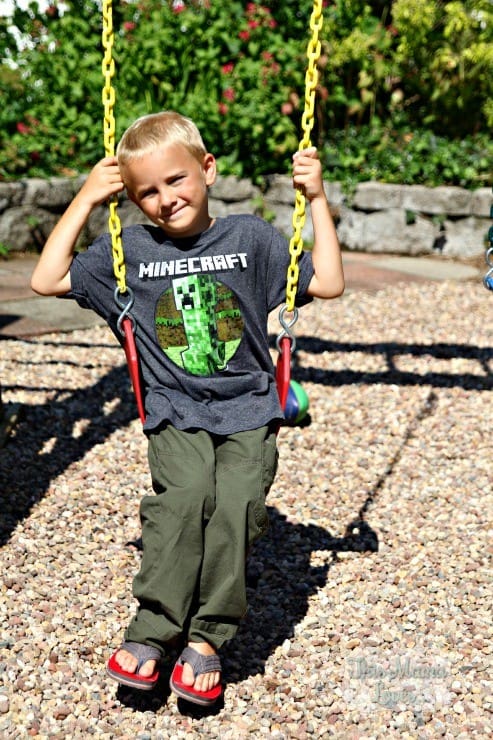 Never fear, we did plan for footwear into fall and winter.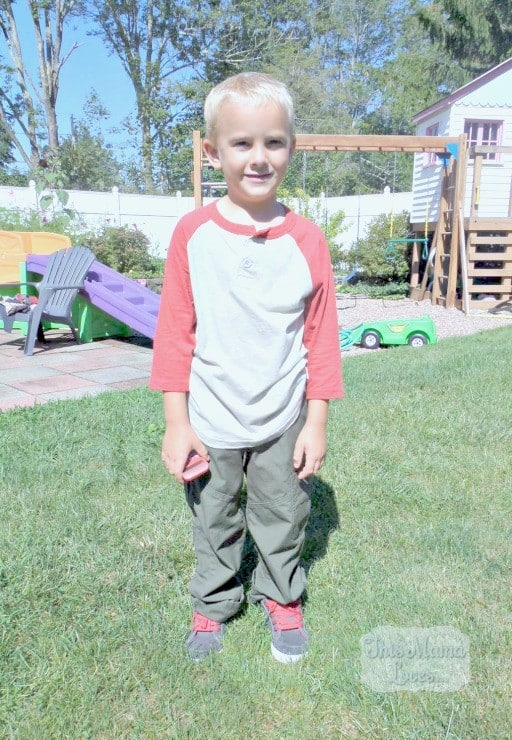 The same outfit with the other plaid shirt he chose on top- great for cold days!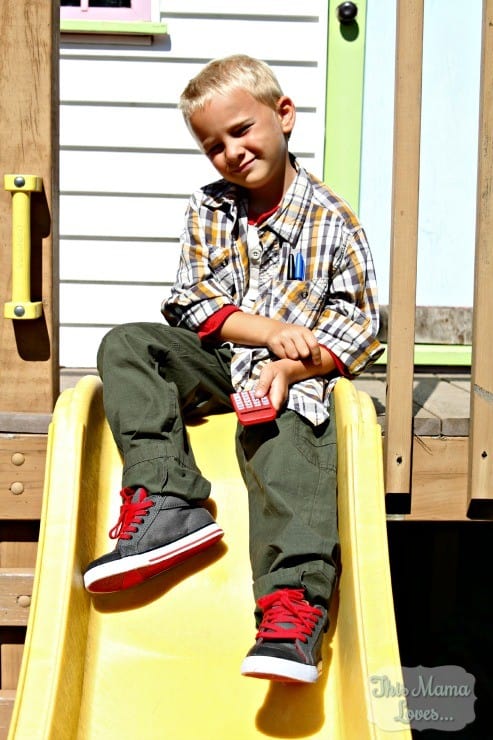 These shoes are a HUGE hit for him- and honestly, I'd probably never even have noticed the shoes had Target not put them in our Stylagram…but my little guy really likes them for 2 main reasons- they have laces (am I the only one who finds it odd that it is hard to find sneakers with laces for kids?) and there is RED in the shoes.  He loves red.  It's his absolute favorite color. You'll also note in this photo that he's playing with his new calculator, which he's so excited about (he loves math) and real pens…just for him.  We did get him new scissors as well but since we're not allowed to send scissors to school that have been opened, they aren't in the photo…they are in the bag with his other school supplies for the first day of school in a few weeks.
What have your kids chosen for back to school fashions?

Expect more. Pay less.
Disclosure: Compensation was provided by Target via Glam Media.  The opinions expressed herein are those of the author and are not indicative of the opinions or positions of Target
0