This is a sponsored post about how to install a vanity and a faucet yourself.Brought to you by The Home Depot®, click here to learn more. I recently attended a Do It Herself Workshop at The Home Depot in Manchester, CT.  The workshop I attended was all about how to install a vanity and a faucet yourself….and it was AWESOME.  I'm kind of handy myself, or so I thought. I mean, I've assisted my husband in gutting our old house and doing many projects here, but apparently, that does not make a DIY success.  I have one or two things to learn.  Or eleven hundred.  Usually in our house, when it's a Brett-by-herself-project, it puts my husband on high alert and he ends up coming to help.  (Or maybe it's part of my diabolical plan to have him do it for me. Either way, right?)
When I first heard I'd be attending the workshop on how to install a vanity and a faucet, some feelings of panic set in.  I kept thinking, for real?  And then you want ME to install a faucet that someone's actually going to USE?  I was laughing on the surface and inside coaching myself through the anxiety.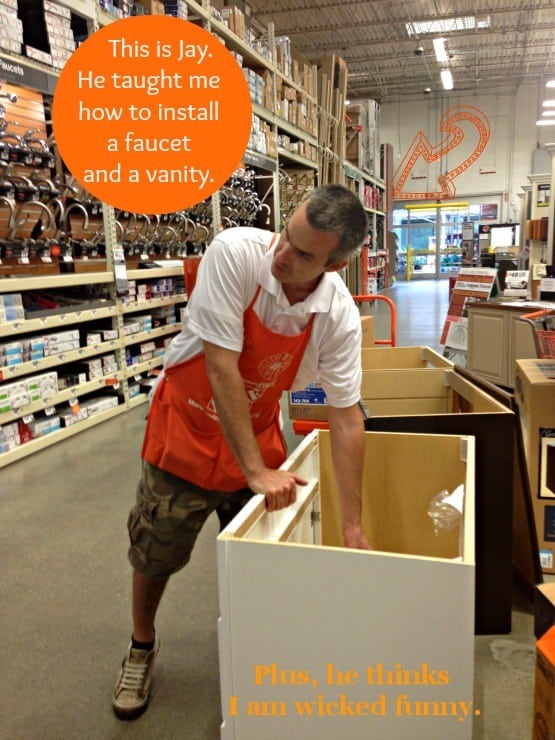 But then I got to the store, and was connected with the wonderful Jay, and after I decided how funny he found me, he quickly assured me that yes, I could absolutely handle the install of a vanity and a faucet on my own.  Which, of course, made me all smiley and stuff, and we were instant friends.  For life.
We were lucky to find a vanity set out on the floor- super convenient, right?  I had no idea that installing a vanity was actually as easy as I'd imagined.  There's really just a few steps.  And what follows?  This is MY general "take" on how to install both a vanity and a faucet.  The general idea is accurate, from what I've seen and learned at The Do It Herself Workshop and watching my husband, father, and father in law over the years.
1. Set vanity against wall
2. Set level on top of vanity
3. Shim bottom of vanity (we use scraps of wood in our house, you can actually purchase shims at The Home Depot if you are more normal than we are).
4. Find where your wall studs are
5. Screw vanity into wall studs.  Be sure your screws are long enough that they really grab into the studs. Don't screw into sheetrock alone because it won't hold.  Safety first, my friends!
6. Attach counter (if it's a one piece with the sink attached, install the faucet first!!  It'll be a lot easier!)  You'll need a bead of a good bathroom caulk around the top of the vanity, then set the counter into place.  Then, don't touch it for 24 hours.  For real.  Just walk away.  This is REALLY hard with kids in the house if you have just one bathroom but do your best). The silicone needs to set and cure- once it does, the counter won't go anywhere.
VOILA.  Vanity installed.
Now, for faucets, well, they take a little more time and many more steps.  But…I can honestly tell you they make it kind of easy.
The counter/sink we were installing with the vanity was all one piece, so that made life easier. I'm a fan of one piece tops because it means less places for water to find it's way into and under, you know?
To install a faucet:
PRE-Install
P1. Take faucet and all related materials out of the packaging.
P2. Read instructions. Or rather, re-read.  I totally recommend looking at the instructions at the store so you can plan ahead and buying things you may not have at home to save yourself another trip back to The Home Depot).
P3. Gather your tools and materials needed (you're going to need some Plumber's Putty and some hose pieces, possibly a connector- it should all be outlined in your instructions).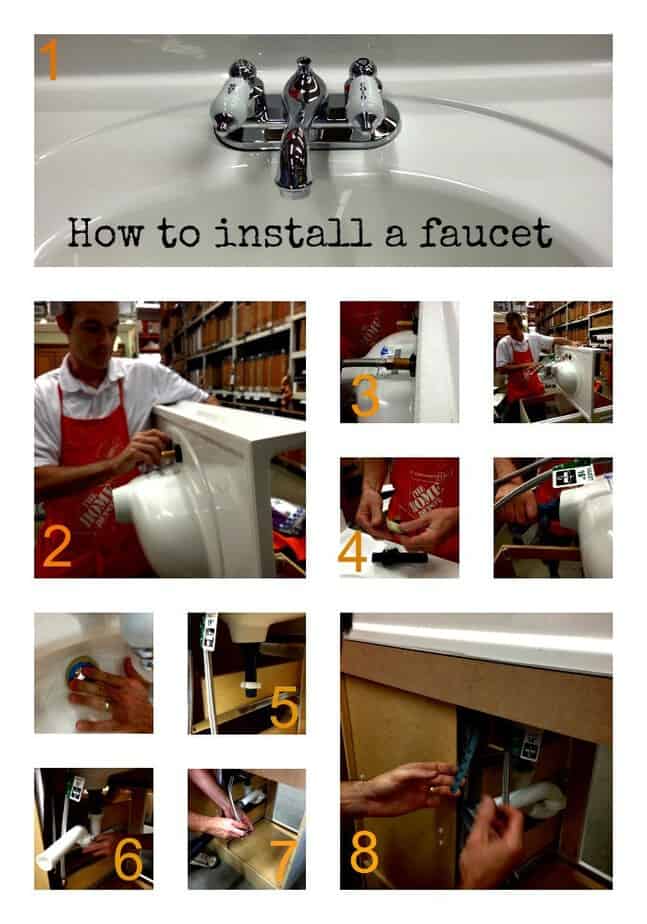 1. Set faucet in place over the holes in sink
2. Secure faucet onto sink
3. Attach hoses for water supply (Be sure to get these tight enough!)
4. Install drain and pop up stopper  (This is where that plumber's putty will come in handy)
5. Attach drain pipe
6. Attach drain trap (it's the white pipe in the photo- see the dip in it?)
7. Connect water hoses to the wall
8. Set the pop up (thingy) to the right height and secure
9. (This isn't in the photo, but Jay emphasized it and I think he's totally spot on) Once you are all hooked up to the water and stuff, and your sink/counter are secured, run the water.  Not for 30 seconds, not for 3 minutes, but for about 30 minutes.  Open both sides of the faucet and run it at full strength for a while.  (This is usually when we're trying to pick up the work area and get things back to some semblance of normalcy). You want to do this to really make sure that there are no LEAKS in your beautiful installation job.  (It's totally ok if there are, just tighten things up and you should be fine. It happens to the best of them. I promise.  But if you don't check, you can have a slow leak, which could go undetected for a while and end up ruining the vanity, the floor, wall, etc.  Take that 30 minutes and be safe not sorry).
Now, earlier today my crazy, crazy neighbors (bless their hearts) let me come over and install the faucet on their new vanity.  Yes, that's right, they trusted me.  Mostly.  D supervised my progress but I think I wowed him.  I'm sure of it.  It was totally do-able!! By me!!  You can see all the photos here- sorry if they were dark, K was taking photos with my iPhone. I wasn't able to 100% finish the job, only because they are having some issues unrelated to the vanity/sink but in the bathroom and will need to be doing a lot more work before they can permanently install. But I DID IT!! Thank you, Jay! And to D and K, for having (on the surface anyway!!) faith in me!!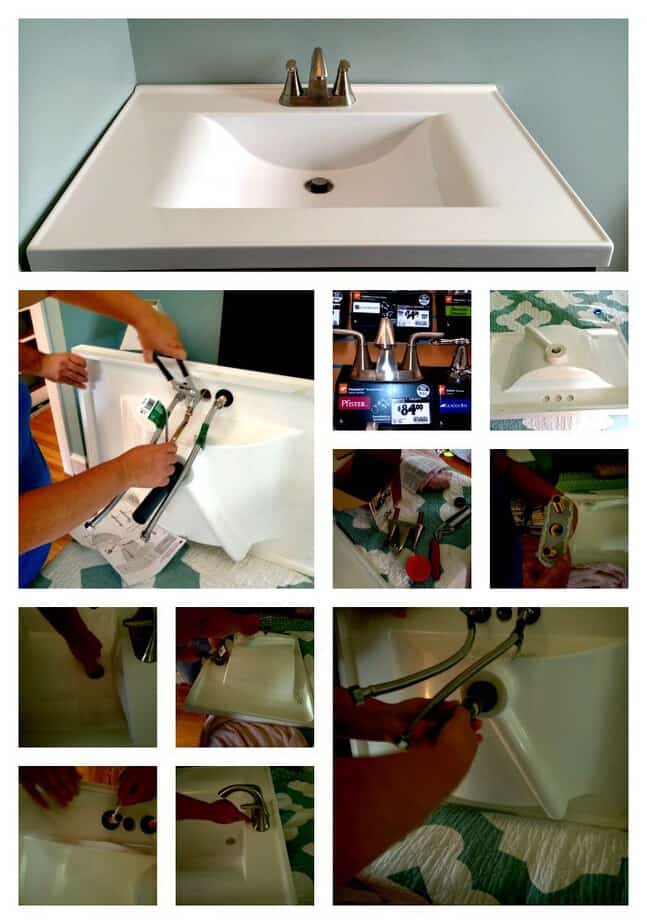 Now, don't you feel all excited and motivated and wanting to go see what YOU can learn at the next Do It Herself Workshop?  The next one is August 15th- Chore Charts and Mail Storage Ideas Inspired by Pinterest.  I would be there in person learning it but I have to work so I can't attend. I'm hoping that someone will attend and then share their knowledge with me- I'd love to make a chore chart that looks pretty that we can hang on the wall- and I'm ALWAYS wanting storage ideas!!! 



Brought to you by The Home Depot®, click here to learn more.
0