After a winter hiatus, I'm back to doing the Couch 2 5k program.  I'm plugging along, at my "perky walk" pace, but in my mind, plugging along counts regardless of how fast you are.  I may never meet my awesome cousin's running pace, but I'm totally ok with that.  I have to be honest though, one thing that happens to me so often, and to so many others (many of whom have also been pregnant), is a little leakage while exercising.  That doesn't make for comfort while running/jogging/walking/perkywalking/exercising/moving/sitting. It's embarassing, totally annoying, but you know what? It happens to a LOT of us.  I'm just one of the few who will speak to it. Part of being active is being prepared for what may happen- no matter where you are… or what you are doing! Some things, we cannot plan for. But some? You totally can! This post is brought to you by our friends at Depend, opinions are my own.  I am participating in a Vibrant Influencer network campaign for the Depend brand. I am receiving a fee for posting; however, the opinions expressed in this post are my own. I am in no way affiliated with Depend and do not earn a commission or percent of sales.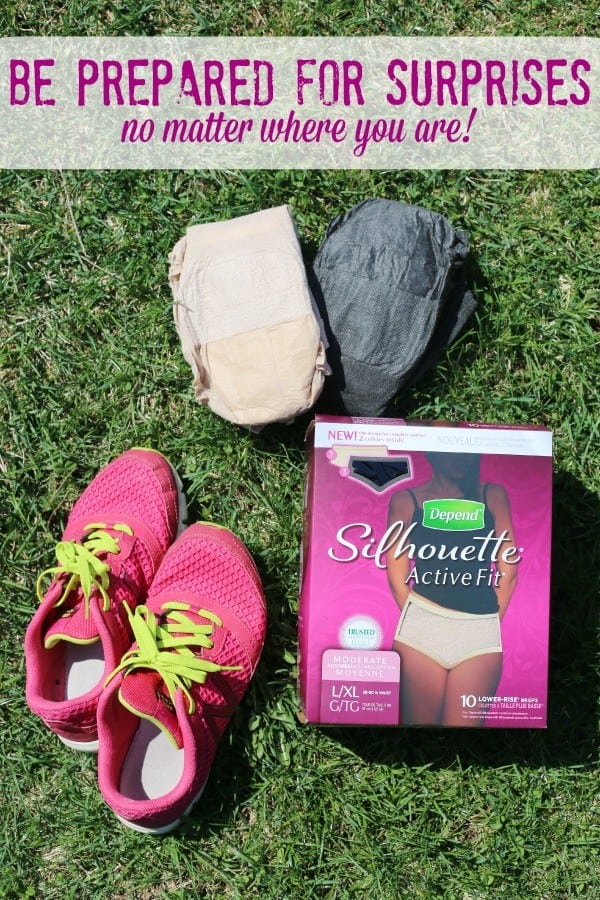 Monday of this week, I was in Boston and standing at mile 24 of the Boston Marathon.  Like in the rain, freezing, cheering on runners, right there in the moment.  As I cheered these amazing athletes on, it struck me over and over, that they have been running for a few hours and what would that be like if you have to pee or if you have a little leakage?  The discomfort that must create! Do you stop? Do you keep going? Does it matter? (Note here: I've been doing some searches online, and it seems some folks do stop to get a bit of relief. Others refuse to…and deal with the consequence).
Over 51 million American women experience bladder leakage. That's 1 in 3 American women*.
There are many common causes of bladder leakage in women including pregnancy, childbirth and even diabetes.
To support the over 51 million women who experience bladder leakage, the Depend brand is introducing Depend Silhouette Active Fit briefs, a new moderate-absorbency brief that features a thin design for complete comfort with the trusted protection of the Depend brand and a lower rise+for an underwear-like look, fit and feel.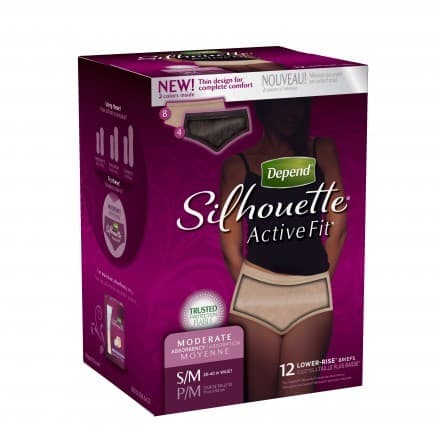 The Depend brand is also entering year two of Underwareness, a social movement and charitable cause to break down the bladder leakage stigma. As part of  Underwareness, the Depend brand is:
Encouraging people to show their support for women with bladder leakage. For every photo and video shared using #Underwareness, the Depend brand will donate $1, up to $3 million, through 2016 to fund charities that advance the research and education of bladder leakage.
Join the movement and request a free sample of Depend Silhouette Active Fit briefs at www.Underwareness.com. Together, we can show that wearing a different kind of underwear is no big deal.
In year two of Underwareness, the brand's social movement and charitable cause to break down the bladder leakage stigma, Depend is joining forces with CVS Health to support women with bladder leakage as they navigate their path to better health.
o   Visit www.cvs.com/depend to learn more about Depend Silhouette Active Fit. To join the Underwareness movement, go to www.underwearness.com.
Here's some video footage (with a few minor comments from me)- I can't imagine stopping so far into a 26.2 mile run.  I have to wonder how many runners might be wearing some kind of product (like Depend Silhouette Active Fit) that can help to absorb a little leakage. I think I might be one of them!
Are you a runner? Do you have leakage issues as well? How do you deal with them?