Back to School BreakFEAST Buffet
Nothing helps you wake up earlier than a breakFEAST buffet waiting for you. Parents and caregivers, the idea of having a kid-free breakfast after a long summer vacation right when the kids head back to school might also help wake you up earlier. This Back to School Breakfast Buffet isn't just breakfast, it's a breakFEAST. Filled with your favorite morning foods, this back to school breakfast buffet features Hungry Jack pancakes and an assortment of sides and toppings. Here is how you can create a back to school breakfast buffet- no, breakFEAST! of your own.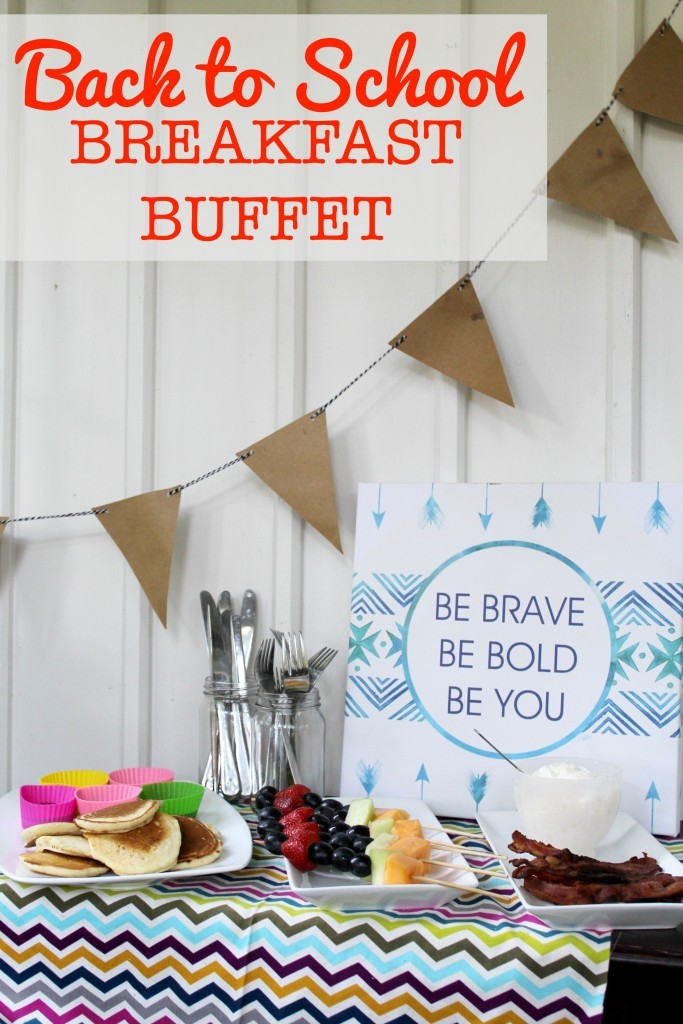 What you will need:
Fresh fruit
Wood skewers
Bacon
Hungry Jack Complete Buttermilk Pancake Mix (or any other variety)
Whipped cream
Hungry Jack Syrup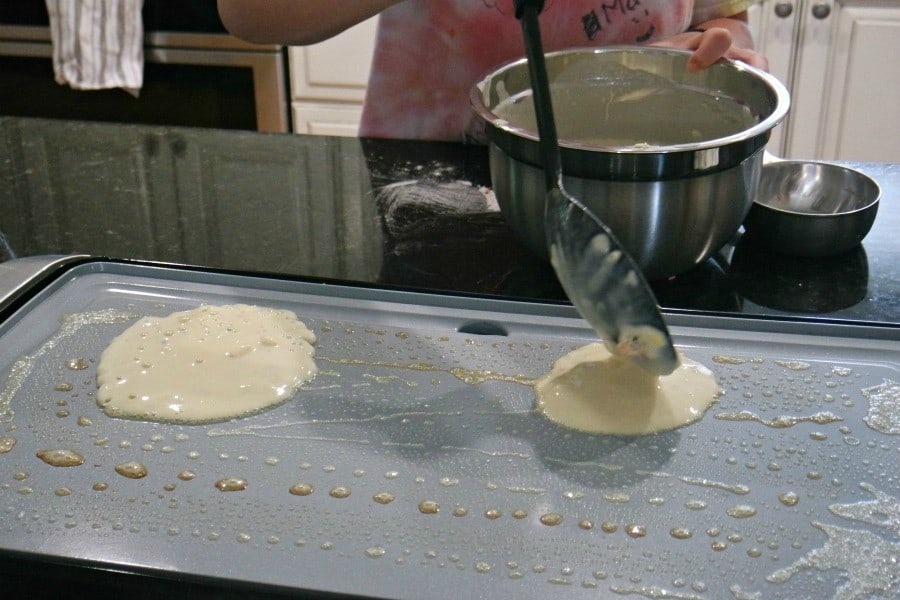 Pancake Griddle or Waffle Maker (We love this waffle maker that flips!)- we love to use our Oster Pancake Griddle with Warming Tray– that way we're not having food go cold before everyone's ready to eat! Really though, especially when you are making a full batch of pancakes for the family, having a griddle is a HUGE help.  It just makes life much easier. I feel like every house should have one!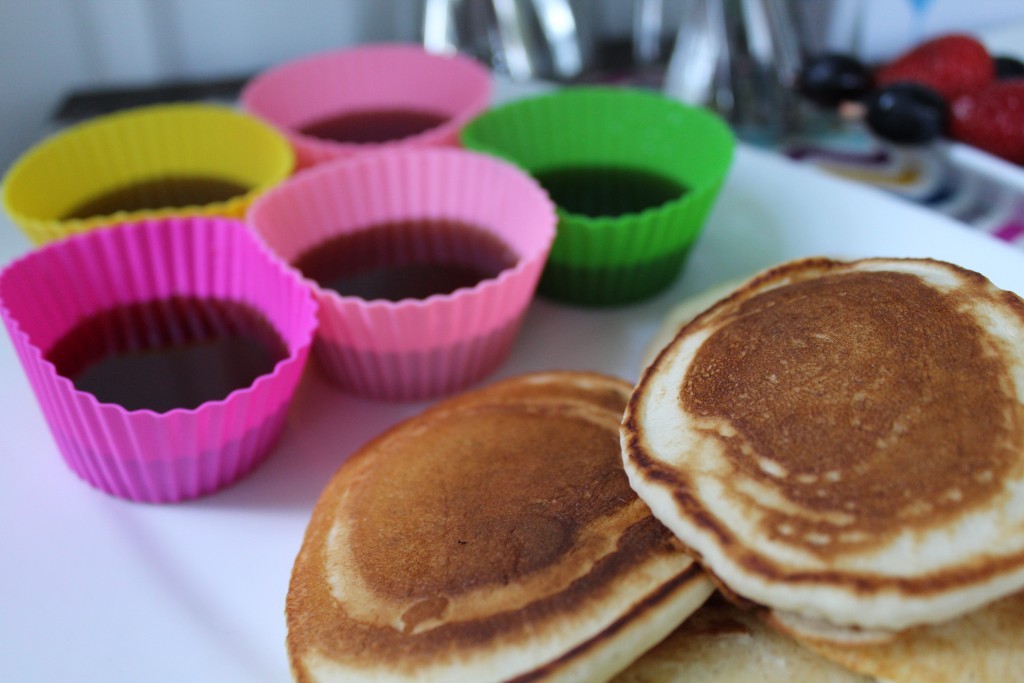 For our décor, we used a colorful tablecloth we created from a few yards of craft store fabric. You don't need anything fancy, just go for bright and bold. A simple craft paper bunting banner helped decorate the backdrop of our breakfast, hung from ribbon it was simple to put together and hang. Finally, we added an inspirational canvas as well as plenty of clear jars to hold all of the cutlery we would need.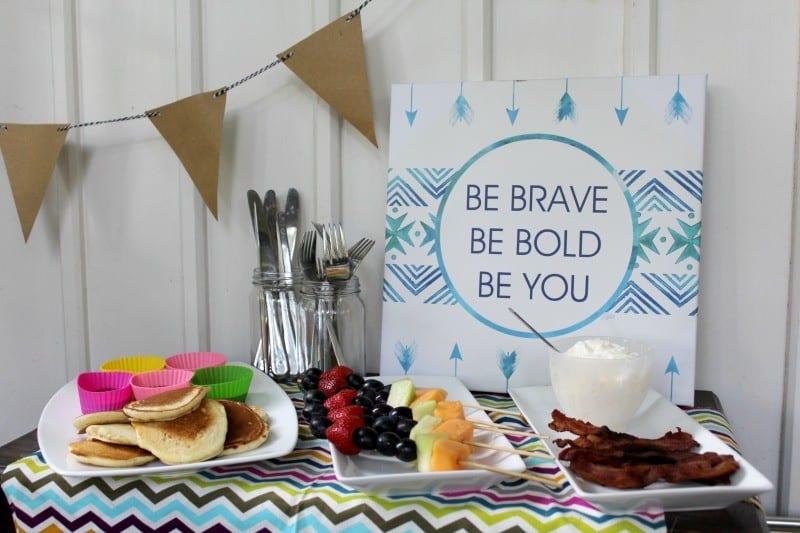 Menu:
When preparing your menu, let the focus be the Hungry Jack Pancakes. We used silicone cupcake cups to create individual sides of syrup so people could either dip their pancakes or pour the syrup on top. Before serving out the syrup, we heated it up in the microwave. Hungry Jack's syrup bottle is uniquely designed to fit in the microwave, allowing the entire family to savor the warmth and deliciousness in every bite. With an easy pour cap, Hungry Jack syrup ensures your pancake breakFEAST is mess free! In addition, there was plenty of whipped cream to top their pancakes, or the handmade fruit skewers can easily be disassembled and added to the top of the pancakes.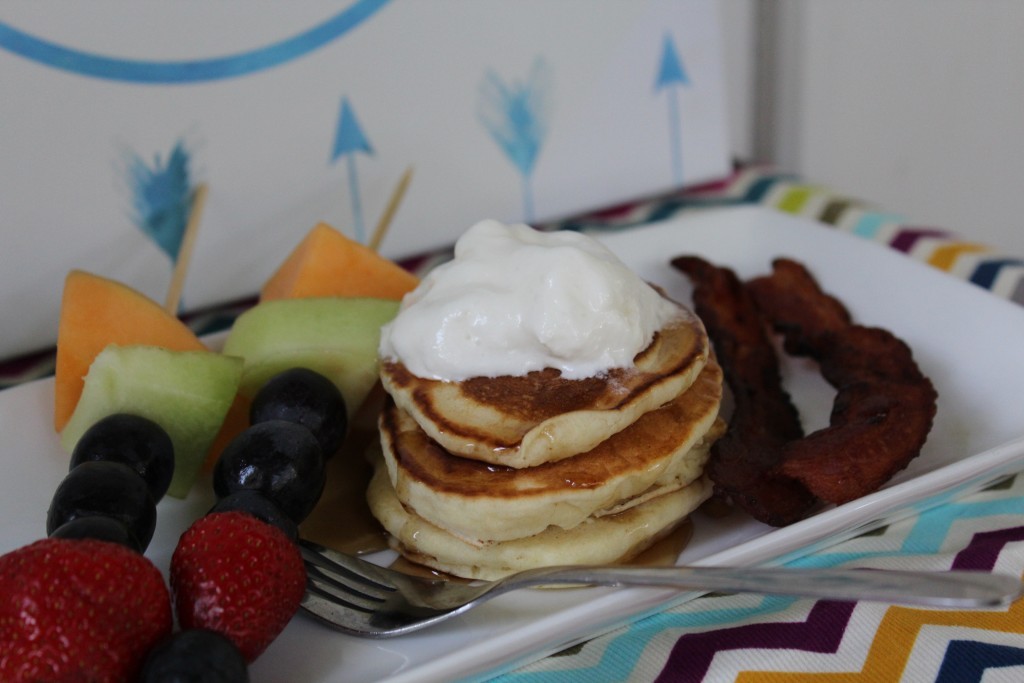 The whole point of this breakfast buffet is simplicity and the opportunity to grab and go. Each guest can take their food choices easily leaving them plenty of time to relax and mingle. As you can see you don't need a ton of space to create this spread either. A small end table is all we used to display our menu.
Don't forget to visit Hungry Jack on Facebook for all your breakfast needs.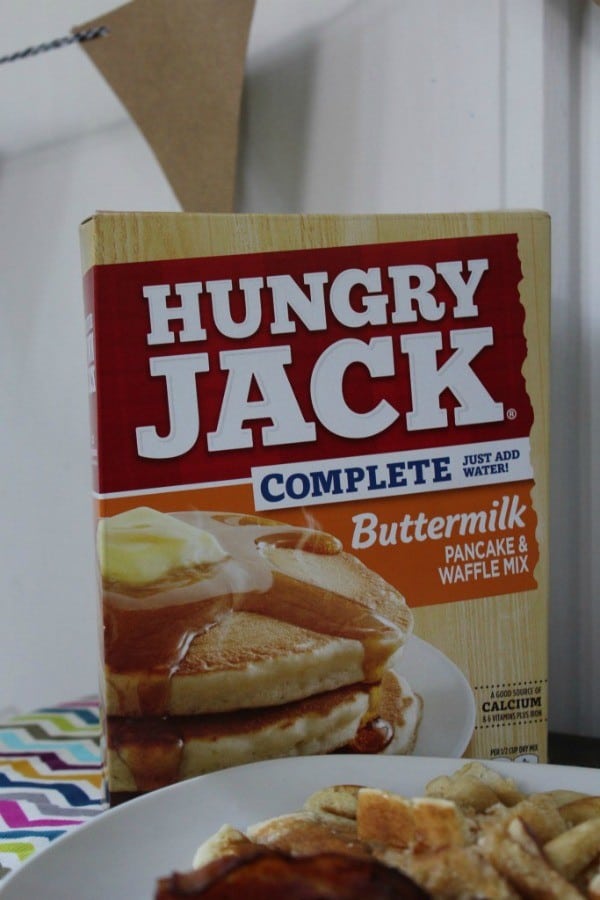 Consider throwing your own Back to School Breakfast Buffet-breakFEAST for your family and friends to help celebrate a new school year!
Also, enter to win an http://www.oster.com/Oster Waffle Maker, Oster Electric Griddle (just like in photo above) and an assortment of Hungry Jack products so you can also make delicious breakFEAST at your house! To enter, follow the instructions on the Giveaway Tools widget below:
Disclosure this is sponsored post on behalf of Hungry Jack.  All opinions are 100% our own.