The great people at CareFree Mats sent me this awesome mat to put under our RV awning.  I love the pattern of the mat and that it is so versatile. The first thing our campground neighbors said to us when we set up was, "Can we have your mat?"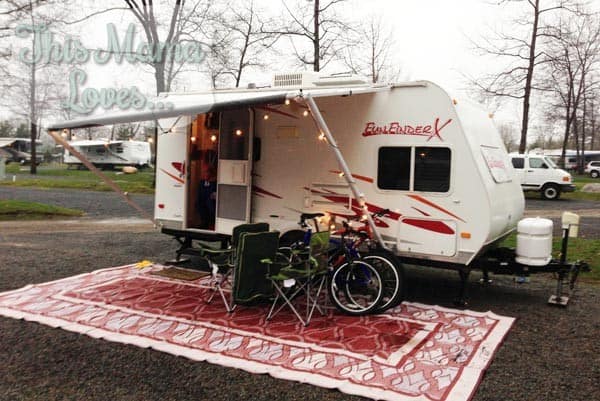 This CareFree Mat helps limit the amount of dirt and rocks that get tracked in to the RV and also defines an outdoor living space while we are camping.  It was set up quickly by a 5 year old and an 8 year old.
CareFree Mats can be used under an RV Awning, or under a tent as ground cover.  They are also great on a deck or patio to limit the tracking of dirt from the yard.  They are easy to clean and to store.   A few other places these mats have been used are  daycare centers, party events, flea markets, horse racing, dog shows, car shows, Nascar events, and camper shows.  CareFree Mats come in sizes that make them a great choice for a picnic or day at the beach.
They come in several patterns (2 new patterns will be launched soon) and colors
and 3 sizes:  6 feet by 9 feet, 9 feet by 12 feet, and I received the 9 feet by 18 feet mat.
From the CareFree Mats Website:
The CareFree Mats® brand Mat is made from 100% Polypropylene (plastic) tubes.  These tubes are woven using a special technique to produce a Mat this is strong yet allows air and water to pass through.  A UV stabilizer is used to protect the color of the Mat to resist fading and damage from the sun.  The combination of unique manufacturing, weaving and polypropylene (PPL) tubes produces a Mat that is well suited for outdoor activities while being eco-friendly.  CareFree Mats® brand RV Awning and Patio Mats are lightweight, and available in custom designs, colors and sizes that are perfect for your outdoor activities.  All of our Mats are SEAMLESS with nylon reinforced corners that have a stake down loop.  Each Mat has two fold lines that make it easy to fold into a compact size (even our largest Mat) and store in our free, high quality, Storage / Carrying Bag.
 In addition to a great product, the customer service and quick replies to emails was outstanding.  I think that says a lot about a company and how much they stand behind their products.
A CareFree Mat was sent to me to facilitate this review.  All opinions are my own.