Chili is one of my favorite dishes to make when the weather gets cooler.  It's full of protein, and such a comfort food for us.  This is more or less the chili recipe my mom made growing up, although I've changed things up a bit over the years.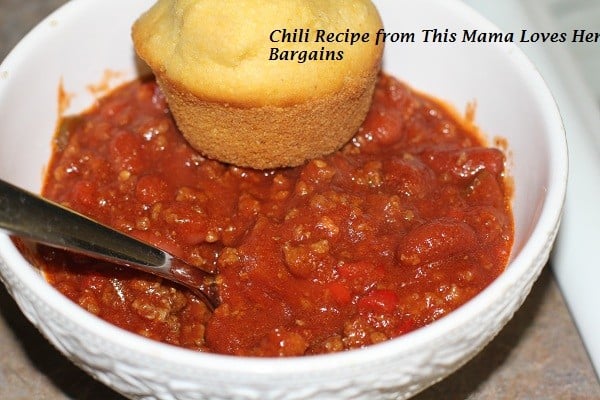 Ingredients:
1 lb ground beef (or turkey)
1lb sweet Italian pork sausage (if you like more heat, use spicy!)
1 15oz can dark red kidney beans, rinsed
1 15 oz can red kidney beans, rinsed
1 15 oz can black beans, rinsed (I forgot to get some of these so they aren't included in the photo above)
2 large cans Tomato Sauce (we prefer Hunts brand)
1 small can tomato paste
Chili seasoning to taste
Hot peppers- to taste (We leave these in LARGE pieces, so that the kids don't end up accidentally eating one)
3 bell peppers and 1 medium red onion, sauteed to soften
Directions:
Brown the ground meat and the sausage in a pan.  Once browned, put meats into crock pot, and return pan to stove.
Chop the onion and pepper as small or large as you'd like it (I like to mince them) and sautee in oil or butter (or the grease from the meat).  Once the veggies are softened, add to crock pot with the meat.
Pour both cans of the tomato sauce into the crock pot, add chili seasoning to taste, and hot peppers (we add the hot peppers slowly, over time, so we don't get our chili too hot).
Cook chili on low for at least 3 hours — stir occasionally, and if you prefer a hotter chili, add more hot peppers or even some red pepper flakes over time.
Serve with grated cheese, tortilla chips or corn bread/muffins!
Don't forget to make a batch of my Simply Sweet Corn Muffins to go with this chili- they complement one another perfectly!