We are surprising our children with the news of our upcoming family trip to Disney World on Christmas morning, so many gifts this year are themed around the trip….and I knew I wanted to have some Disney princess dresses for the girls to wear while down there. My problem was that the dress up stuff we have- even the really nice quality stuff, doesn't seem like it would be very comfortable to wear walking around a park, nor would it be conducive to going on and off rides all day. So I set off to see what I could find on the internet.
That's how I met Shannon from Nannabells on Etsy. Let me tell you, this woman is my hero (and her cousin, but we'll meet her later). She had some darling peasant style dresses for babies (and more recently, toddlers!) on her shop site, but none in sizes that would fit my girls. Dresses that were cotton, and didn't go down to the ankles or longer, that looked like a kid could spend all day playing in and still be- well, a kid playing all day. I sent her a message. Within hours we had all kinds of plans. I wanted dresses with doll dresses to match in the girls' favorite princesses. She wasn't making bigger sizes, but she was absolutely ready and willing to start!
After a little while, we decided upon a Snow White, Cinderella and Tinkerbell for my little one, and Merida, Tinkerbell and Rosetta for my older daughter. As of today, we have Snow White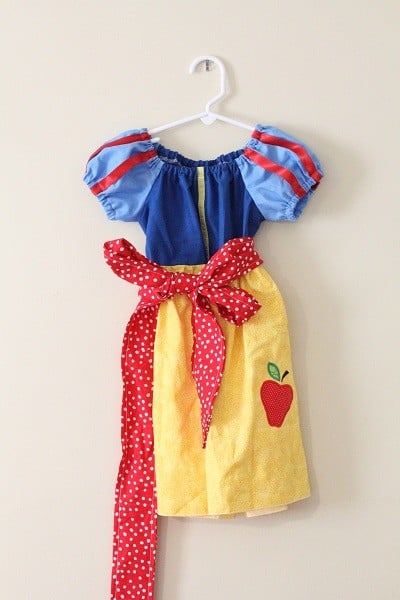 and Merida here – and you won't see photos of these with my girls in them because they are, indeed, Christmas gifts. But I'm too in love with them NOT to share, so here you go!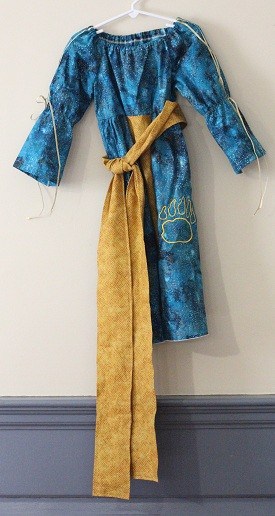 Shannon even added a bit of embroidered "flair" to each of the dresses for the girls. Her seams and stitching is top notch. These dresses are made to last and they look fabulous. The dresses have a really generous elastic neck for pulling over heads to get on and off, which makes things a lot easier for the girls. The sashes are such a fun accent but the dresses look amazing without them, too- and they are not attached in any way.
Shannon's cousin, Jaime, from Sew Every Whim, makes her own custom 18 inch dolls in her shop (they are darling, check them out!) and was also the one to make the doll dresses to match my girls' dresses. The dresses are not identical but I think that works out perfectly- they look the same, but the girls should have *something* extra, right? Like the appliques or embroidery, each is a beautiful embellishment for the girls' dress.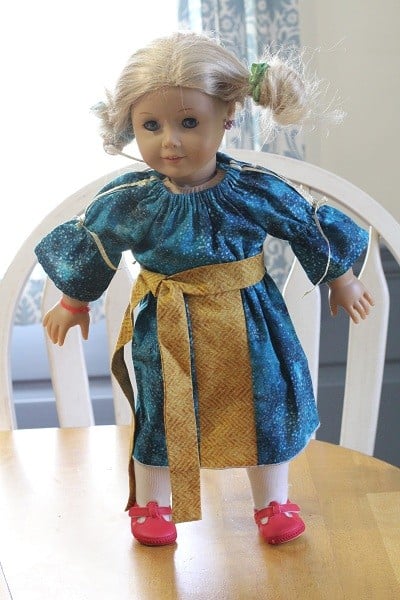 With the Snow White doll dress, the applique is the same, but if you look closely, the doll's dress has a polka dot ribbon on the sleeves. A tiny difference, that makes the dress stand out a bit. The doll dresses have a nice generous elastic so that you can slide the dresses on the dolls with ease. My 3 year old will need help with these (she needs help with dressing her dolls) but my 7 year old will love this. Velcro closures always get snagged on things and annoy us all.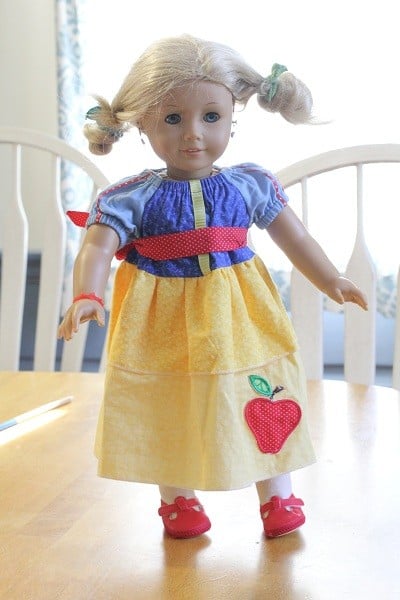 Here are all of the dresses together (and I WILL update with pics of the girls after Christmas!)
Shannon and Jaime are both SO talented, and work quickly- I'd recommend them in a heartbeat (and already have a new order pending…Minnie Mouse, Rapunzel and Jessie have been added to the list of dresses they can do) and what a FUN way to let your princess be a princess at Disney – or at the playground- in comfort and style! I'm sure they are able to even more styles and designs- just ask!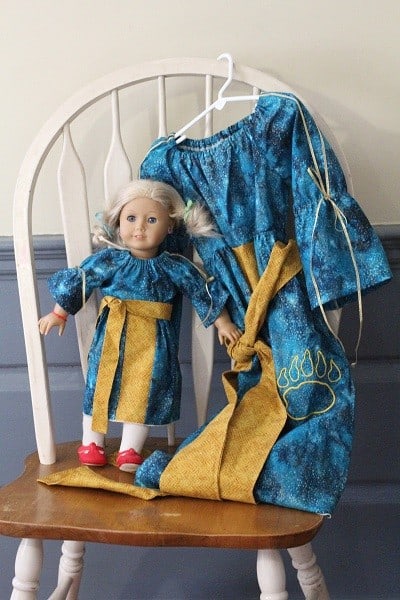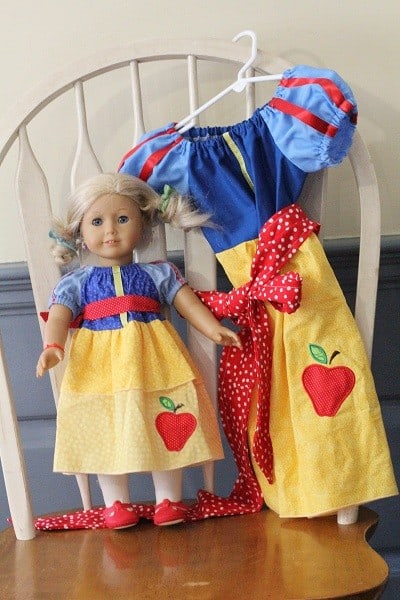 Nannabells' dresses range from $35-$50 depending on the size/design/ruffles/applique on the dresses, if there is an applique added there is a $5-$8 charge depending on the size/detail of the applique.
Sew Every Whim's doll dresses range from $20-$25 again depending on the design/ruffle/applique on the dress.
What kind of dress would you like to see next?
I did receive a discount on the dresses I ordered from Shannon and Jaime, and wasn't obligated to post about them- but I am so head over heels in love with these dresses and supporting women's businesses I just HAD to share!
0