Dollar Store DIY: Lucky Leprechaun Garden
If your children have ever wanted to catch a leprechaun, this Dollar Store DIY project is for you. This Lucky Leprechaun Garden is so sweet and simple, and can be created using just a few dollar store supplies. Perfect for crafting during the St. Patrick's Day season, this Lucky Leprechaun Garden is an enchanting little spot that any leprechaun would want to hide away in. Take a peek at how to craft your own for just a few dollars.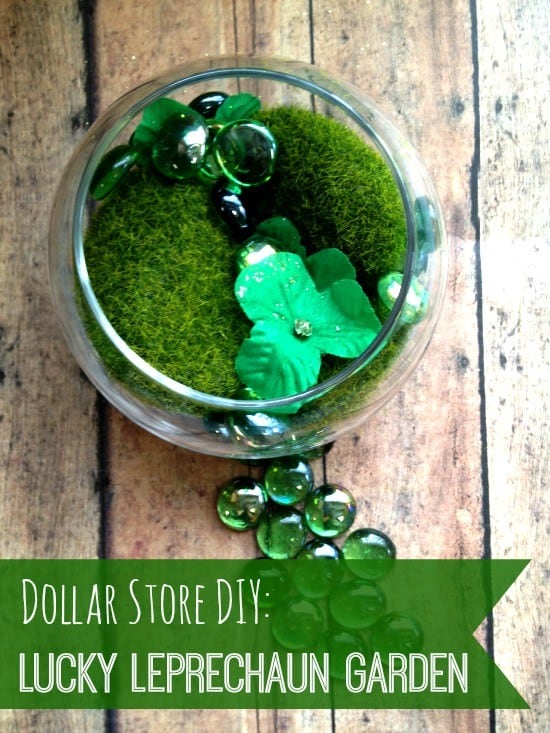 Lucky Leprechaun Garden
Supplies needed:
Round, flat glass candleholder
Moss covered craft stones
Faux/silk clover stems
Green glass rocks
Gold glitter (optional)
We were able to find all of these materials in the candle/floral aisle of our local Dollar Tree store. Total cost for this project was $4, with plenty of supplies left over for our other crafting needs.
Directions:
1. Begin by placing the moss rocks in the bottom of the candleholder. We were able to fit all but one of what was included in the packaging.
2. Fill in the cracks between the stones with some green glass rocks.
3. Take your bundle of silk clover stems and snip off the heads. You only want to use the actual clovers themselves. Take a few and tuck them down in between the rocks. If you are worried about them staying in place, add a dab of glue to the back first.
4. Finish the leprechaun garden by giving it a sprinkle of gold glitter.
Now, place your leprechaun garden out for everyone to see. You can even use additional green glass rocks to create a cobblestone path leading up to it. Throughout the season of St. Patrick's Day, you can place gold chocolate coins in or around the garden, a gift from the leprechaun to your kiddos, direct from his own treasure!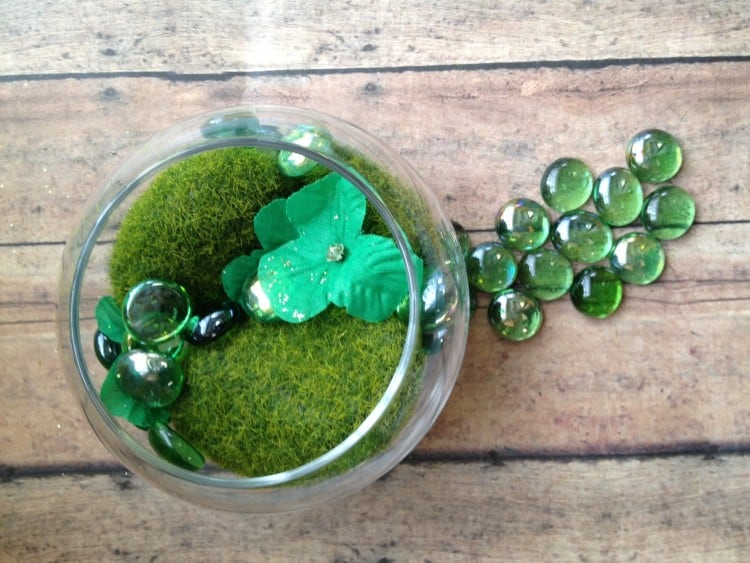 Craft this Lucky Leprechaun Garden with your children and you are sure to create some new St. Patrick's Day memories!