This double chocolate mocha iced coffee pops recipe is brought to you by our friends at Caribou Coffee.  Opinions are my own.
Coffee and I have a long history. I loved the idea of it for many years and then I fell in love with it…and iced has always been one of my favorite ways to enjoy coffee. In summer? I'm all about iced once I've had my first cup of the day! Love it. With the hectic summer our family has had, finding time to make pots of coffee or really, do ANYTHING has been hard- with the kids' camps and putting our home on the market, I've been really hard pressed to do much cooking or even having the time to make some coffee and enjoy more than half a cup full, let alone indulge in a nice tall glass of iced coffee. Going to a drive thru is more of a once-in-a-great-while for us, because we don't like to spend the money, plus with the kids home, a drive thru creates times where kids would like a treat as well, and, well, cha-ching cha-ching…
So woe is me, and all, right? Poor Brett.  Iced coffee season (which is year round, I love a cold drink with a TON of ice cubes) and no time for making my own… and then I remembered that I CAN JUST GO BUY SOME ICED COFFEE, at the grocery store, already made for me to pour over ice. I want to say I shed a tear of joy, but I didn't- I just ran over to the refrigerated section of the store and was delighted to find that Caribou Premium Coffee has some already made iced coffee in 3 flavors…ready for me to pour and enjoy.  Happy.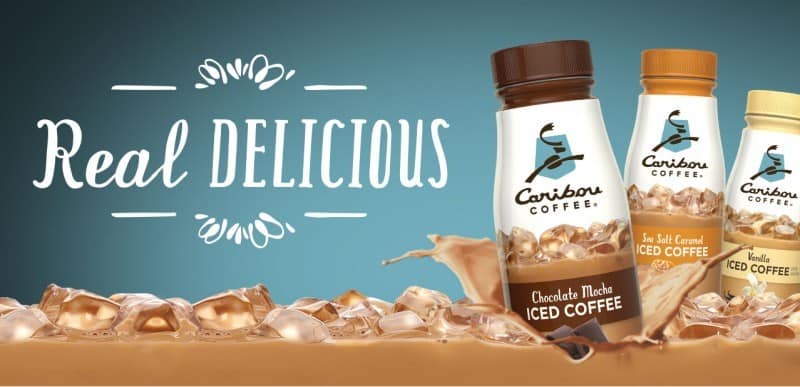 So of course, I grabbed the Chocolate Mocha, continued shopping for a bit, then turned back to grab the Vanilla and Sea Salt Caramel, because why limit my flavor options? Caribou's iced coffees are all made with real milk (reduced fat, to boot) and real sugar-an 8 oz serving is 150 calories- but no unnecessary ingredients or additives in those calories! When I got home- love at first sip. Oh my gosh. I have found my key to a little *me* time this summer, you guys. I've even shared with friends when they've been over. Caribou may have asked me to try these new iced coffee drinks and share with you, but oh, do I love them so, and will keep buying them. It's been my sanity saver this summer, having these fun flavors in the fridge I can pour and enjoy.
But, being me, I couldn't just leave well enough alone, and it IS summer…the kids are having popsicles all the time, so why can't I? So I asked my friend Jill to help me and we came up with these Caribou Double Chocolate Mocha Iced Coffee Pops and they are the perfect little summer indulgence with grownups in mind! A sweet frozen treat that's quick and easy to make and another one you don't have to share with the kids! You can also make these with either of the other 2 Caribou Iced flavors, but I'm a chocolate girl first and I'm sticking with it for this recipe. Chances are, if you have kids anyway, you've got some kind of popsicle mold in your house…if not…go get some popsicle molds! Pops aren't just for kids!!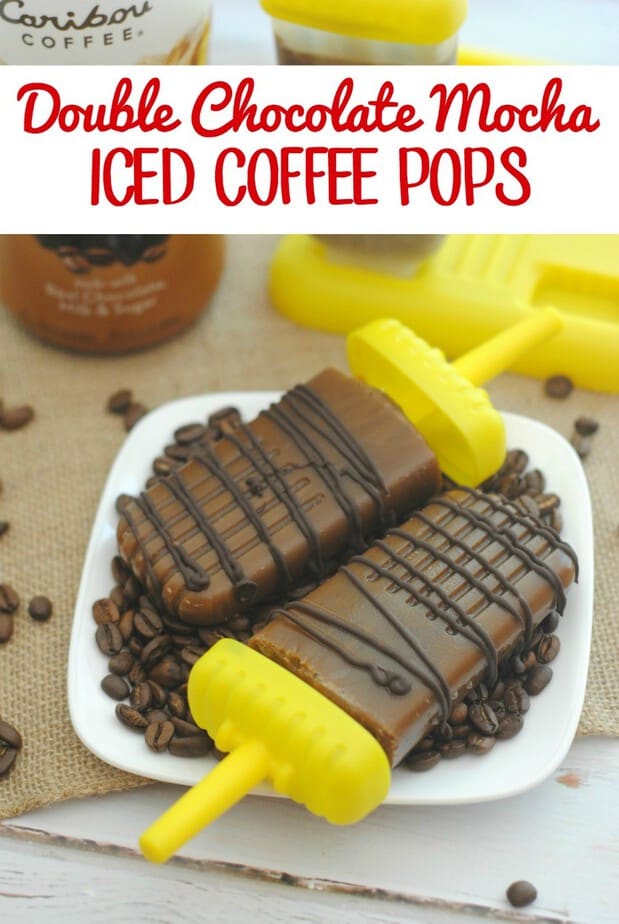 Caribou Double Chocolate Mocha Iced Coffee Pops
Ingredients
32 oz Caribou Chocolate Mocha Iced Coffee (Sea Salt Caramel or Vanilla would work well, too)
5 oz  dark chocolate candy melts
popsicle mold
small sandwich baggie
kitchen scissors
Directions
Pour the Caribou Chocolate Mocha Iced Coffee into the popsicle molds and put the lids on.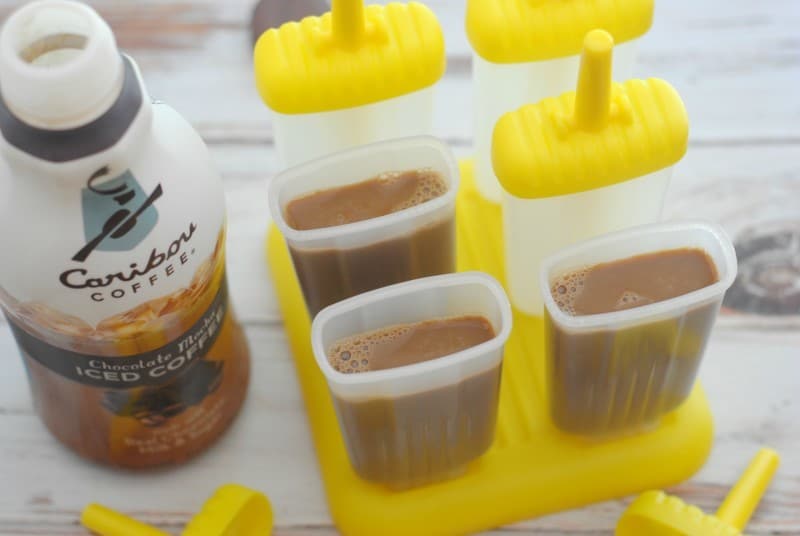 Place in the freezer for 3-4 hours.
Pour the dark chocolate candy melts into a microwave safe dish and heat in 30 second increments, stirring until melted. Let cool a few minutes.
Remove the popsicles from the freezer and remove from the molds.
Scoop the melted chocolate into the sandwich baggie and snip the corner with the kitchen scissors.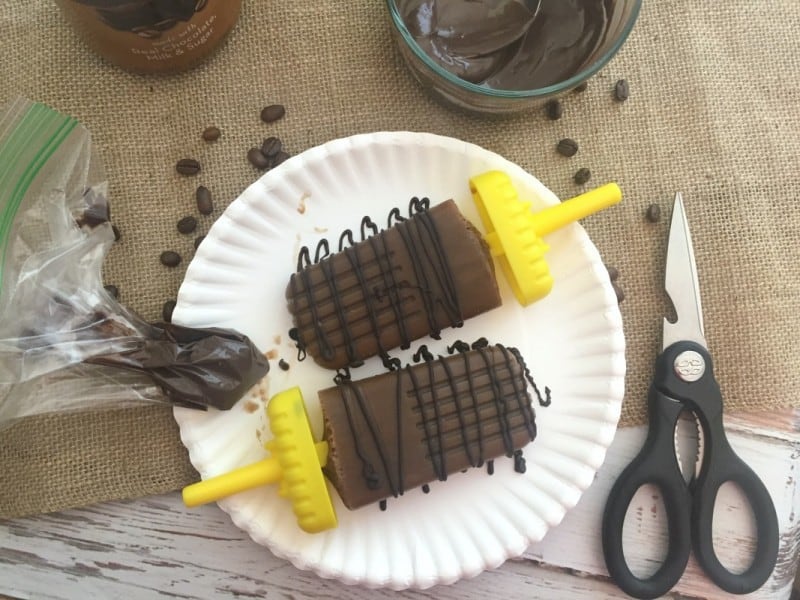 Gently squeeze the melted chocolate over the top of the popsicles.
*Makes approximately 6 popsicles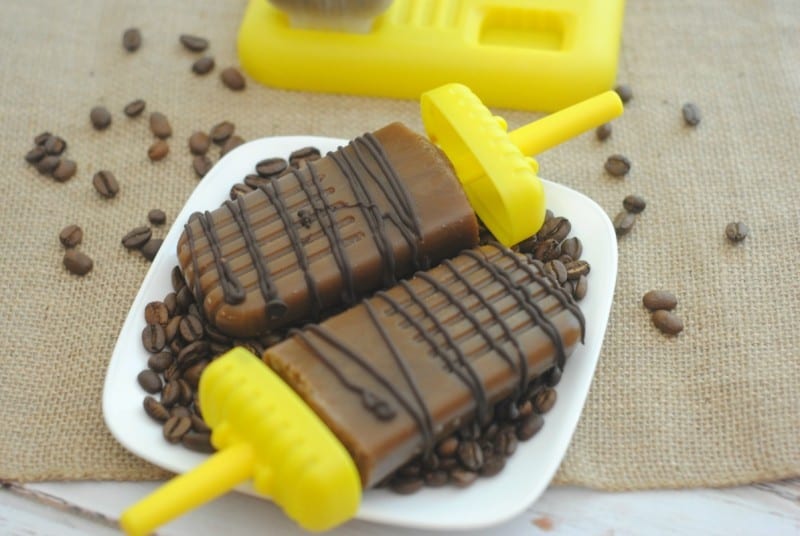 How do you enjoy your iced coffee? Have you made iced coffee pops before? Share your recipe ideas!
[mpprecipe-recipe:2184]
Tovolo Molds links –
https://www.amazon.com/s/ref=nb_sb_ss_i_4_6?url=search-alias%3Daps&field-keywords=tovolo+popsicle+molds&sprefix=tovolo%2Caps%2C240