Easy Holiday Front Door Look plus Holiday Products available at BJ's: Buy-Hang-Enjoy
This easy holiday front door look is sponsored by BJ's Wholesale Club.
One of my favorite places to shop is BJ's Wholesale Club. I can get essentials for the family in bulk and at great pricing (and they take coupons, YAY!) but there's ALWAYS something fun and fabulous I find that I just can't leave BJ's without, especially around the holidays. It might be decor, or a book, kitchen gadget, or gift idea, but there really is always something I can find when I go. Being a Member of BJ's Wholesale Club is something we've been doing for gosh, 15? 16? years now!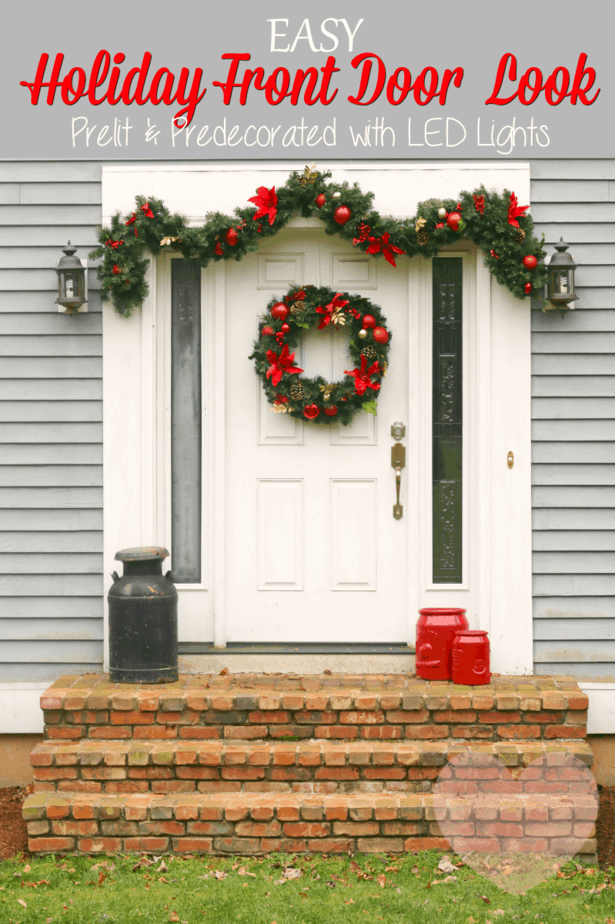 I think you guys may remember (here) that I struggled with our front door "look" for Fall. I'm still adjusting to the larger front door at the new house and figuring out how to decorate for holidays, and I'm always appreciative of the ideas you guys send me. Of course, now I'm thinking about the Christmas holiday and getting excited to decorate (or maybe got excited…since it's hanging at the door!) once again.
In previous years, I got a live wreath for the door. Usually with one plain bow. Last year, I think I did two little Alberta (?) spruce trees with the wreath, but they were too small and were dwarfed by the door size. THIS year, I've decided to go a little more ornate. I found this really pretty pre-lit (how did we live before pre-lit????) Berkley Jensen 28″ LED Decorative Wreath and Berkley Jensen Decorative Garland with LED Lights at my local BJ's and couldn't wait to get them up to see how they look.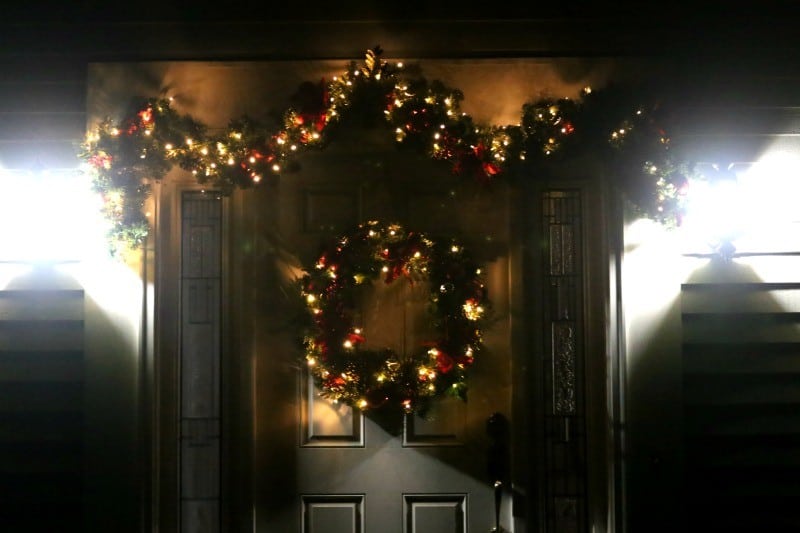 My husband was not *quite* as excited as I was to get these up in the cold at 8:30 on a weekend night, but he's a good sport and did it anyway. I reminded him how much he loves me. He reminded me how much he doesn't love these projects I come up with….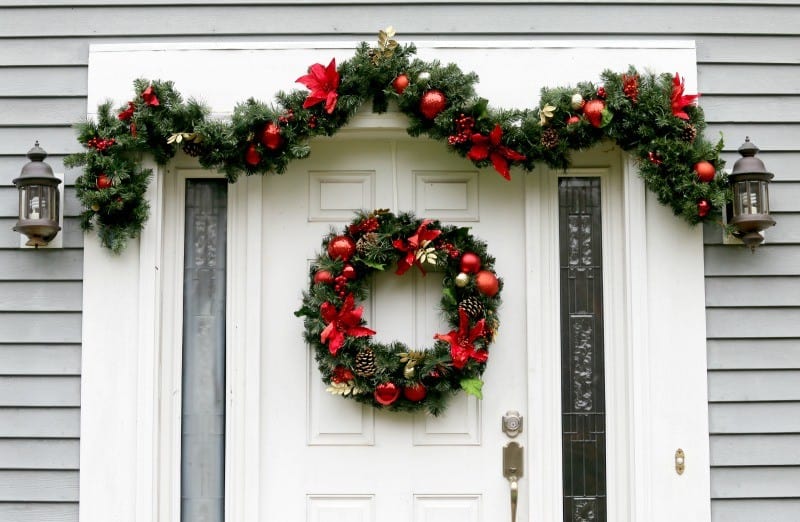 It was well worth it. Look how pretty! I love the colors against the grey. Who knows what color my front door will be a year from now, although I almost want to keep the white because of how colors just *pop* against it for decorations!
Now, I went with the red poinsettia theme for my garland and wreath, but your Club may also have a creamy white poinsettia with more gold in it-I love that you can choose from different color schemes even with the holiday products available at BJ's.
If poinsettias aren't your thing, I think you'll love the exclusive Berkley Jensen 26″ Shatterproof Ornament Wreath! I have kids and pets- and we have an unprotected front door area, so I'm always wanting to be sure I don't purchase something super fragile especially when it's going to be up for holidays when kids (and pets) get a little more excited and may be running around a little bit more…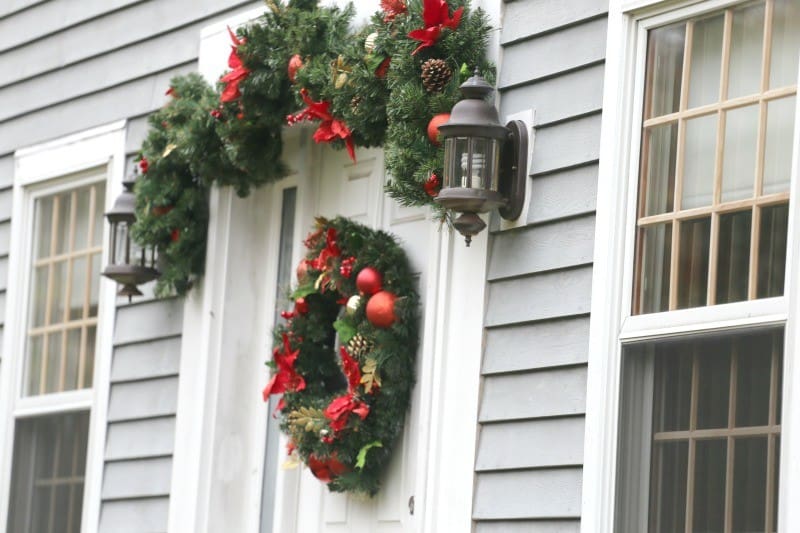 My favorite part of this whole look? Well, second favorite. I'm loving the red and bits of gold and bright green on both the wreath and the garland, but… You won't believe that I got both the wreath and garland, plus I grabbed a beautiful red Lenox Holiday Tablecloth for my dining table for under $100 total. I find such great quality when I shop at BJ's and I love knowing my dollars are being well spent.
I had planned to get a set of the Veraflame TrueFlame 6-Pc. Flameless Candle Set (look for item #93638) as I wanted to do a DIY and transfer photos onto them of Christmas memories, but that's a project that's going to wait for another day (and another post).
I did, once again, realize I needed to add more to the stoop at the front of the house when I was doing photos.  We have an older black milk can that I brought out, but I think that next time I'm at BJ's I'll grab two log planters and maybe 2 of the pre-decorated pre-lit trees I saw outside. Think that'll polish the look for us for the holidays?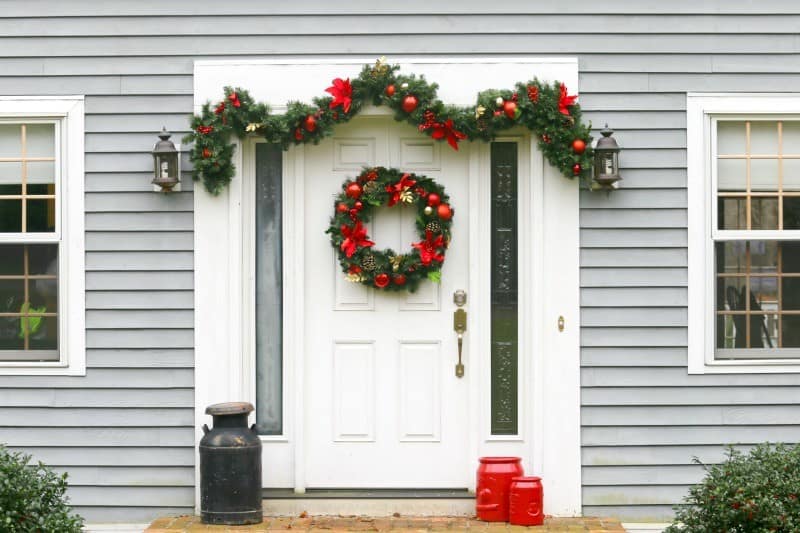 Shop my door look:
Berkley Jensen Decorative Garland with LED Lights (item #93804) $29.99

*I'm heading back to purchase a second garland, as I've decided to put one on our light post at the end of the driveway. I think it'll tie things together and look really pretty!

Berkley Jensen 28″ LED Decorative Wreath (item #93803) $29.99

You'll also want to grab one of the multi packs of AA batteries when you're at your local BJ's- you'll want 3 AA batteries for each of these pre-lit decorations for your door. We love the Berkley Jensen brand batteries and use them frequently here.

What do you think of my easy front door holiday look?

Lenox Holiday Tablecloth and Napkin Set (item #717668) $24.99

This comes in a beautiful Christmas red and also a holly print. Each tablecloth comes in 3 lengths and includes a set of matching cloth napkins.
Now, I'm not just a shopper for decor at BJ's. It's a one stop shop and that's why I love it so much. I was able to get what we need for Thanksgiving dinner, a few gifts for family and friends, a new book for me to read AND my front door decor items. BJ's helps save Members like me from the holiday stress by offering everyday low prices on fresh food, décor gifts and other essentials…so I can make ONE stop instead of multiple when I have things to check off my list.
This is a sponsored post written by me on behalf of BJ's Wholesale Club.