Experience Gift Idea for Kids: Guitar Lessons
Thank you Fender for sponsoring this experience gift idea for kids post. Learn guitar at home with Fender Play!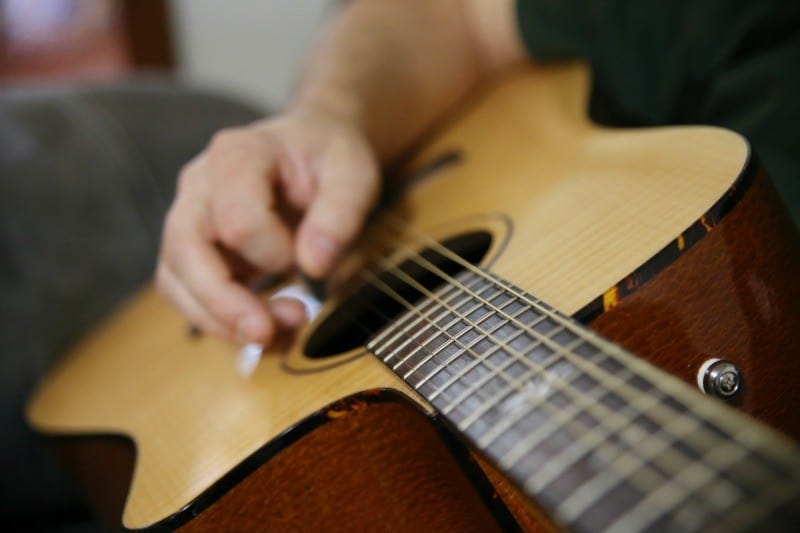 There's been a shift in what a lot of families are choosing to do for their kids and one another for gifting. Giving loved ones and family members an experience is huge right now, and my family is finding great value in this as well. My kids all love music. Our son plays guitar, our oldest will be getting a keyboard to start lessons for Christmas, and our littlest one is learning to play the violin.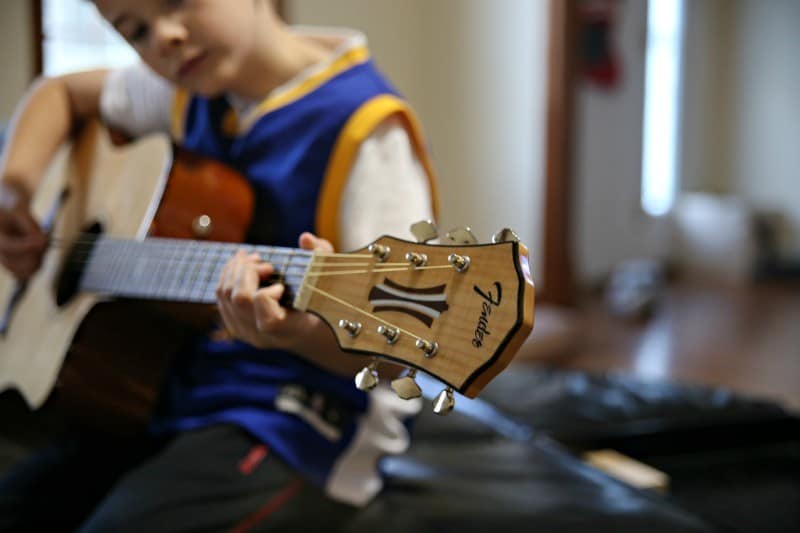 With our crazy schedule the next few months, especially with gymnastics meets starting 12/2 for the season, adding in trips to the music school for lessons in person is HARD. When our friends at Fender reached out and asked if we'd like to further our partnership with them (first post about learning guitar at home here), it was an immediate yes! Our son is always happy to spend time playing his guitar, and for him to be able to continue learning guitar at home? Perfect!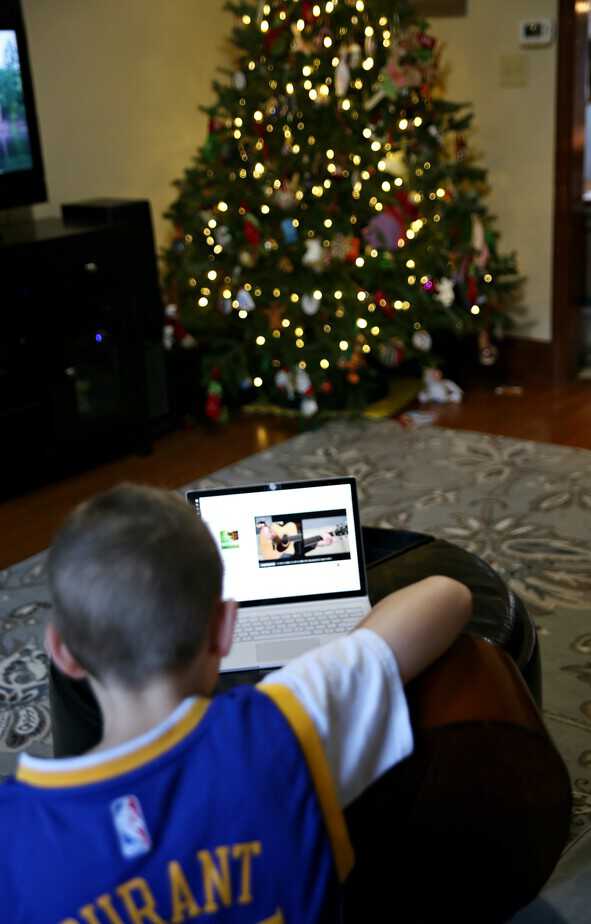 I realized that this was a great gift idea for my son (and by extension, my husband, as they like to go through lessons together and when either learns something new without the other, they immediately share). The gift of continued lessons, at home, where he can continue learning how to play his guitar when it works and is convenient for him (and us) will make for a happy, content kid. (Wait till he opens the Fender P-52S Microphone Kit on Christmas my sister ordered him, thanks to some advice from our friends at Fender!)
Learn more about online guitar lessons and find out if this experience gift idea for kids is right for your family!
Fender Play is fun and song-based. In fact, you basically customize the curriculum based on your musical preference. They call it the path to Play. It's a song- based curriculum, so lessons break down the songs in your learning path into basics and work up from there. That means my son can choose the kinds of music HE wants, and not just whatever books I decide to buy him, or a teacher wants them to learn from.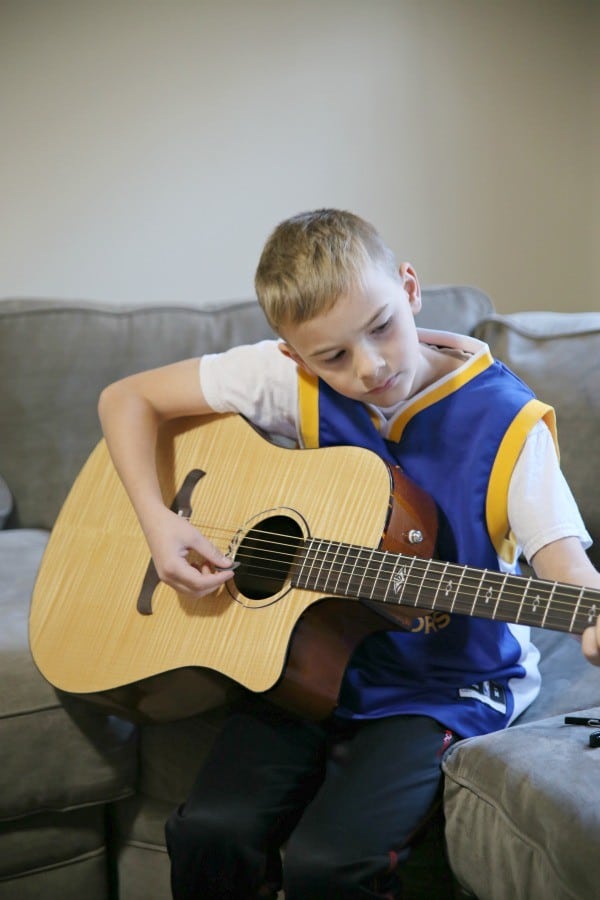 The folks at Fender designed Fender Play to be both fun and to get folks of all ages to learn how to do something new on the guitar in just a few short lessons- a skill, a riff or even a full song. That's pretty appealing to me, as a mom, because having a new skill or something recognizable that my child can play within a few lessons gives my kids more confidence and a sense of accomplishment- both things that will help to continue to foster their love of music.
I still remember having to learn so many tedious things on the piano for what seemed like decades (and was likely a few months) before I was allowed to learn any songs or anything I considered fun when I took piano lessons as a kid. It's been 38 years since I started those piano lessons. The focus wasn't on fun, but fundamentals…I think lessons, especially for kids, should be a really strong mix of fun with fundamentals. It's hard to keep them wanting to learn when it's not also fun
Fender Play is a monthly subscription service, but you can try it free for 30 days at play.fender.com.
The folks at Fender Play have worked hard to include curriculum experts who are using top-quality 4K multi-camera video production to deliver a clear and unified curriculum. You're getting folks who both know what their doing and can give a clear picture of what they are doing and how!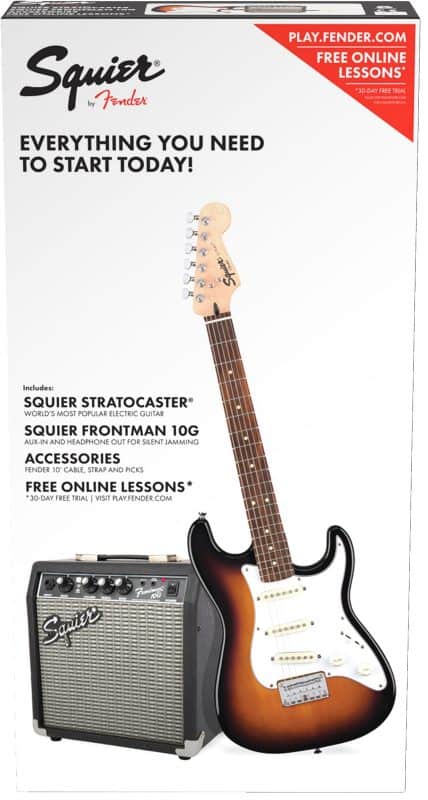 Someone's going to win a Fender guitar starter pack! ACTUALLY, 15 people will be winning this prize pack!
Giveaway details: Prizes: [15] Fender Guitar Squier® Strat® Packs, each containing a Short-scale 24″ Stratocaster guitar in Black or Brown Sunburst, a Squier Frontman® 10G amplifier, a pack of picks, guitar strap, and a 10-foot instrument cable (ARV $199.99 each)
Notification: Winners will be randomly selected and notified by CLEVER and/or Fender by December 12, 2017
I was selected for this opportunity as a member of CLEVER and the content and opinions expressed here are all my own. #FenderPlay #CLVR