Find the Ninja Within Ya. The LEGO NINJAGO Movie arrives in Theaters September 22!
This Easy LEGO NINJAGO Movie Cupcakes post is in partnership with Warner Bros. Pictures. Opinions are my own.
Easy LEGO NINJAGO Movie Cupcakes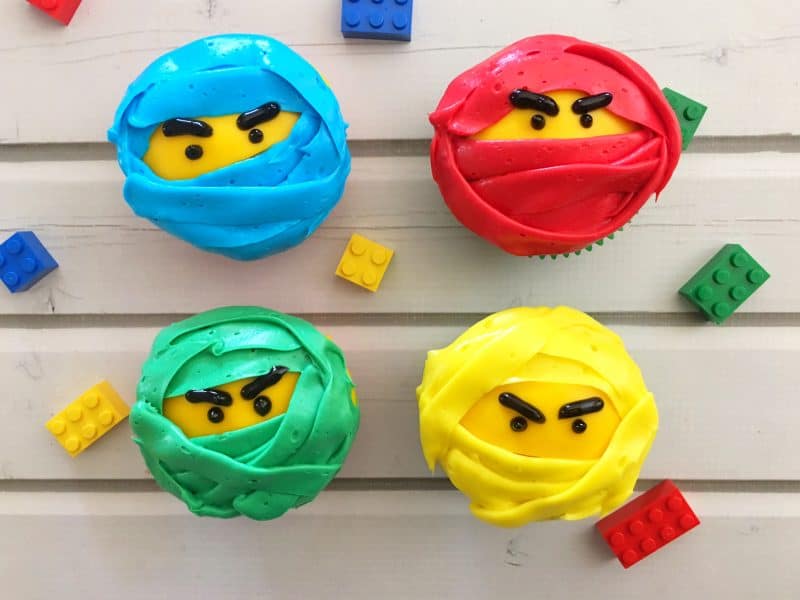 We've loved LEGO NINJAGO since it first hit the bricks. Seriously. I've lost count of how many "Ninja—GO" shouts this house has heard. We've built, we've watched the show, we've battled, and we've read NINJAGO for years now. To say we're excited that our favorite ninjas are hitting the big screen is kind of an understatement.
A new animated adventure in Warner Bros. Pictures' LEGO® franchise, "The LEGO NINJAGO Movie" stars Dave Franco, Justin Theroux, Fred Armisen, Abbi Jacobson, Olivia Munn, Kumail Nanjiani, Michael Peña, Zach Woods, and the legendary Jackie Chan.

In this big-screen NINJAGO adventure, the battle for NINJAGO City calls to action young Master Builder Lloyd, aka the Green Ninja, along with his friends, who are all secret ninja warriors. Led by Master Wu, as wise-cracking as he is wise, they must defeat evil warlord Garmadon, The Worst Guy Ever, who also happens to be Lloyd's dad. Pitting mech against mech and father against son, the epic showdown will test this fierce but undisciplined team of modern-day ninjas who must learn to check their egos and pull together to unleash their inner power of Spinjitzu.
Like 'The LEGO NINJAGO Movie' on 
Facebook
Since we DO have a little over a week to wait for this movie to hit the big screen, we thought it would be fun to treat ourselves to a little LEGO NINJAGO treat…in the form of cupcakes. While you're waiting for them to bake, print this fun activity book to keep the kiddos occupied!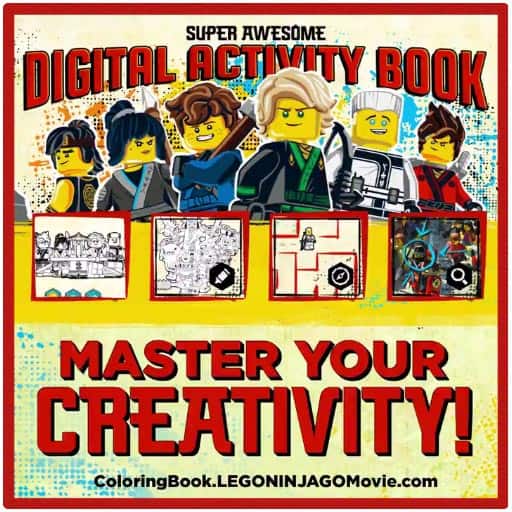 Ninjas! Your creativity training begins…NOW! Visit ColoringBook.LEGONINJAGOMovie.com to download The LEGO NINJAGO Movie Super Awesome Digital Activity Book.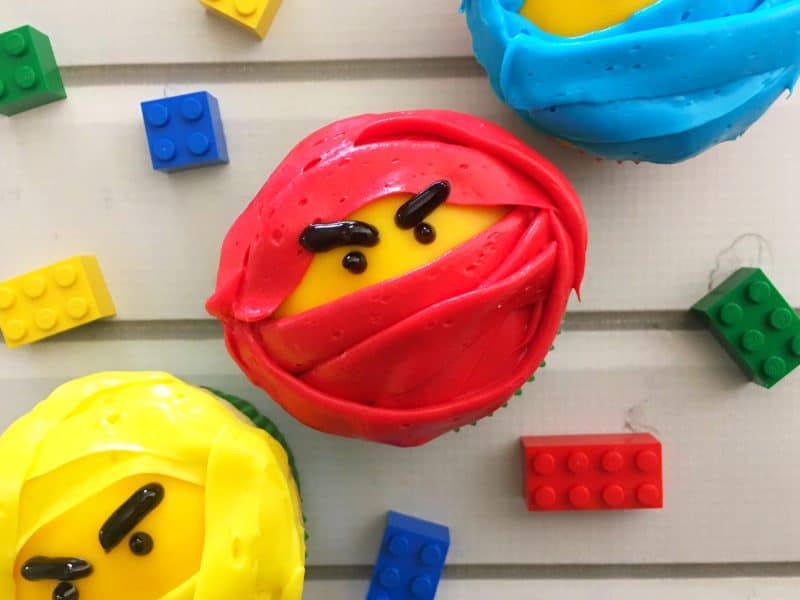 Ready to make some Easy LEGO NINJAGO Movie Cupcakes?
Ingredients/Supplies
Cupcake mix of choice (calls for oil, eggs and water) ** you can also make these from scratch, but we're going EASY themed today!
Red, blue, yellow and green frosting
Brightly colored cupcake liners
Yellow fondant
Black gel icing
Decorating bags
Flat slanted decorating tip
Directions
Preheat your oven to 350° and line a cupcake pan with cupcake liners.
In a large mixing bowl mix together your cupcake mix, oil, eggs and water until well blended.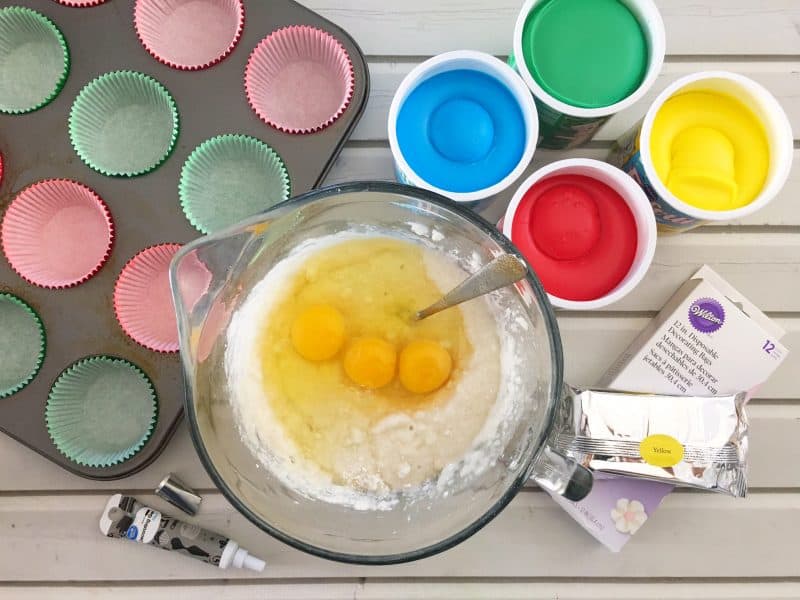 Fill your cupcake liners halfway with your cupcake batter, bake for 15 minutes and let cool.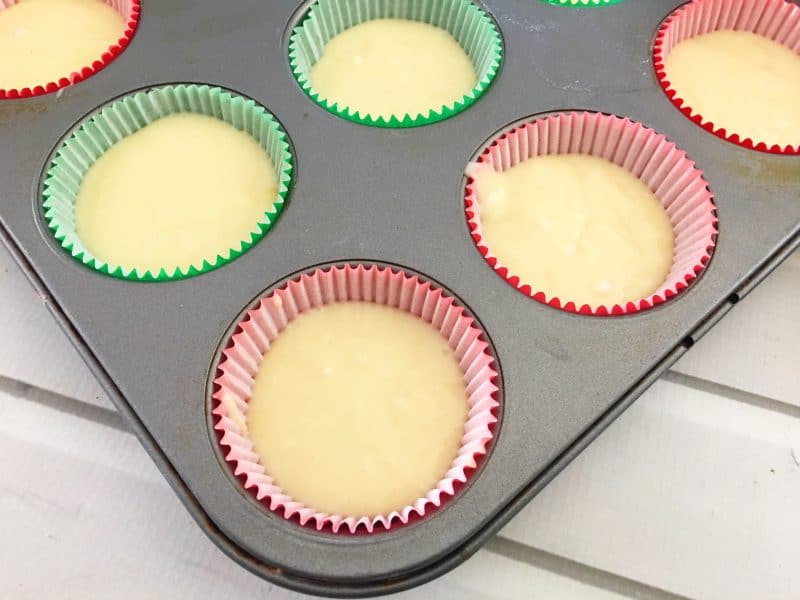 Lightly frost six cupcakes with your green frosting, six with your blue frosting, six with your red frosting and six with your yellow frosting.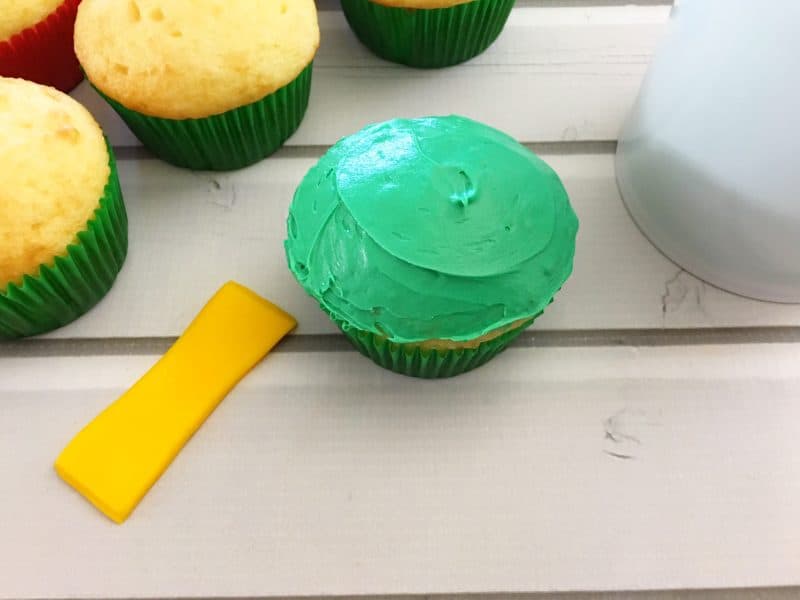 Roll out your fondant onto a piece of parchment paper and cut out 24 small rectangles about 1/2″X1.5″ and place them onto each cupcake like pictured (you can stretch or cut your fondant if the pieces are too big/small for your cupcakes).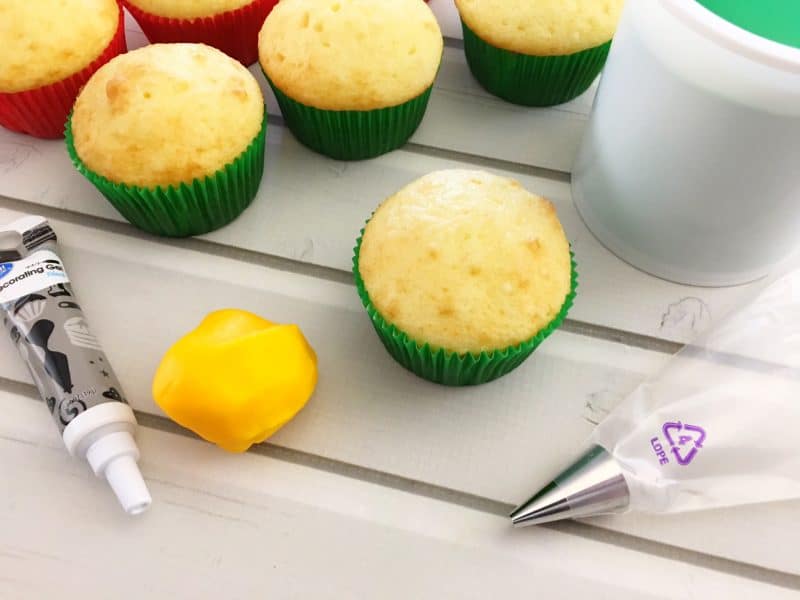 Place your decorating tip in the bottom of a decorating bag and cut the tip off the bag.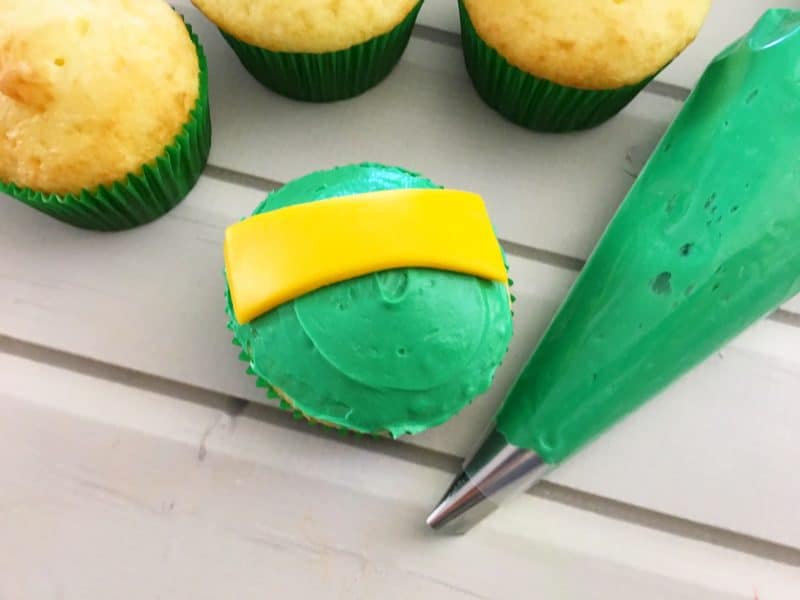 Fill your decorating bag with your matching frosting to your cupcakes (you will have to switch the tip to a new bag for each color) and frost each cupcake by drawing flat lines across your cupcakes (think mummy) leaving an opening on the yellow fondant for the eyes.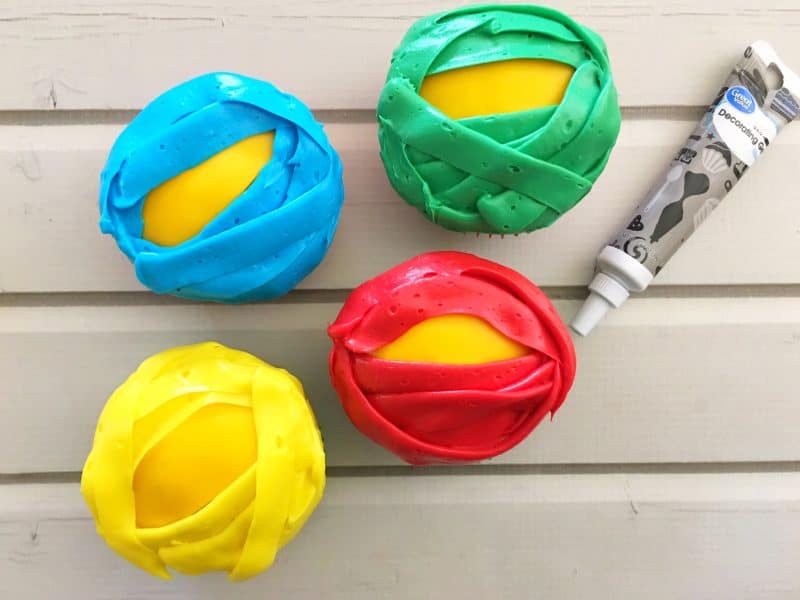 Use your black gel icing to draw two dots for eyes on the yellow fondant and two lines slanted in above the eyes for eyebrows.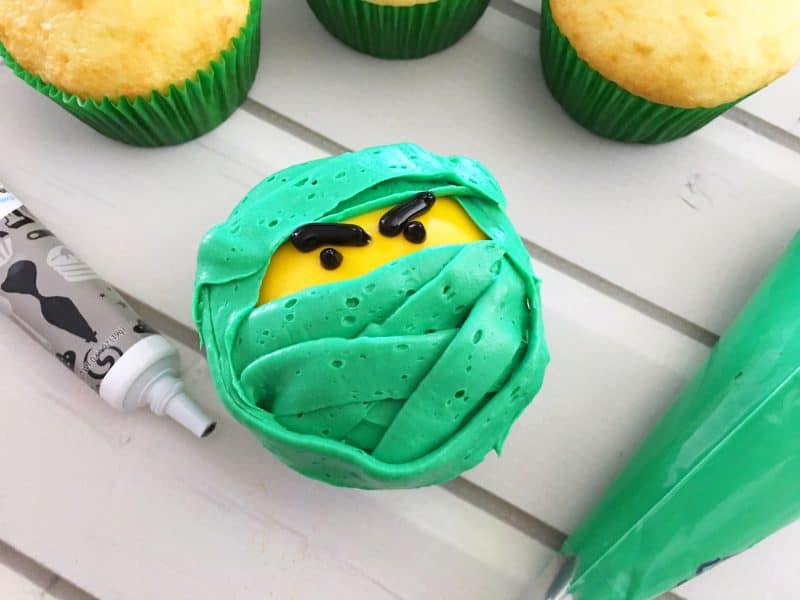 The hard part is choosing to eat your favorite. I'm always going to have a soft spot for Kai, so….. he'll get eaten last for me!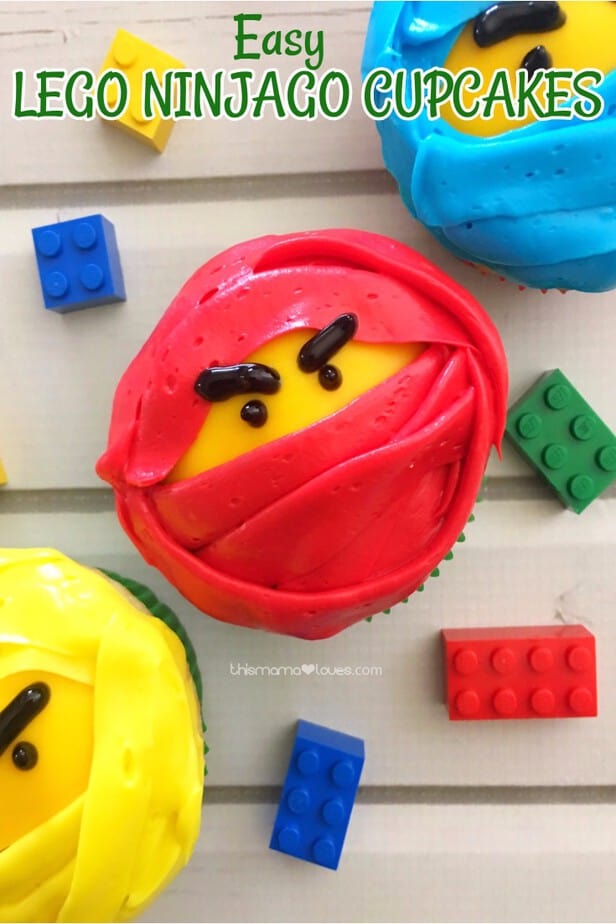 For a limited time, fans can purchase The LEGO NINJAGO Movie collectible gift cards. Find Movie Times and pre-order your tickets today.
Now, I want to see the movie. You know that. I'm guessing if you've gotten this far, you want to see it too. Or maybe, just maybe, you have a thing for cute movie themed cupcakes.  Maybe it's a combo. Grab your collectible gift card so you know you will have your tickets to see this film- and NEVER once have our friends at LEGO disappointed me on the big screen…THEN you can look below and go enter to win a $50 Fandango gift card!

One (1) winner receives:$50 Fandango The LEGO NINJAGO Movie collectible gift card!
[mpprecipe-recipe:2257]