FabFitFun Spring Box Revealed with Unboxing Video + Coupon
I can admit to you guys that I've been super slow to hop on the subscription box bandwagon. Not just because I'm slow to hop on bandwagons, I just didn't UNDERSTAND nor appreciate that there is awesome to be discovered in those boxes, regardless of how frequently they arrive at your doorstep.  #fabfitfunpartner #fabfitfun
I've been wrong. So, so wrong.
Fortunately for me, and let's be honest here, unfortunately for my husband, I'm now obsessed with the idea. When you subscribe, it's like you are sending surprise care packages to yourself ON A REGULAR BASIS.  What with my birthday coming and all… what's not to love about care packages? I love my parents, and I know they did the best they could for me, but one thing I always wished for when I was spending 8 weeks at summer camp on an island, or away at college? Care packages. Not pricey, necessarily, but a box with fun surprises. I love them. I've sent many, for all kinds of occasions. Now I can send them to myself!
Goodness, that sounds a bit um…selfish. It's not meant to be. Regardless…I'm smitten! I love it and am super excited for the next FabFitFun box coming out

FabFitFun is a seasonal subscription box with full-size fashion, beauty, fitness and lifestyle products.  Each retails for $49.99 but their boxes are always valued at over $200!
The Spring Box was loaded with great stuff, things I didn't even know I needed but am loving!
The Gypsy 05 Roundie, a huge trend for spring and summer. It's a massive, versatile throw that you can use in a million ways…as a beach or picnic blanket or even a tapestry or a table cloth.
Dr. Brandt Microdermabrasion Skin Exfoliant (this product alone is worth more than what you pay for the box)
Luv AJ Crawler Earring Set or Emerald Duv Cuff
RealHer Lip Kit (This is amazing. It has words of affirmation to make you feel beautiful from the inside out.)
The Milly Zip Pouch that can be used as a travel makeup bag or to put your wet swimsuit in (it's huge!)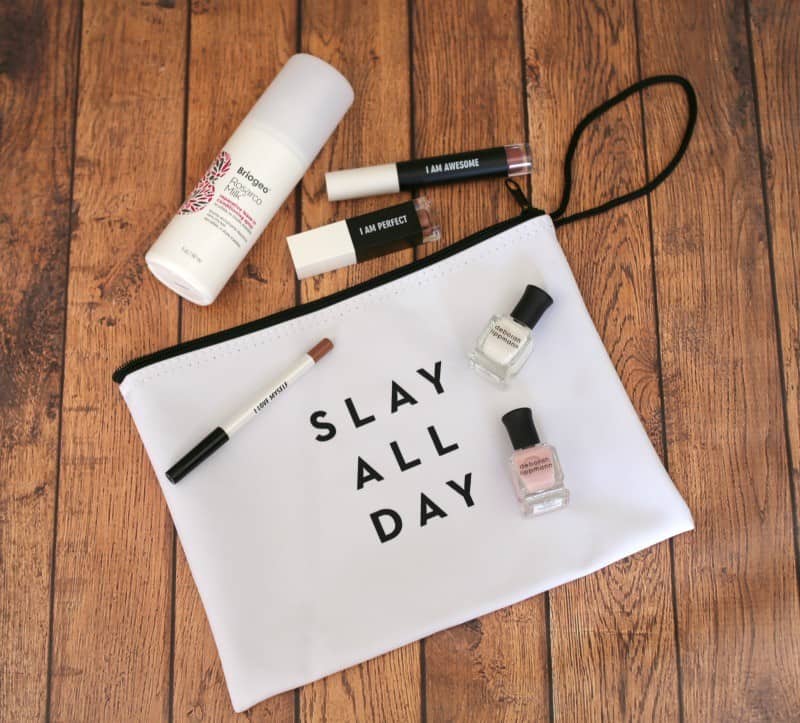 Briogeo Milk Reparative Leave-In Conditioning Spray (It protects your hair from heat and UV rays, and it's paraben-free and sulfate-free. It smells amazing too.)
Deborah Lippmann Nail Polish Set in cute pastel colors
Karuna Hydrating Face Mask! (This is the perfect way to make your complexion look more refreshed and it comes with four face masks. It's also paraben-free.)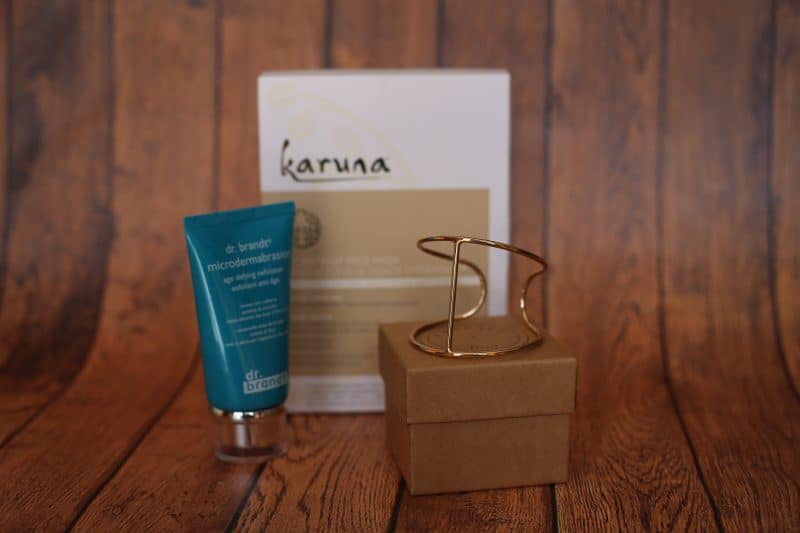 You can use coupon code "TML" at fabfitfun.com for $10 off your own subscription box!
The box comes out once each season, sign up now for your box before they sell out!