We don't go on long family vacations very often but we do go on weekend camping trips on a regular basis.  Camping is one of our family's favorite things to do together.  Camping as a family means camping with our dog Brutus too.  We tent camp in the state land or at state forest campgrounds that are typically dog friendly which is not the case with many hotels and resorts.  Camping as a big family, including a dog, means a lot of planning on our part.  Family Camping with Your Dog requires planning.  As part of a sponsored series with The Nutro™ Company and Socialstars, we're sharing some must have's for Brutus as we pack up for a weekend camping trip.  #HonestToDog"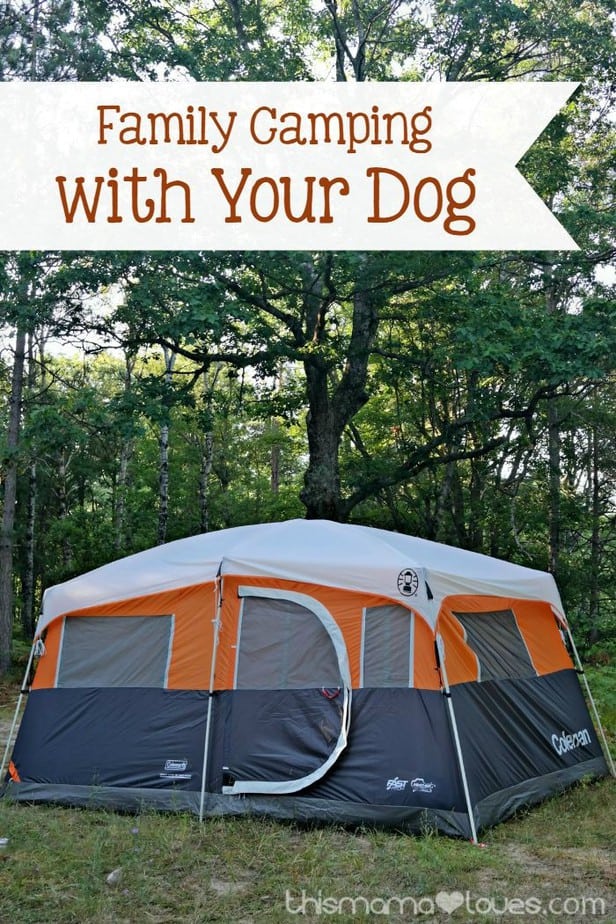 Family Camping with Your Dog
When we pack up for camping it's easy to remember all the things we need for ourselves and the kids – clothing & toiletries, bedding like sleeping bags & mats, food & dinnerware, firewood, lanterns & flashlights, things for the kids to do, camp chairs, clean drinking water, and the list goes on.  But what about packing for our furry family member?  He needs many of the same things to have a fun and comfortable camping trip.
Bedding
Dogs like familiarity.  Taking along their favorite dog bed, blanket, or pillow will help them sleep when you're camping.  It's a lot like camping with a baby…if they don't have their favorite blanket they may struggle to get comfortable and fall asleep.  In addition to bedding or blankets be sure to pack a crate or kennel for your dog if you have room, especially if he's used to being in one.  That crate is your dog's personal space and a place they feel safe.  If it's available for him at bedtime or as a place to escape when needed your dog will be much happier and rest better.
Toiletries
Okay, so your dog doesn't need toilet paper or a toothbrush and toothpaste for a weekend camping trip.  You do need to consider that he's going to have to potty too.  Be sure to bring bags and a scooper to clean up your dog's messes.  You don't want your family, or other campers, stepping in those little (or not so little) piles that are left behind by your dog.  Other toiletry type items to pack for your pet might include a brush, towels to clean their paws, shampoo in case they get into something really messy, and any medications your pet needs on a regular basis.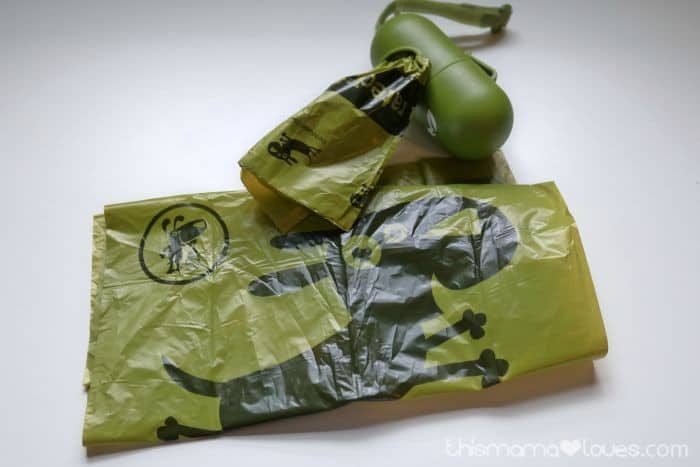 One thing to remember when camping with a pet is that insects can bite your pet, causing irritation and disease just like if we're bit.  Be sure to protect your pet from tics and fleas, the 2 most common pests for pets.  Remember that protecting them from these often require treatment before heading into the woods and that protecting them year round is a good idea.
Food & Dinnerware
We love to cook over the campfire.  Some of our favorite recipes are for campfire cooking.  Sometimes we just cook simple hot-dogs over the fire.  While these foods and recipes are great for us, they aren't appropriate for Brutus.  We know that giving him table scraps at home is not good for him.  The same is true at camp.  We always make sure to pack food for him along with our food and pantry items.  We don't want him to feel like he's missing out on our favorite recipes so we bring along  NUTRO™ ROTATIONS™ for him.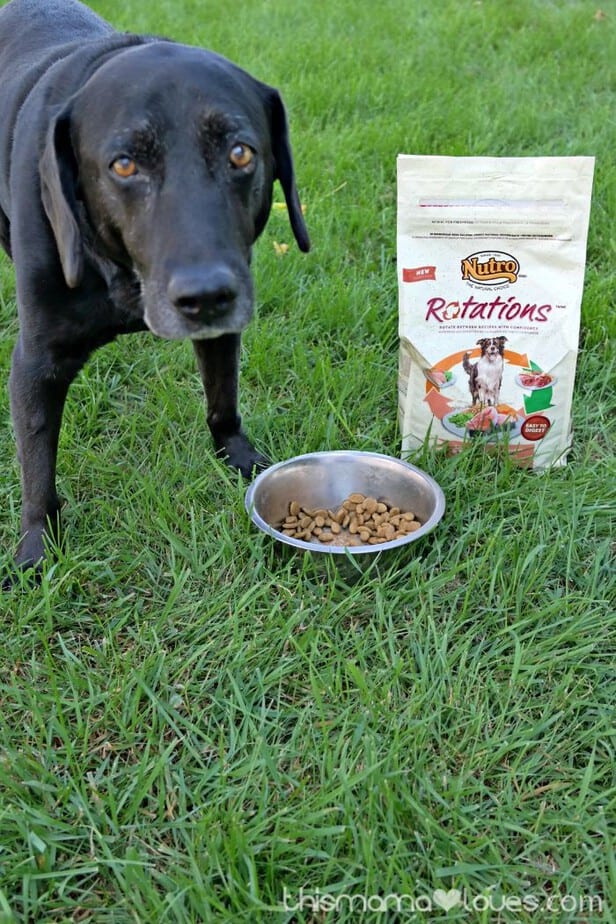 Only NUTRO™ Rotations™ offers a solution to feeding Brutus a variety with digestive stability.  Let me tell you.  Digestive stability is so important, especially when camping.  If his stomach isn't feeling well it can be a real disaster away from home.  With NUTRO™ Rotations™ it's always real meat, poultry or fish as the first ingredient.  They also use whole grains and the finest fruits and vegetables.  The food is made with Non-GMO ingredients which is so important and they never use corn, wheat, chicken by-product meal or soy protein as fillers.  
Don't forget to bring along your dog's food and water dish.  Whether they are his usual dishes or a travel set, be sure you have something for him when meal time comes.
Things to Do
The kids like to play catch and go for walks when we camp.  My husband likes to get up early and go for a jog before the rest of camp wakes up.  I like to sit and read.  What about our Brutus?  While he's often happy just relaxing with his people, he likes to have stuff to do too.  We pack his favorite toys, balls for him to play fetch, and his leash for taking walks or jogs.  Speaking of a leash, make sure you pack a tie out for those instances where he needs to be tied up at camp rather than wandering around (for his safety and others).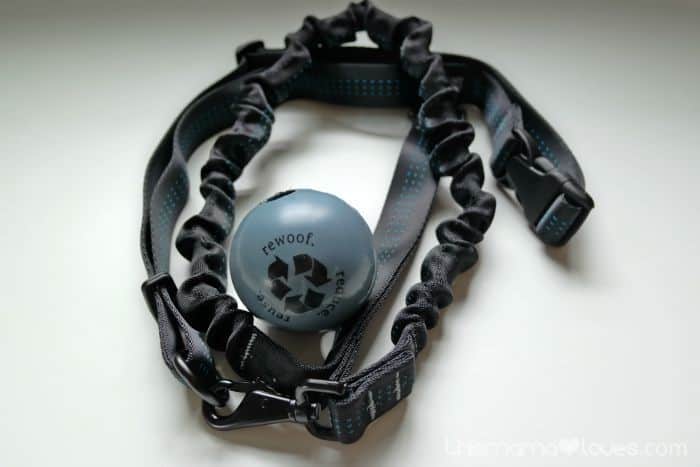 Clean Drinking Water
This might the most important item on our list, for ourselves and Brutus.  Never count on a campground having water that is safe to drink.  Drinking adequate amounts of water when your camping and active is so important and it's important for your furry friend too.  It's often hot and preventing dehydration is so important.  If the water at camp isn't something you feel safe giving your children or drinking yourself, don't give it to your dog either.  Bring along several jugs of safe, clean drinking water for all of you.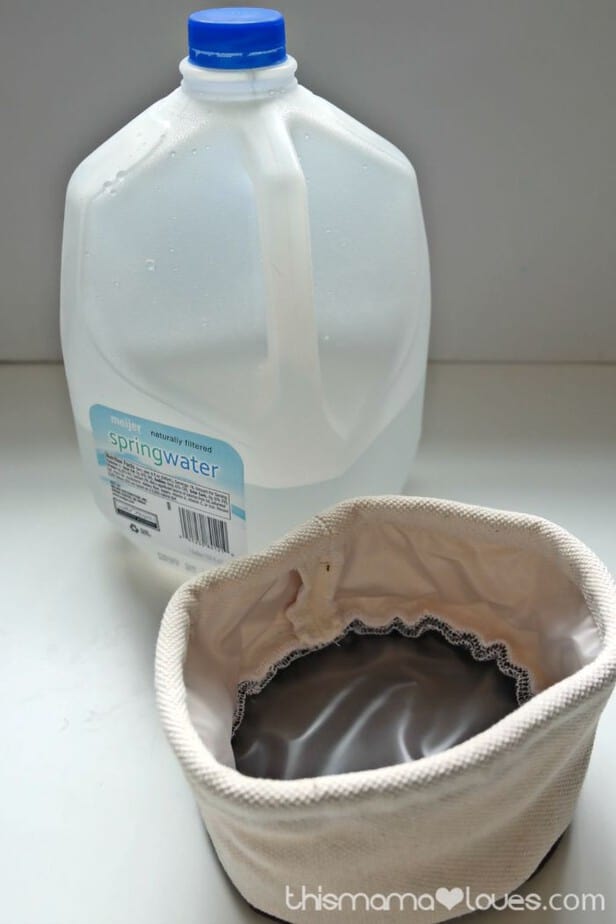 These are just some of the key items we're sure to take along for camping with Brutus.
What do you take along for Family Camping with Your Dog?
Learn more about NUTRO™ on Facebook and follow them on Twitter.
®/™Trademarks of © The Nutro Company 2015