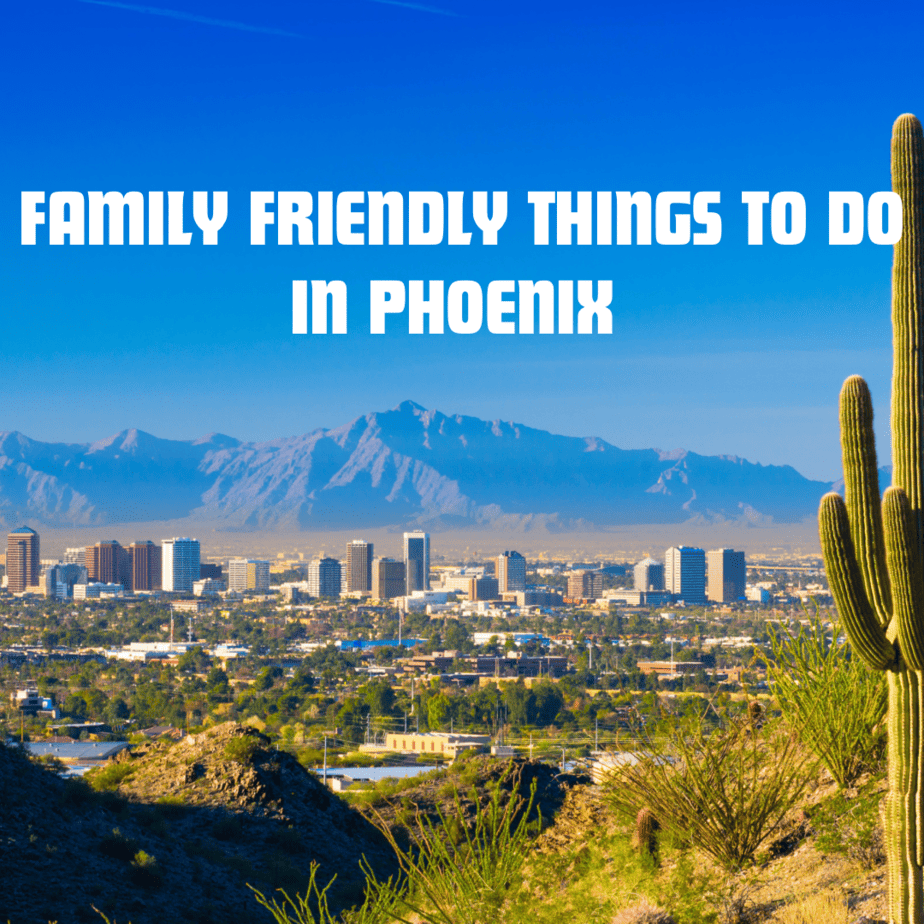 With its year-round pleasant temperatures and scenic natural landscape, Phoenix, Arizona emerges as an ideal family-friendly destination. From thrilling outdoor adventures to captivating museums and amusement parks, visitors of all ages can find something to delight in. Looking for family friendly things to do in Phoenix? Read on for some great tips from a contributor! 
What is Phoenix City famous for?
The "Valley of the Sun" is the largest city in Arizona, known for its desert beauty. Besides its almost 365 days of sunshine, most tourists come to Phoenix for its world-class resorts and golf courses.
Despite being one of the hottest major cities in the United States, there are 5 million tourists who come to Phoenix to experience its hot, sunny weather. And because of its 85% sunshine throughout the year, Phoenix is home to over 200 immaculate golf courses designed by American professional golfers Arnold Palmer and Jack Nicklaus. 
From municipal courses to private exclusive courses to luxury golf resorts, golfers from around the world head to Phoenix to take on the challenge, bask in its beauty, and experience what the golf haven offers.
Phoenix is also known for its luxury resorts and spas like the Boulders Resort and Spa, the Phoenician Four Seasons, and Royal Palms Resort and Spa. 
Just a mile or two away from Phoenix Sky Harbor International Airport, you can head straight to any of these places to experience their impeccable service and upscale amenities. When renting a car to use during your stay, you can quickly get to your spa or any other destination to experience Southwestern hospitality.
The city is also known for its diverse mix of Mexican, European, and Native American cuisine. You can stop in for a meal in a nearby restaurant or creekside eatery, and you will be treated to a breakfast burrito, beef empanadas, scallop aguachile, pinto beans, and spicy seafood. Foodies can find almost everything from fine dining to food trucks and street food. Add to that that some of the best coffees are brewed in local cafes and coffee houses in Phoenix.
Another thing is the Spring training, which is loved by baseball fans. The MLB Spring training is the perfect opportunity for baseball enthusiasts to have close encounters with well-known personalities and veteran players in an intimate and relaxed atmosphere.                                    
How do you get to the city center from Phoenix airport?
There are three different ways to get to the city center from Phoenix Sky Harbor International Airport: bus, train, or car. Taking the bus or train is the most common and the cheapest option but could take about 30 minutes to reach downtown. The train or bus option is a great budget option and for those traveling light.
Should you decide to take the bus, you must get to Terminal 2 at Phoenix Sky Harbor airport to catch the Route 13 bus which is available daily from 04:15 to 23:25 daily. With this option, remember that the bus only leaves from Terminal 2, so if you are landing at Terminal 1, 3, or 4, you must go to Terminal 2 next. Plus, it does not have a door-to-door drop-off, leaving you with no option but to take another ride going to your hotel.
Rail transit is another option, but is not directly available at any terminals in Phoenix Airport. You must take the PHX Sky train first from Terminal 3 or 4 then to 44th Street train station. From there, you take the train to the city center. Taking this option means more time and effort which can be quite a hassle on your end.
Meanwhile, taking a taxi from the airport to the city center could only take 15 minutes, but the cost is higher than the first public commute option. Taxis are available at the airport terminals. But if traveling with family or groups of people, public transportation can be ditched from the list. Instead, you can opt for a private transfer courtesy of a car rental that is economical for better comfort and accessibility.
Since the sights and attractions in Phoenix are very spread out, it is recommended to take advantage of Phoenix airport car rental deals. This way, you and your family will have a comfortable journey from the airport straight to your booked accommodation. You'll also be able to visit places you want to explore on your own timeframe, and see the surrounding attractions that will complete your ideal vacation with the whole family.
What are the available transport options around Phoenix?
As mentioned, Phoenix has several transportation options for getting around the city and neighbouring locations.
Public buses are available daily with routes to light rail stations.
Light rails are also accessible and available in Phoenix connecting to key cities and destinations.
Taxis are available in hotels, at the airport, downtown, and key locations.
Ride sharing is another transport option similar to carpooling. Although it is affordable, this type of transportation option is not recommended for big groups or when traveling with family or not comfortable with strangers.
Lastly, the safest and most convenient option is car rental, ideal for families or groups who value privacy, comfort, and flexibility.
Places to Visit and Experience
Arizona Science Center – one of the top choices for families who value learning and discovery, see hands-on exhibits, science programs, live demonstrations, and other exciting Science programs fitting for visitors of all ages.
Phoenix Children's Museum – ignite your kids' imagination with hands-on activities and demonstrations.
Musical Instrument Museum – check out the collection of over 8,000 musical instruments from around the world. Here, you will find instruments, footage of concerts, and well-preserved clothing of world-renowned artists. You and your kids will also get to experiment with the instruments.
Arizona Science Center – enjoy interactive exhibits all designed for math, science and technology. The science center also has an IMAX theater for the highest picture and sound quality.
Phoenix Art Museum – children can benefit from the dedicated space for children called PhxArtKids for interactive art exhibits and exploration.
Phoenix Zoo – another destination you should not miss where over 1,200 animals are housed to inspire your kids to care for animals. Experience close animal encounters, admire the water landscape and lush gardens, and exciting outdoor activities.
Desert Botanical Garden – visiting this beautiful botanical garden is a great way to relax and be in awe of the natural creation. Explore over 50,000 desert plants while the kids get on trails and other activities.
Japanese Friendship Garden – experience the tranquility of the place as you walk along the 3.5 acres of land showcasing ponds, stone footbridges, lanterns, and more than 85 varieties of plants.
Top Phoenix Restaurants
Discover the love of great food in Phoenix's best places to eat. From sophisticated taste to casual dining, you will find a table in one of these top Phoenix restaurants:
Barrio Café

Binkle's

Carolina's Mexican Food

Chino Bandido

Durant's

Green New American Vegetarian

Hana Japanese Eatery

Little Miss BBQ

Lo-Lo's Chicken and Waffles

Matt's Big Breakfast

Otro Cafe

Pizzeria Bianco

Steak 44

Texaz Grill

The Arrogant Butcher

The Clever Koi

The Parlor

The Stand
Final Say
With its endless options in terms of food, golf courses, spas, resorts, food destinations, and exciting sites to explore, Phoenix gives its visitors the ideal options, all of which can be enjoyed almost any time of the year.
Moreover, since it has ample family-friendly options, Phoenix will never disappoint because everyone can have fun, play, and learn while exploring it for wonderful memories worth keeping. So go on, make this city your next destination for the whole family!