We're going to just add the liquids in your cars to the list of things I never paid much attention to. Except for wiper fluid and gas, of course. Those I pay attention to. (My husband tells me I have used more wiper fluid since he's met me than most people use in a lifetime. I'm a little obsessive about it, I suppose).  But there are many fluids in your vehicle and really?  They are kind of a BIG DEAL and we should be paying attention to them. There is a LOT you should know about fluid for your car. Um… that we should know.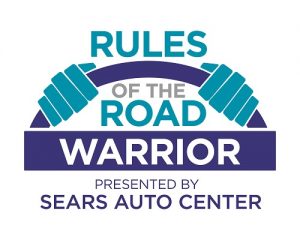 Of course, Sears Auto Center has a lot more they do with the fluids in our vehicles.  Its been kind of fun learning about all of this for the Sears Auto Center Road Warriors Program. Yes, I did just say kind of fun.  It's also been really eye opening.  Not paying attention to your vehicle can cost you – a lot- and worse.
Did you know?
Most folks call it antifreeze in the winter and coolant in the summer, but regardless of season does same job.  Coolant, antifreeze, it's the same thing.  The purpose of it is to redistribute heat away from the engine.  It's kind of ESSENTIAL.  It's often that bright limey-yellow stuff that you sometimes see leaking on your driveway.  (You don't want that). Coolant/antifreeze is like the starting captain on your team, and you don't want your captain sidelined for injury.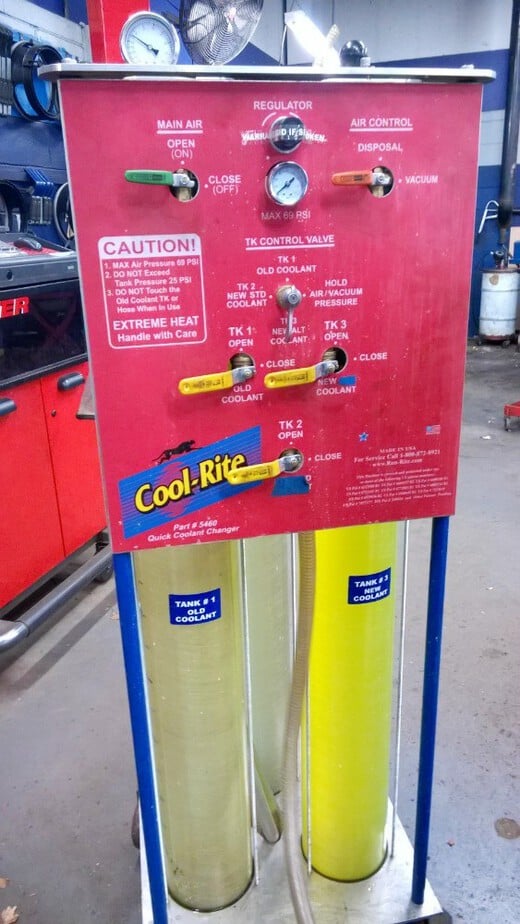 Coolant is the fluid—usually bright green in color, but also found in orange, yellow, and red hues—that allows your engine to maintain its optimal temperature by redistributing heat away from the engine through the cooling system. This is accomplished by circulating the coolant from the engine and through your vehicle's radiator.

You may ask: why does my vehicle need special fluid for this? Couldn't a jug of water do the same thing? NO!! While water is one of the most effective fluids for holding heat, water freezes making it a terrible long-term solution in colder temperatures. To combat the cold, your vehicle most likely requires a 50/50 mix of water and ethylene glycol—giving us the term "antifreeze".

In addition to lowering the temperature at which the fluid in your radiator will freeze, ethylene glycol improves the temperature at which the fluid in your car or truck will boil—hence the term "coolant".

Along with keeping your car from freezing in the winter, and your truck from overheating in the summer, your coolant acts as a lubricant for every moving part it touches, including the water pump, which pushes fluid through the engine, cylinder head and radiator. If that wasn't enough, most coolant contains some type of additives to help prevent costly corrosion within the radiator.
Check your owners manual to find when they suggest regular change of coolant. Old coolant can wreak havoc on your vehicle just as too little can.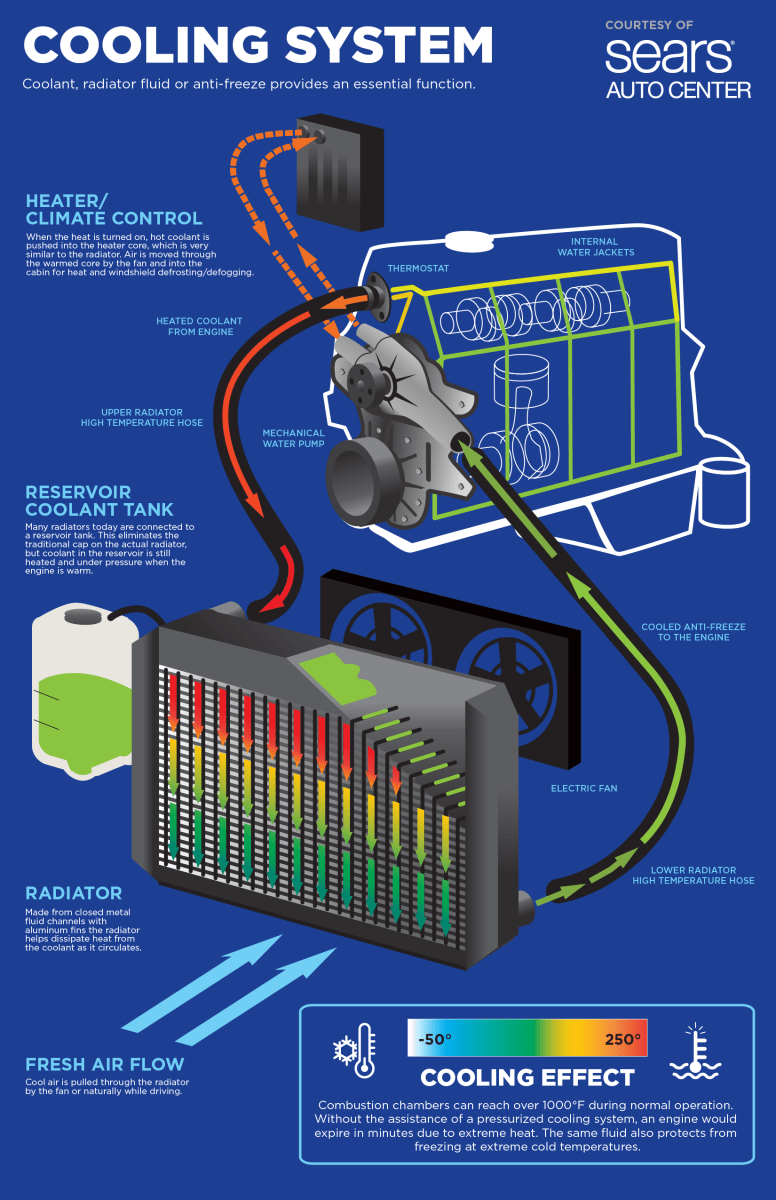 Coolant isn't the only key player on your car's team. There's also Transmission Fluid.This, you check like you do your oil, with a dipstick.
Transmission Fluid is a slippery liquid that coats all of the moving parts inside your transmission, transmission fluid is designed to cool and lubricate your transmissions internal parts so the gears can shift smoothly without tearing them to shreds. I actually got to see a transmission fluid changed on a 2008 Dodge something or other pickup truck. (I am mortified that I didn't even ask what kind of truck. Do I get points for noticing it was Dodge?) Fun fact: different vehicle manufacturers use different colors for the fluid they use.

Technicians extract old transmission fluid through the vehicle's dipstick which removes up to 90 percent of the old contaminated fluid.  This is kind of gross, but fascinating. Well, interesting at least. When you pay attention you can see the stuff coming up through the hose with the fluid…. and you realize, that can't be good for my vehicle. Transmission fluid doesn't need constant attention- manual transmissions need it checked about every 30-60ooo miles and for an automatic transmission, 60-100000 miles. Both the techs I spoke with at my local Sears Auto Center told me that they'd not let their vehicles go to 100,000 miles- I don't think I would either. I don't know that I want to let things slide with my vehicles. There's a lot riding on them.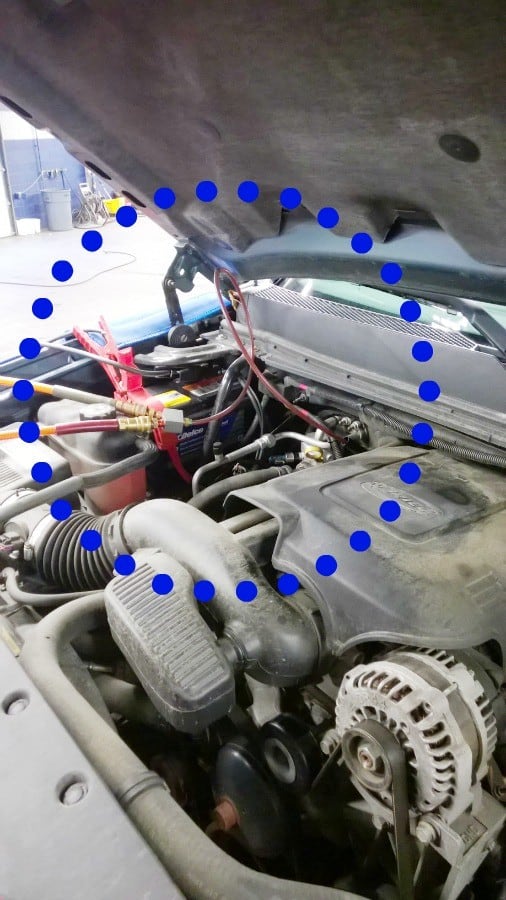 This machine must make life so much easier for the technicians who are working to change our engine fluids and help keep our vehicles safe. They can be more time efficient and also more exact.  Once the techs have checked the dipstick, they insert the extraction hose from this machine (TFE6020) and it pulls out about 90% of the old fluid.  Once the old is out, they can switch to the hose that puts new fluid into the transmission…the machine alerts the tech to start the car, and the tech will go through each gear on the vehicle.  This way, the tech can be sure that the old fluid is flushed out and the new fluid gets everywhere it needs to be.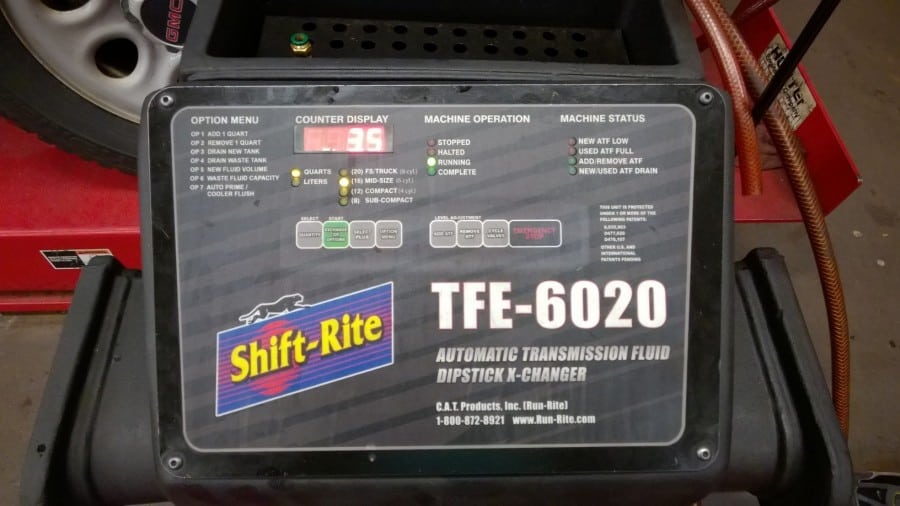 Once things are done, the tech checks to be sure the dipstick is reading at the correct level and there it is, a changed transmission fluid.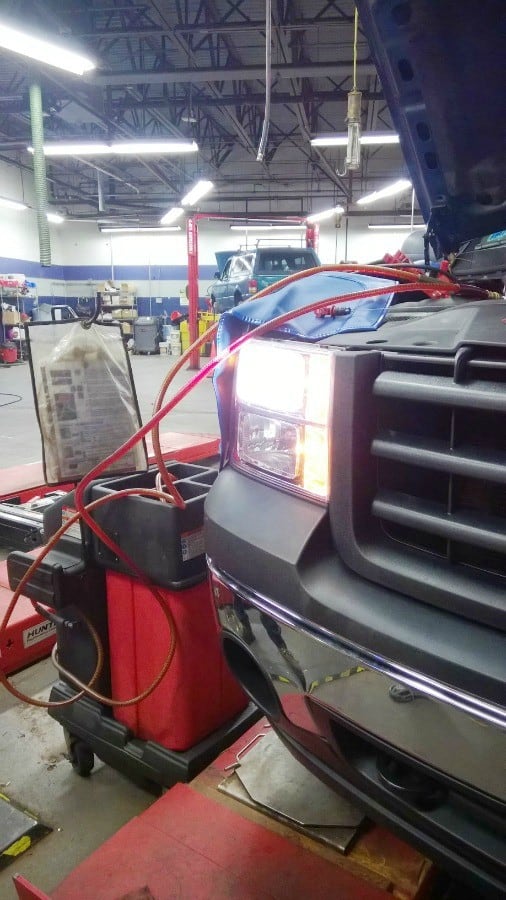 Keep an eye on the Sears Auto
Facebook page
and
website
during the 12 Days of Car Care promotion from 12/13-12/24, where there will be exclusive deals on Road Handler tires and Valvoline oil changes.
One reader will win a $50 Sears Gift Card!
Thank to Sears Auto Center for sponsoring today's discussion.