When my niece Sam was 8, I slept over her house on Christmas Eve.  When we got up Christmas morning, she was over the moon delighted to find that Santa had left her her very own Samantha Parkington American Girl® doll.  That was about 20 years ago, and my sweet little Sam will be marrying her best friend in the fall. She's still got her Samantha doll, and every single accessory that went with her, tucked away at her dad's house, saved for when she has a little girl of her own.
My niece Erica spent hundreds and hundreds of hours playing with all three of her American Girl dolls.  She played alone, she played with her friends…and even now, as a college junior, she still has those beloved friends in her closet, ready for playing at a moment's notice.  It's nice that my girls are so much younger than their cousins, because it lets the girls see what their older cousins played with when they were younger, but it also gives the older girls a chance to play with their beloved dolls again (and again, and again and again….)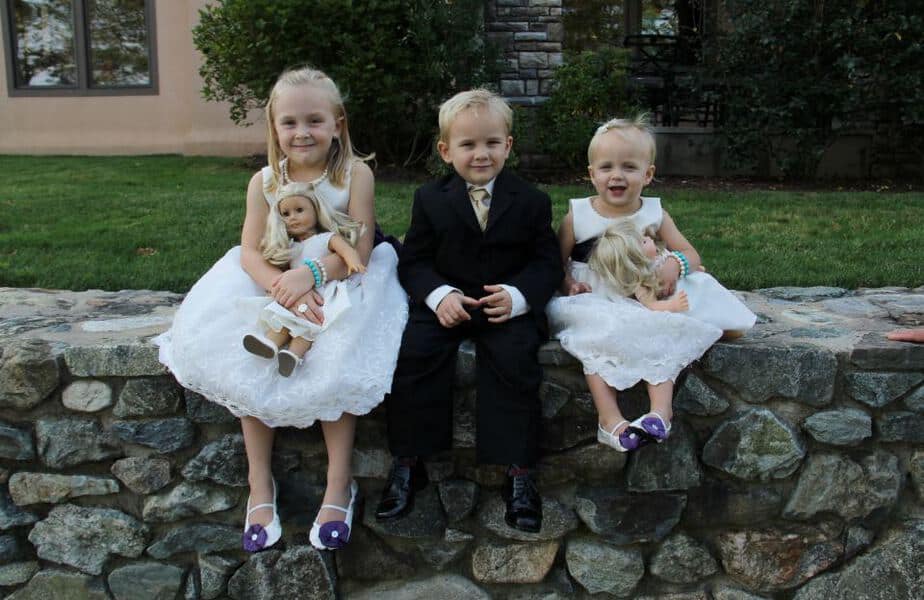 My oldest daughter's first baby doll was a Bitty Baby.  The Bitty Twins were welcomed into our family not long after that.  My girls both got an American Girl doll (a Just like You doll and a Bitty Twin, respectively) when they were flower girls in my nephew's wedding a few years ago. We've added a Molly and McKenna are both currently residing in this house now, too.  These dolls are loved.  They are played with, played with more, and played with more still.
One thing I have noticed about the entire American Girl® line of dolls, furniture, clothing and accessories is that they are made WELL.  American Girl® doesn't skimp on quality, and that makes a big difference. They are more expensive than many other similar dolls and product lines, but the quality lasts and lasts and lasts. The dolls, the clothes, the accessories are made to be played with and used, over and over and over again.
And that's not even all of what American Girl has to offer.  I love the books as much as the dolls and accessories. There's historical books, fiction, arts, crafts, activities, and books about being a girl.  The books aren't preachy, they aren't full of inappropriate content or language.  The historical books do a really great job depicting what life was like in different times for 12 year old girls- something that helps kids to understand and relate- and engage even more with their dolls. My only complaint about the whole American Girl concept is that I wasn't a kid when they were around, I was born too soon and missed out on the awesome. Thankfully for me, I have kids who love it so I can live vicariously through-and with them 🙂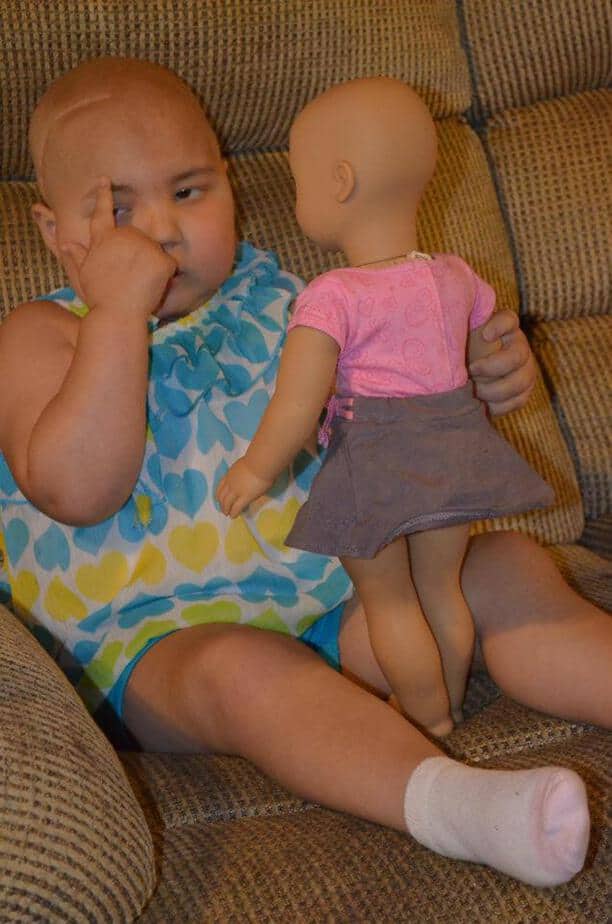 I don't know how many of you remember our little friend Abby, who we sent a
wigless American Girl® doll
to.  Sweet Abby lost her battle with cancer earlier this year, sadly.  I know that having a doll that looked so much like her meant the world to Abby and her family. Not all companies make a doll without hair for girls and boys who don't have hair.  Not all companies would allow a lady from Connecticut to be able to gift something like this to a perfect stranger, a thousand + miles away, to brighten a sick child's day.  But American Girl® does, they did, and continue to do so.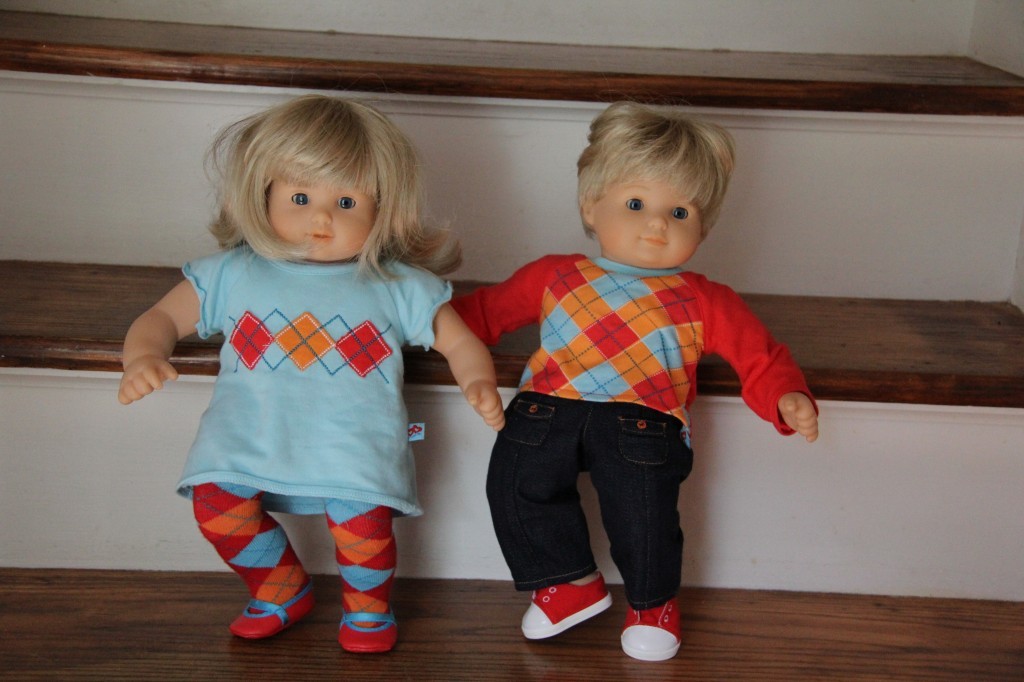 One thing that's a MUST on our summer to-do list this year is visiting our local American Girl®store (local being relative, because we don't live near the Boston area, but it's just over an hour drive and worth the trip(S) we plan to take).
American Girl is your Summer Destination for exclusive events and summer-only opportunities that celebrate girls and help them make memories they'll cherish. You'll also find summer exclusives in the store, restaurant, and salon!
Top 4 Reasons to visit American Girl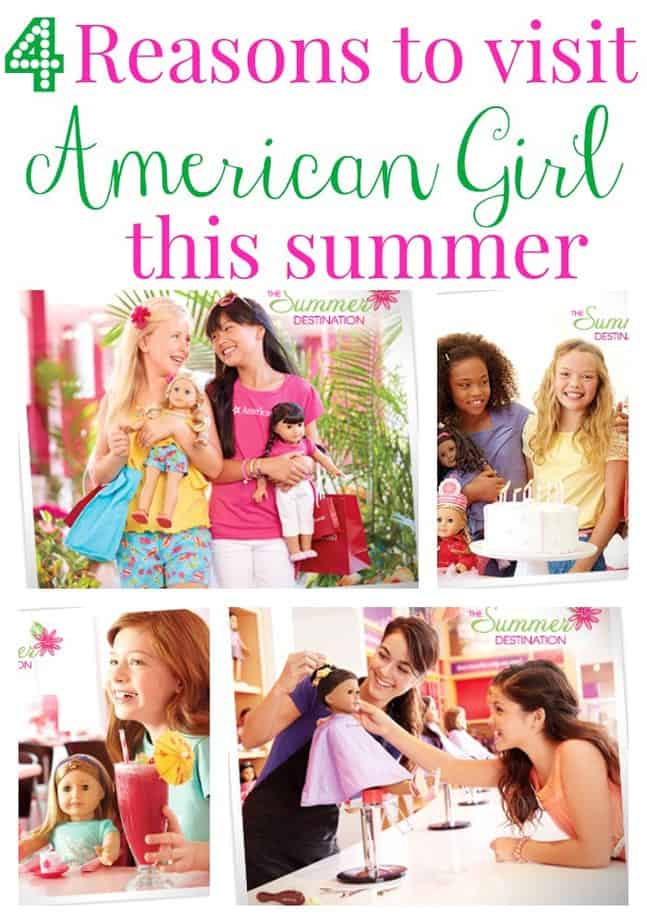 Parties & Special Packages: Thrill her with a gourmet meal, signature desserts, goody bags, doll tiaras, games, crafts, and so much more. Choose the perfect way to celebrate—whether it's her birthday or any day! (My lucky girls both have summer birthdays, just 2 1/2 weeks apart!)
Exclusive Events: She can take a cooking class. Have a book signed by a favorite author. Spend time learning about one of the characters she loves. These are just a few of the unique events and workshops.

One of the exclusive events this summer at the Boston (Natick, MA) store was  American Girl at the Boston Duck Tour.  Last Friday, we met outside the store, boarded a beautiful coach bus, which of course had Kit's movie playing for our viewing pleasure, water and snacks were passed out to all of us guests, and we were in downtown Boston in no time at all.  We got to enjoy the 80 minute Duck Boat Tour with Skipper the Skydiver. After a fun 80 minutes- during which some of the girls and boys decided they'd like to have a turn driving a Duck Boat, we headed back to shore, and back to the store.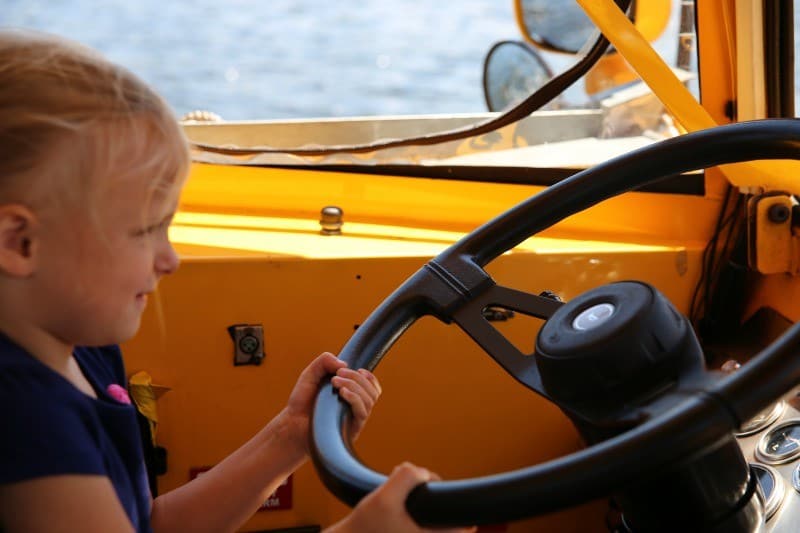 The store was a BIG DEAL to our little group. None of us had been before. We hadn't any idea what was in store for us (well, we sort of did, but it was really exciting when we went in!)

The Duck Boat Tours were a lot of fun, we saw so much of Boston and so many cool landmarks and learned a lot of the history of the city.  Shopping after the tours was just the icing on an already awesome cake and we had a blast.
       3.  Dining: From scrumptious starters to delectable desserts, American Girl menus feature girls' favorites—and dolls are welcome to                join the fun, too! You can make reservations at a Cafe or drop by a Bistro, each offering service throughout the day, from brunch                    through dinner. (Please note: Denver and Kansas City do not offer Dining.)
We enjoyed a lovely lunch before we started our shopping (we needed to refuel!) The chefs made a special batch of cookies just for those of us who'd gone on the Duck Boat Tour (aren't they adorable??)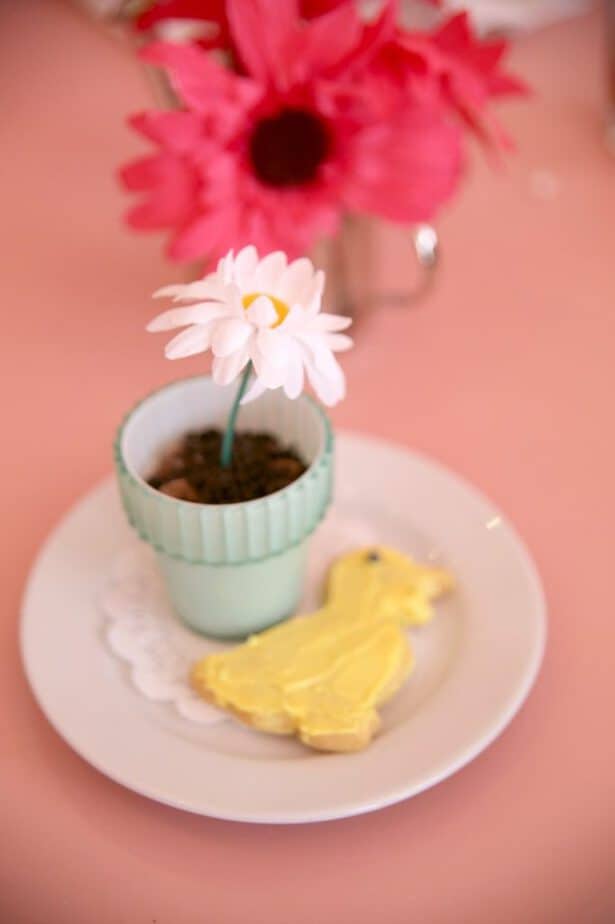 Everything was delicious- and I have to note that one of our party is on a gluten free diet and the folks at American Girl couldn't have been more accommodating.  They had 3-4 options that were gluten free when something needed to be changed or substituted, not just one.  Just that 'extra' quality we love about American Girl so much.  The chef actually came out to speak with us personally when we arrived!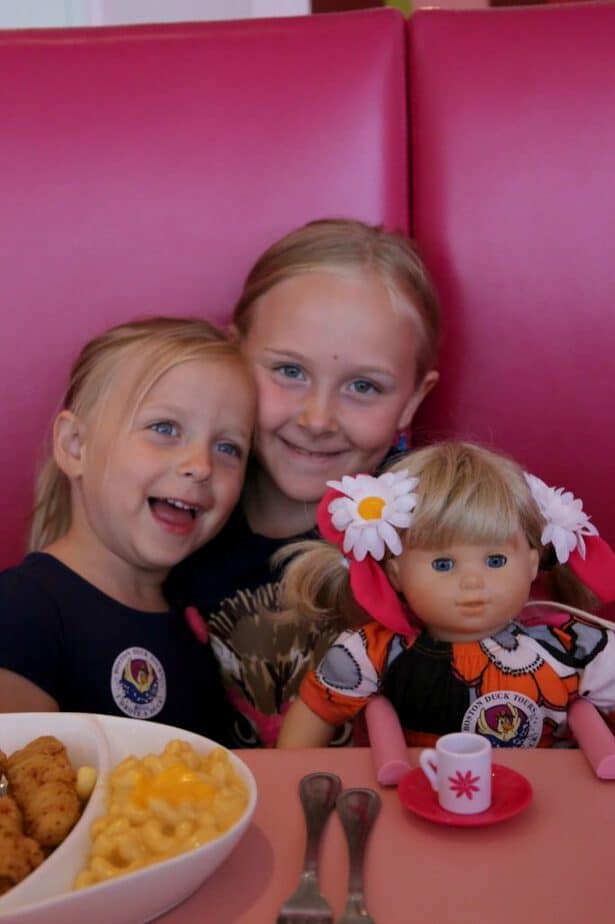 4. American Girl Doll Hair Salon: Treat your girl's doll to a new 'do, ear piercing, and pampering, too! Visit the Doll Hair Salon,                  and watch the American Girl® specialists work their magic. (My soon to be 5 year old is getting her ears pierced for her birthday,                  and while she cannot pierce her Bitty Twins' ears, she did find some earring stickers for dolls  at the store- perfect for a 5 year old to              use).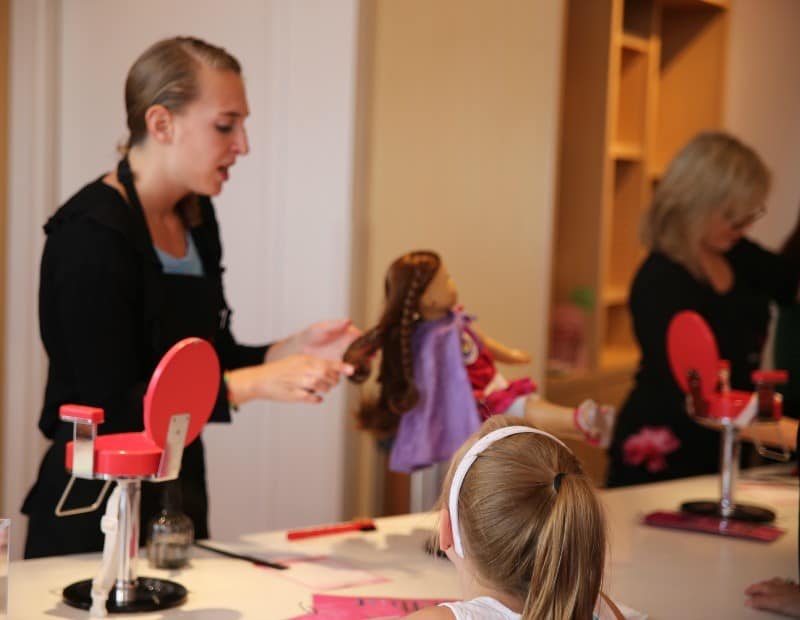 Free events
We were fortunate to head back up to the Boston store to enjoy a Bitty Baby Story Time- an ongoing story time in the Bitty section of the store.  An employee set out special rugs for the kids to sit on and read from an oversized Bitty Baby book.  My girls sat through the story four times, and thoroughly enjoyed coloring while listening. Absolutely worth a visit just for a free story!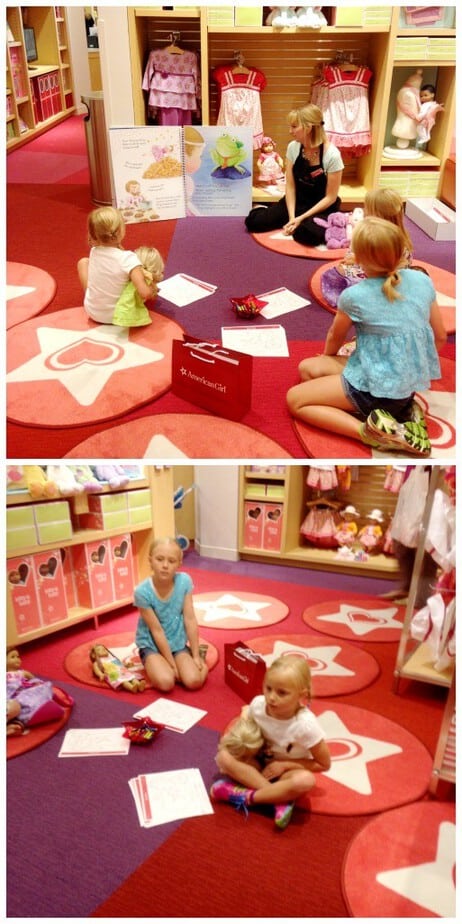 The Summer Reading Bookmark Craft has been ongoing Tuesday and Thursday afternoons at 2.  Kids can fill in American Girl themed reading logs, and then make fun Isabelle bookmarks.  I was actually really impressed by the bookmarks- not by the quality, but you can change them up with a simple fold change and have a very different bookmark from everyone else.  There are, of course, stickers to decorate.  My kids LOVE to read so they were happy to have fun new bookmarks. My little one is in LOVE with Isabelle so she really can't stay away from anything related to her!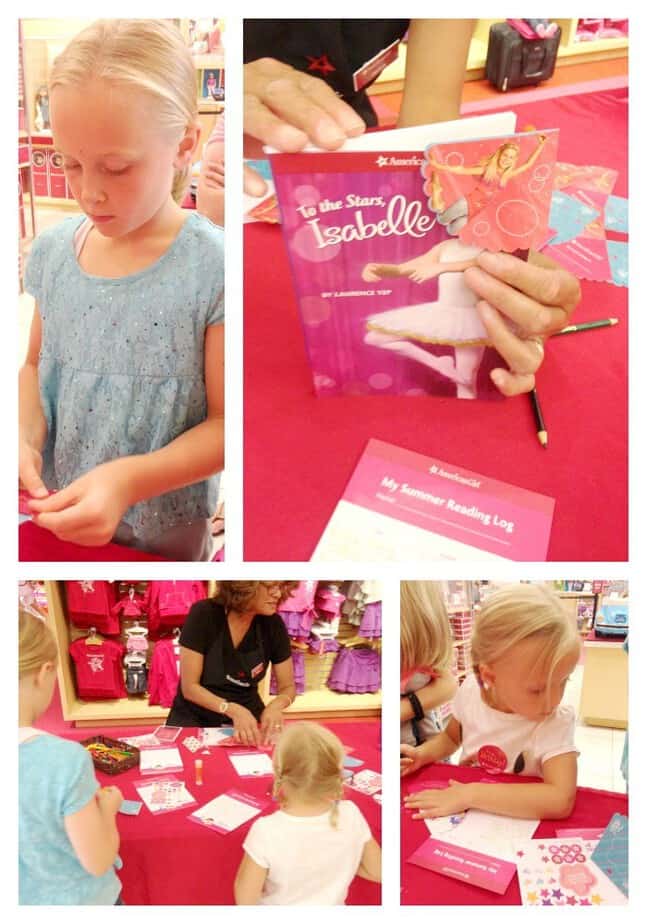 Have you visited your local American Girl store yet? 
This post is sponsored by American Girl. Opinions are my own.
0