We've been making it a habit to choose products and appliances that are better for the environment- we look closely at energy use, packaging, etc.  Our front load washing machine stands out when it comes to savings even though we're on a well rather than city water.  With a family of five that's got activities year round, we wash a LOT of clothes, so even though we don't get as much benefit from using almost 15 gallons less water per load, we still save a ton on detergent.  It did take a while to learn all the ins and outs of a front loader, so I thought I'd share my experiences in case you're thinking of making the change from a top load so you'll be Getting the Most Out of Your Front Load Washing Machine. Thank you to our safe, earth friendly sponsors of today's laundry post, EnviroKlenz.

Getting the Most Out of Your Front Load Washing Machine
Keeping the Machine Clean
We've had our front load washing machine for about 22 months now.  After a few months of owning it we noticed it starting to smell a little like mildew.  The clothes still came out clean and smelled good but the washing machine itself didn't.  We were in the habit of throwing a load in to wash at night, then transferring it to the dryer in the morning which had worked well with our old machine.  It turns out that's a bad idea with a front load.  We were getting mildew building up in the door gaskets because of the wet clothes sitting in there and leaving the door closed even when there weren't clothes in it.  To keep the machine smelling fresh and to make sure it won't start causing the clothes to smell bad, we gave it a complete wipe down with disinfecting wipes including all the gaskets around the door.  Water builds up in the gasket area of ours and it was GROSS!  We also stopped leaving wet clothes in the machine for more than an hour or two and we leave the door cracked open when the machine is not in use.  (If you look at the manuals for most front loaders, leaving the door open between loads is actually recommended. I'm guilty of not reading the manuals all the way through…) We haven't had the problem come back.
If we do end up having a load left in the machine for too long we do notice that the clothes may smell a little like mildew. We try really hard not to leave a wet load in the machine for more than a couple of hours but with a house full of busy kids, let's face it, things get crazy and forgetting about laundry happens.  When it does, we know we have to rewash the load. This frustrates me to no end because it means I just wasted the time and energy for the first run of the load…and now need to do it again. Occasionally rewashing alone isn't enough and we need to use something more to get rid of the odor.  For these situations, we like EnviroKlenz Laundry Enhancer Liquid (it does come in powder form).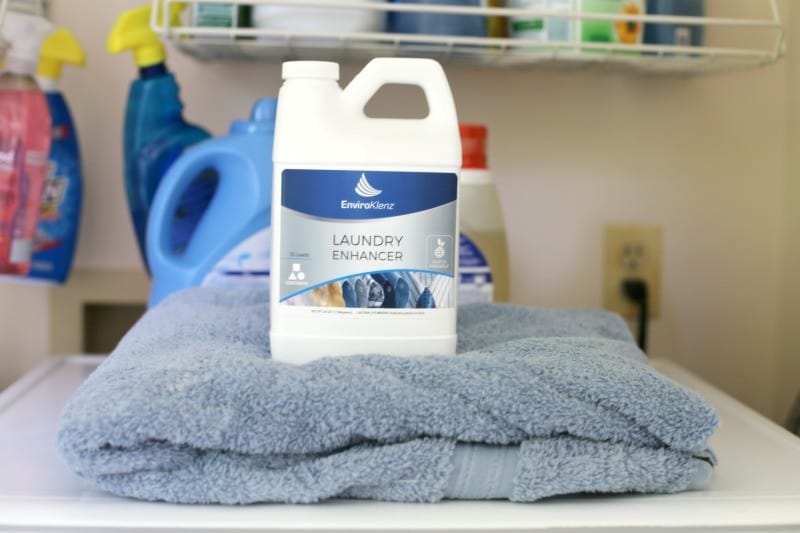 EnviroKlenz Laundry Enhancer is a safe and effective laundry enhancer that removes stubborn laundry odors such as musty & mildew smells, fragrances from detergents & fabric softeners, perfumes smell and scents, thrift store odors left on clothing by the previous owner. That new clothes smell I actually used to love? It's not so friendly to my skin- and it's never been friendly to my kids' skin.  EnviroKlenz Laundry Enhancer works along with your normal detergent to enhance its ability to remove those tough odors that would normally be impossible to remove and best of all contains no masking agents or fragrances providing you with clean and odor results. I just like our laundry to be clean and not have any kind of scent!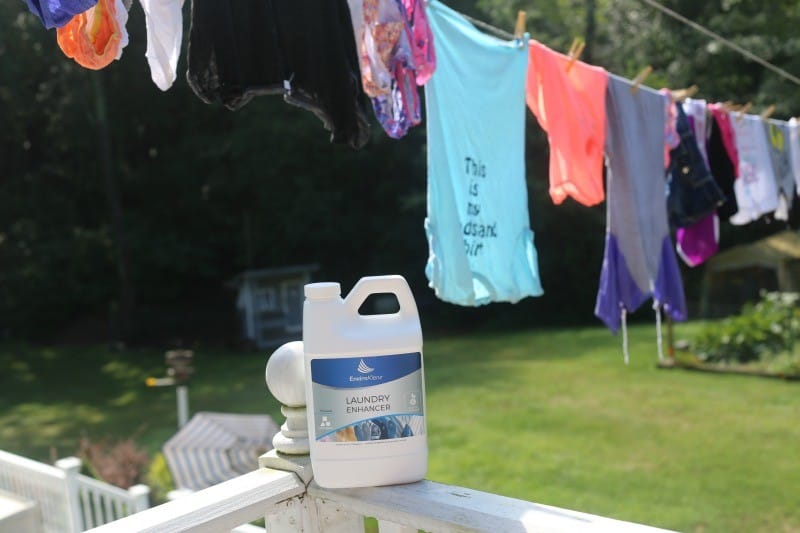 Maybe you just spent a lovely day with your family at Aunt Betty's house, but they have three ferrets and 2 heavy smokers, and your clothes come home and you feel like you've not left. The laundry enhancer added with your detergent will help get those odors out of your clothes, so the stinky clothes won't be a lasting memory of the day.
The laundry enhancer is an odor elimination product that is safe for HE and front load machines and can be added along with your regular detergent.  It's safe for use on all washable products, including my delicates.   Used with the washer set to more agitation, warm water, and an extra rinse at the end, the clothes come out smelling clean again! In goes the fabric with the offending odor or chemical, and out comes fresh, clean deodorized laundry!
Checking the Machine for Small Clothing Items After Each Wash
It's everyone's running joke that washers and dryers eat socks, but with a front load it's a little more true.  With the high speed spin of a front load and fact that you're not at a great angle to see in the drum, it's easy for small articles of clothing to end up out of sight and getting washed repeatedly, especially socks and underwear.  This makes it a little easier to see inside to check for those little items but with 3 kids who have itty bitty socks, those things sometimes still get missed. They often end up in the gasket…and if you don't notice them right away, you're going to notice rather quickly when they start to give off a less than pleasing aroma.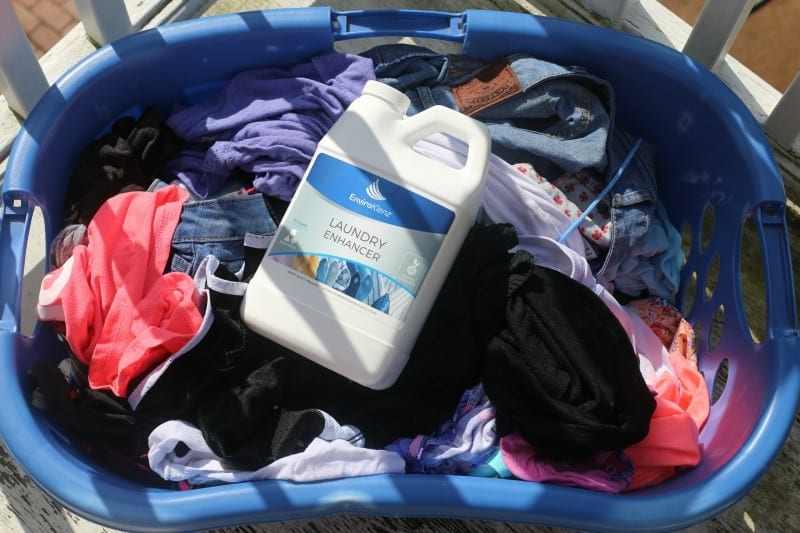 I've also found rocks, Lego figures, lip balms, key fobs (mine- oopsie) and other things. If you're a parent or have a partner who works on projects at home or work, you may also find other fun treasures like screws, nails, nuts and bolts. It's good to check for those frequently. I have a nice little collection of minifigs I decided are now mine after they've been found in the wash. I'll have a village of them….
Periodic Maintenance
Another thing we've noticed is that there are periodic maintenance things that you need to do with a front load that you don't with a top load.  There's a cleaning cycle that you need to run as recommended, along with keeping the filter cleaned out.  Both of these generally should happen once a month or so depending on your machine.  If you typically use cold water washes to keep the costs down, there's also some benefit to running a hot wash every so often.  That hot water helps with the cleaning of the machine that is much deeper than your able to wipe away. We wash towels and sheets in hot water, but everything else is run on a cool cycle.
Use the Right Products
Not all laundry products are safe for front load washing machines.  It's important to check the labels of ALL the products you use whether it's your laundry soap, a pre-wash, a fabric softener, a whitener, a laundry enhancer, a laundry odor eliminator, or any other product that goes in your machine.  Make sure to check your machine for any specific requirements- but generally, a product labeled HE is what you need.  Bad, bad, bad things can happen if you don't follow this rule.  Also check your machine and product information for how to use the product.  Our machine has a spot for the laundry soap and another for fabric softener and such. Products like EnviroKlenz may need to be used during the wash cycle with detergent and not in a separate compartment.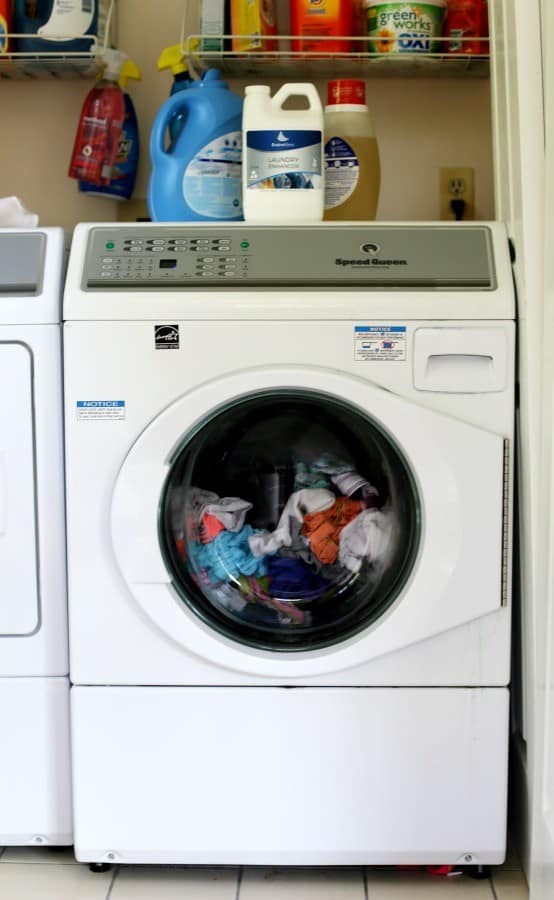 You can save 15% off your purchase over at EnviroKlenz using mamaloves15!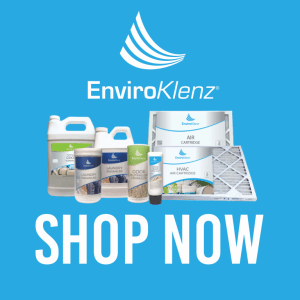 I love our front load washing machine and I won't go back to a top load.  Now that my kids are getting a bit older, they are able to help me with the laundry- especially with a 12 year old who seems to generate 3x the laundry the rest of us do as a whole and I've never been happier about doing laundry.  Now if only I had a dryer that would fold, hang, and put the clothes away!
What are your tips for getting the most out of your front load washing machine? Have you used a laundry enhancer before? 
Two of our readers who leave a relevant laundry comment on this post will win a $50 gift card to use at EnviroKlenz.com – enter on the widget below!