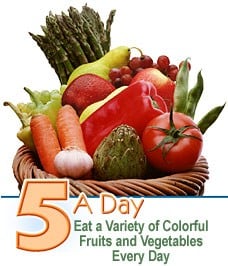 Getting your five-a-day
If you sometimes struggle to eat enough fruit or vegetables throughout the day, then you might be interested in seeing my five-a-day menu plan which guarantees you get all those much needed vitamins into your diet. If you like a good bargain like me, be sure to look out for offers like buy one get one free on fruit and vegetables, because you are sure to get through them very quickly with my meal plan. If you are looking for some cooking inspiration for today's lunch, then why not check out my Shrimp Salad recipe under my Recipes tab?
Many people find it difficult to eat their five-a-day, especially if they aren't a huge fan of salads or they are fussy when it comes down to fruit. If you normally have a quick cereal bar for breakfast, buy a ham sandwich for lunch and order in pizza or Chinese for your friends when they come over to play at cheekybingo.com and watch movies as part of your girly Takeway-Tuesday nights, then this blog post will show you how you can easily add extra fruit and vegetables to your regular diet.
Breakfast – If you normally have a bowl of cereal for breakfast, then why not sprinkle a chopped banana, a chopped apple or a handful of raisins over your cereal? A glass of fruit smoothie also provides one of your five-a-day.
If you have enough time in the morning, you could even make a breakfast pot; simply pour some fruity yoghurt into a bowl and top with a chopped apple and pear, before adding a squeeze of honey and topping with some crunchy granola. This breakfast pot actually provides 2 of your five-a-day.
Lunch – If you used to just have a simple ham and cheese sandwich and a chocolate bar for lunch, why not add a few thick slices of cucumber and tomato into your sandwich? Rather than a chocolate bar, why not enjoy some carrot and celery sticks with some dip?
Dinner – If you can't resist a curry, whether it's a creamy Korma or a tangy Tikka, then why not try making a chicken, sweet potato, spinach and red pepper curry? You could serve it with a small side salad as well as rice to add in another one of your five-a-day.

This is a guest post.