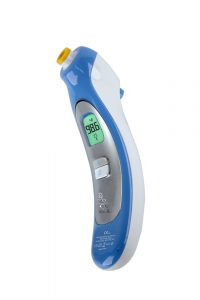 What do ears, baby buggies and the name "Seinfeld" have in common?  Well, that's easy- Vick's has a new Behind Ear Thermometer and in conjunction with it's release they are supporting a charity program- none other than Jessica Seinfeld's Baby Buggy Charity.  You can help support this effort, and it won't take but a moment of your time.
What IS the Behind Ear Thermometer?

Easy, Gentle and PreciseGet a fast, accurate temperature reading, with just a touchThe new Vicks® Behind Ear Thermometer (V980) takes the guesswork out of measuring for fever,restoring confidence to parents and peace of mind in just one second. This first of its kind thermometer letsyou get a quick temperature reading from behind your child's ear, close to the carotid artery, which is theideal external site to measure temperature. This site is ideal because it is naturally protected from draftsand perspiration. Clinically proven accurate, this innovative thermometer is an easy and reliable tool helpingparents know when fever is getting better or worse.

The Vicks Behind Ear Thermometer requires only agentle, 1-second touch – no swiping across the skin is involved. Simply place in the hollow behind yourchild's ear with a gentle touch, press the start button, and release after you hear the 1-second "beep.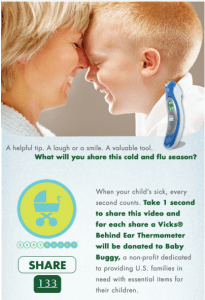 Want to support this endeavour?  It's really quite simple- it takes just a second, and you just need to share this video.  That's it.  One click from you and  you can help support a family in need.  For each "share" of this  video, a Vicks Behind Ear thermometer will be donated to Baby Buggy, helping families in need obtain essential baby products. Pretty cool, right?  Totally something we can all do, so won't you join me and "share" the video?
You can also support this effort with any of the following- feel free to borrow, modify if you like, and share, share share!!
To share via your Facebook account:

Just click this link and press "share." You can add your own message before posting to your Facebook page:http://apps.facebook.com/whatwillyoushare/

Sample tweets:

Take 1 sec to share this video! For each share, a Vicks #BehindEar Thermometer will be donated to a family in need! http://on.fb.me/yPyw3m
Help a family in need! Click here and share this video to donate a Vicks #BehindEar Thermometer: http://on.fb.me/yPyw3m
Today's good deed takes 1 sec. Click: http://on.fb.me/yPyw3m & share the video to donate a Vicks #BehindEar Thermometer to a family in need

I was compensated for my participation by The Motherhood.  Opinions expressed within are my own.
0