Some of these gift ideas for girls  were received in exchange for inclusion in the gift guide.  Others we just love.  Some items were donated to local organizations or national organizations for those less fortunate.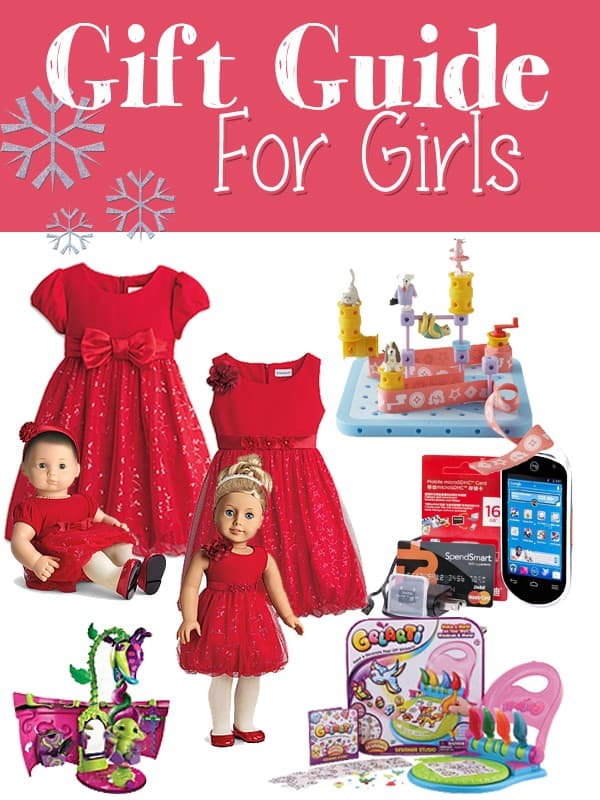 American Girl Clothing:
American Girl dolls are a toy that every little girl wants at one point in her life. Not only are they beautiful, special, and lots of fun, but the fact that your child and their doll can dress the same is pretty darn neat.
This holiday season is the perfect time to let your little girl dress the same as her doll.
With the super cute holiday dresses available from American Girl, there is no reason not to!
Red is the perfect holiday color, and when you pair that with sparkles, you have the perfect dress. Available for big girls and little girls, plus their dolls – this is one dress that you don't want to miss out on.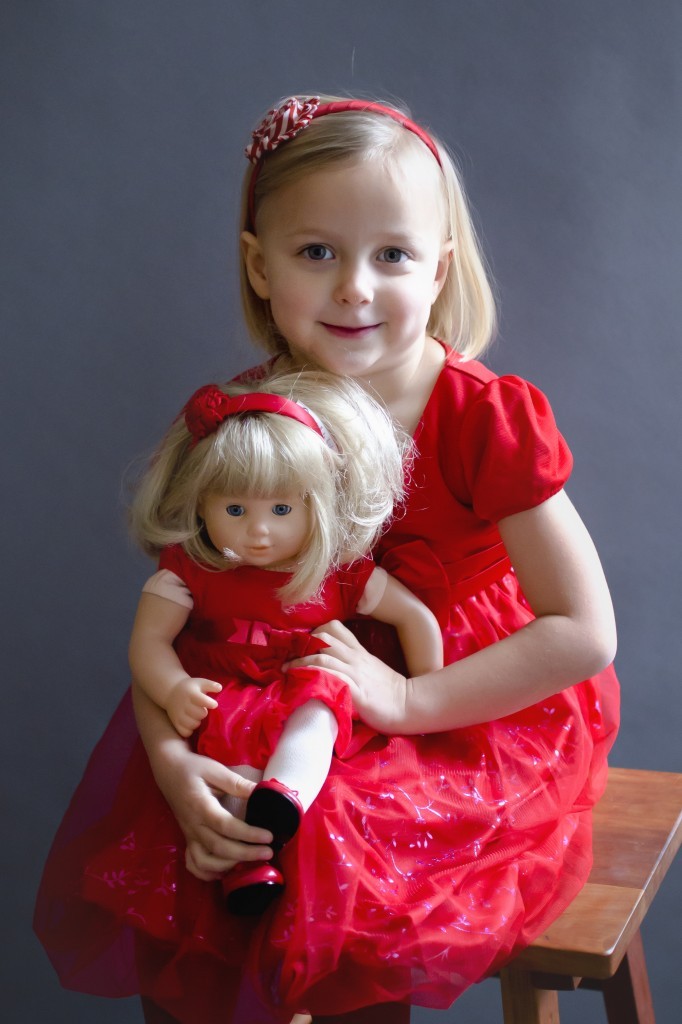 The little girls Twinkle Party Dress features a knit bodice with puff sleeves, an adorable bow, and a sparkly mesh bubble-skirt. Available with a matching satin-covered headband, this outfit is sure to be a favorite. Available in sizes 3 to 7, it matches perfectly with the doll version (that fits the Bitty Baby and Baby Twins).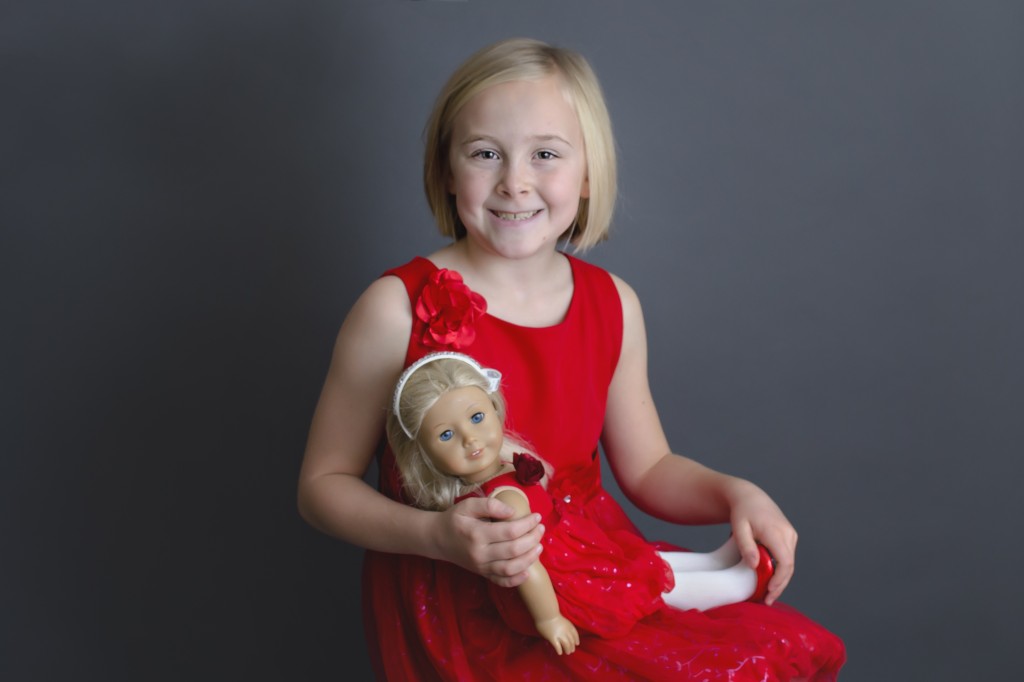 For bigger girls, the Sparkle Party Dress is where it's at. This fancy, sleeveless dress has just the right amount of sparkly in the mesh bubble-skirt, and ties in the back with a satin sash. Finish off the look with a luxurious cream-colored shrug and matching rhinestone-studded satin headband. This fabulous outfit is available in girls sizes 6 to 16, and the matching ensemble is available for the larger American Girl dolls.
 Goldie Blox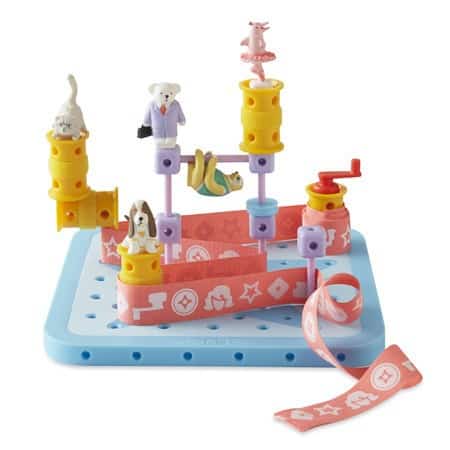 This is one of my favorite things my girls will be getting this year for Christmas.  I've been excited about this company and their products since I heard the first inklings of a toy concept that encourages engineering and spatial thinking…for girls.  I'm not necessarily one to buy into the boy / girl toy thing but I've long said that many "girl" versions of toys that echo the concepts in using GoldieBlox seem to be dumbed down.  Goldie Blox has taken those skills and elevated them on a whole new level.  It's no wonder they are selling like hotcakes.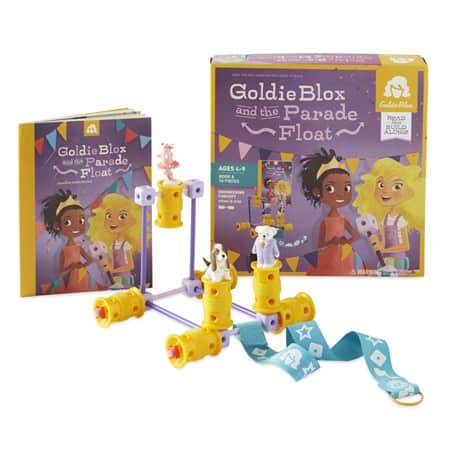 PlayMG Mobile Android Entertainment System Bundle with Charger – 24GB Storage
(We loved this last year too!)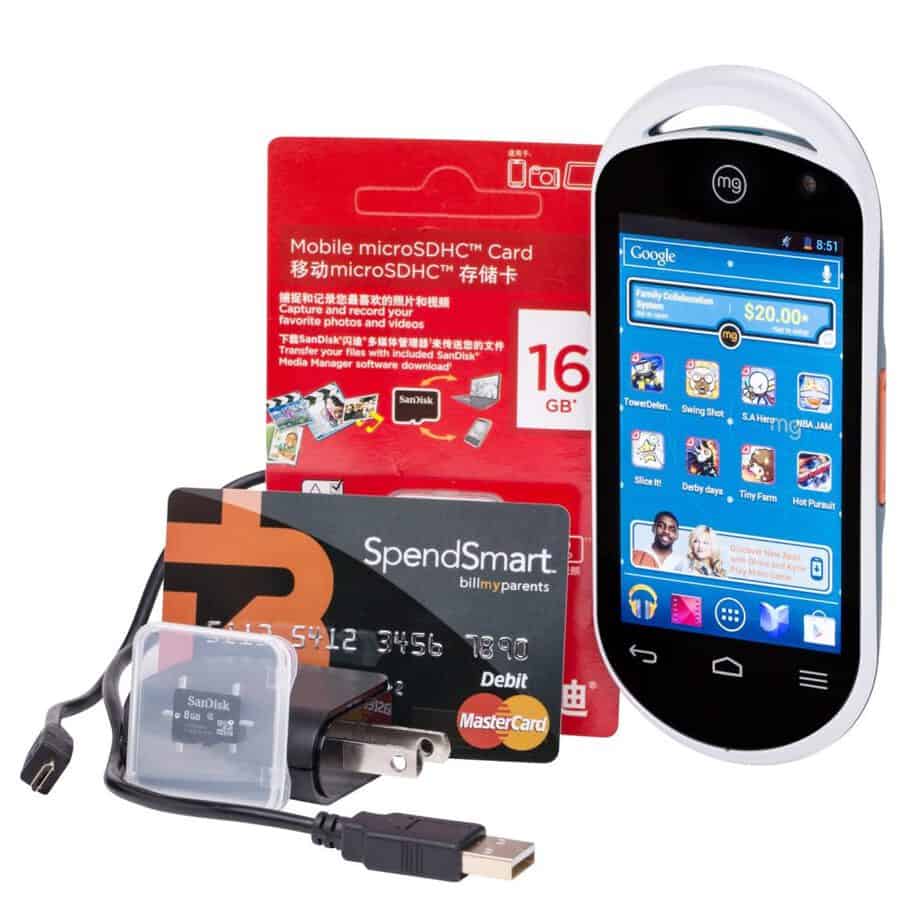 Parents, get your phones and tablets BACK from the kids!  A portable does-everything-but-make-calls smartphone (I guess you could say it's a smart device??)  that fits in a (largish) pocket and comes bundled with all you need to get going!!
And parents, we have control measures!! YES! No More Over Spending Issues With The Prepaid MasterCard®. Included with every PlayMG is an optional dedicated SpendSmartTM Prepaid MasterCard that helps manage app spending. Get $10 free when you sign up and add at least $10. Manage your app spending through a real-time balance on your home screen! 
Not only have Olivia Holt (Disney) and Kyrie Irving (NBA/Cavs) joinedPlayMG as partners/owners,  they are now fully integrated into the product experience with a new app recommendation engine and weekly app recommendations, including a widget on the home screen.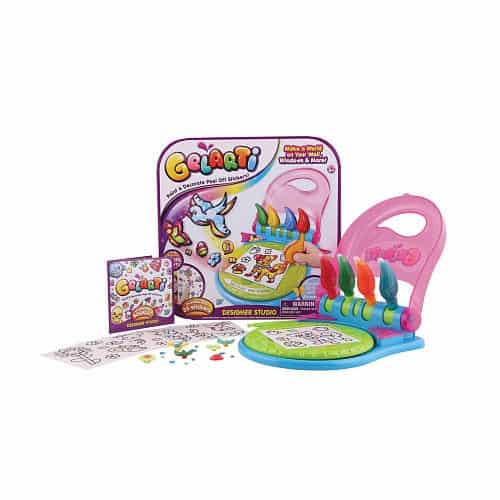 Stickers are lots fun, but let's face it – they can be a bit frustrating. As a little kid, I cannot even tell you how many times I stuck my favorite sticker down on something crooked and ripped it trying to get it back it off.
Plus, most sticker packages offer the same sticker many times, instead of providing a bigger variety. This is great if you like the main sticker, but most of the time I prefer something a little more unique.
Gelarti has a fun solution to these traditional sticker downfalls.
It all starts with creating your own stickers. The Gelarti Designer Studio has everything that you need to create these mini masterpieces.
There are 6 sticker sheets filled with a variety of fun images. Simply pick the sheet with your favorites and place it on the rotating platform. Using the 3 different colored paint pens and the glitter paint, get to work making it pretty and perfect!
Finish off the look of your sticker by swirling the paint with the marbling tool and sticking on one of the fun gems or embellishment pieces that come with the kit.
After letting your unique, created-by-you stickers dry completely, stick it wherever you want.
Yup, you read that right.
Anywhere!
No, I haven't gone crazy – these fabulous stickers are removable and re-stickable! They can be placed wherever your heart desires because it you don't like it, you can simply move it – without having a ripped sticker or sticky residue left behind.
Zelfs Venus Flytrap Spin Salon

Zelfs are a little toy full of big, imaginative fun. Only coming out when the twilight moon is in the sky, they live in a magical secret garden filled with, well, magic.  Each Zelf has a head full of wild hair, and their own special powers.
But let's focus for a moment on that hair! It's wild. It's crazy. It's tons fun. It is almost as tall as the Zelf itself (and oftentimes taller), and can really get out of control. These magical little creatures need someone to help them tame their mane!
Thankfully, Zardenia – their magical garden – has a Salon!
The Venus Flytrap Spin Salon is the perfect place in town to get a hip new style. You can curl, crimp and primp each and every Zelf that comes in and sits in the funky purple and green chair. Feed their hair into the mouth of the fly trap, push the button and let the spinning – ur – styling begin!
The Venus Flytrap Spin Salon, run by the gossipy hairdresser, Tressa, comes with hair extensions, hair accessories, and storage space (the salon folds together to look just like a potted plant!).
Available at Toys R Us and Walmart, this is must have for all homes with Zelfs in them.
Blingles Glimmer Glam Styler: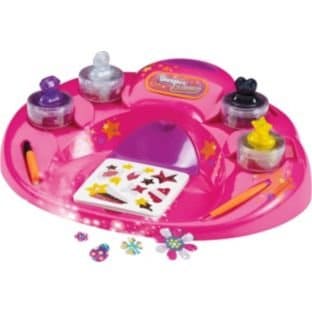 This holiday season, give the sticker lover on your list the Blingles Glitter Glam Style and let them bring on the sparkle!
Girls can create their very own stickers, and use them to customize their favorite accessories, textbook covers, bag, pencil case and so much more. The Blingles stickers are designed to stick to almost any smooth surface making them the perfect way for kids to express their very own sense of style.
Perfect for ages 6 and up, the Blingles Glimmer Glam Styler comes with everything needed to create 60 sparkly, fabulous stickers!
Included in the Blingles Glimmer Glam Styler:
Glimmer Style Studio
Glitter Styler Collection Tray
1 Glimmer pen
1 Glimmer brush
4 different color Glitter tubs
8 Sticker Sheets (Makes 60 Stickers!)
10 Large Gems
Instruction booklet
My Little Pony Rainbow Dash Sling Gym Drawstring Bag Backpack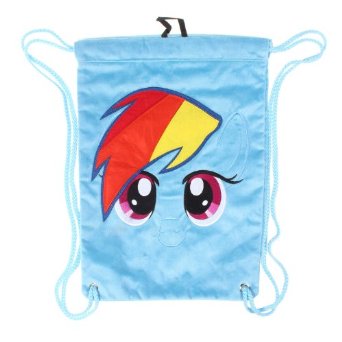 Every little girl needs a backpack of her very own. One that is light enough for her to carry all by herself; and of course it has to be super cute, easy to open and close … with lots of room for her to pack all of her favorite toys.
And it wouldn't hurt if it was fuzzy and soft, too.
Sound like an impossible task? Well, it's not as hard as it may seem! The My Little Pony Rainbow Dash Sling Gym Drawstring Bag Backpack is just what you are looking for.
It covers all the necessities – its cute, lightweight, easy to open and close, big enough to fit all those must-bring-everywhere toys, and yes, it is even fuzzy and super soft. But the real icing on the cake is the adorable face of Rainbow Dash that covers the front of the bag.
This is a must have bag for any My Little Pony fan in your life! Cute and practical, it will quickly become your child's favorite accessory.
Pinkie Pie Storyteller: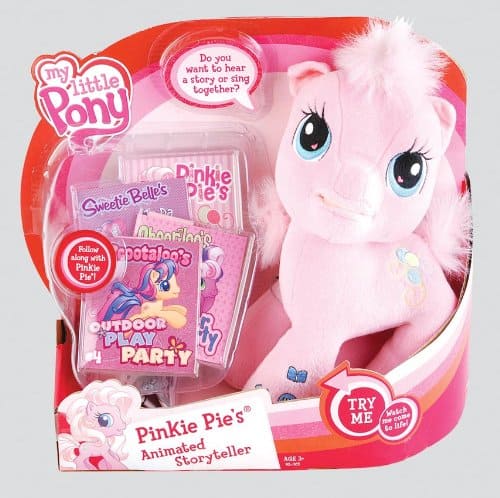 What could be better than snuggling up and hearing a good story?
Cuddling up and hearing that story from a talking My Little Pony of course!
The My Little Pony Pinkie Pie Storyteller Plush Horse is sure to be any little girls best friend. Soft, cuddly and super cute, Pinkie Pie will enjoy hours of play and story time with your child.
The story controls are soft and easy to activate, insuring that even little kids will be able to work Pinkie Pie's magic on their own. Your little one will be thrilled to see that Pinkie Pie's mouth actually moves in sync with the stories she tells and the songs she sings, making her seem that much more alive and special.
Pinkie Pie comes with 4 full color storybooks, and she knows them all by heart. Anytime a toy can invoke a love of reading, it is quickly marked a winner for me. Recommended for kids ages 36 months and up, any My Little Pony fan will be thrilled to have Pinkie Pie as a friend.
Hello Kitty Dance Doll: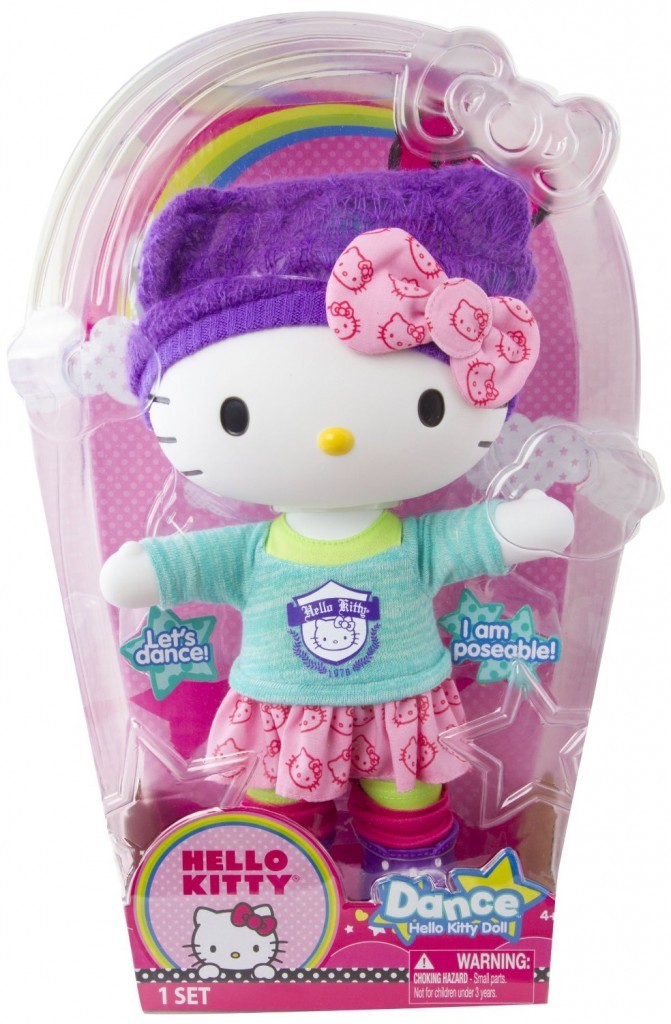 Calling all Hello Kitty fans! For the first time ever, Hello Kitty is being offered as a large posable doll!
Now that Hello Kitty can sit, stand, turn her head and strike a pose, fans everywhere are going to have a new best friend for hours of play. Plus, the new Hello Kitty dolls feature removable clothes, offering tons of fashion possibilities!
Available in 4 different dress-up themes, these dolls are perfect for girls ages 4 and up.
The Hello Kitty Dance Doll is 13-inches of pure dancing fun! Perfect for any little girl that loves to dance, this super cute doll will be ready to practice with her all day long. Hello Kitty comes dressed to impress in an adorable removable outfit; a pink and teal dress, purple "knit" hat,  legwarmers, socks, and shoes.
Minnie Mouse BoomBox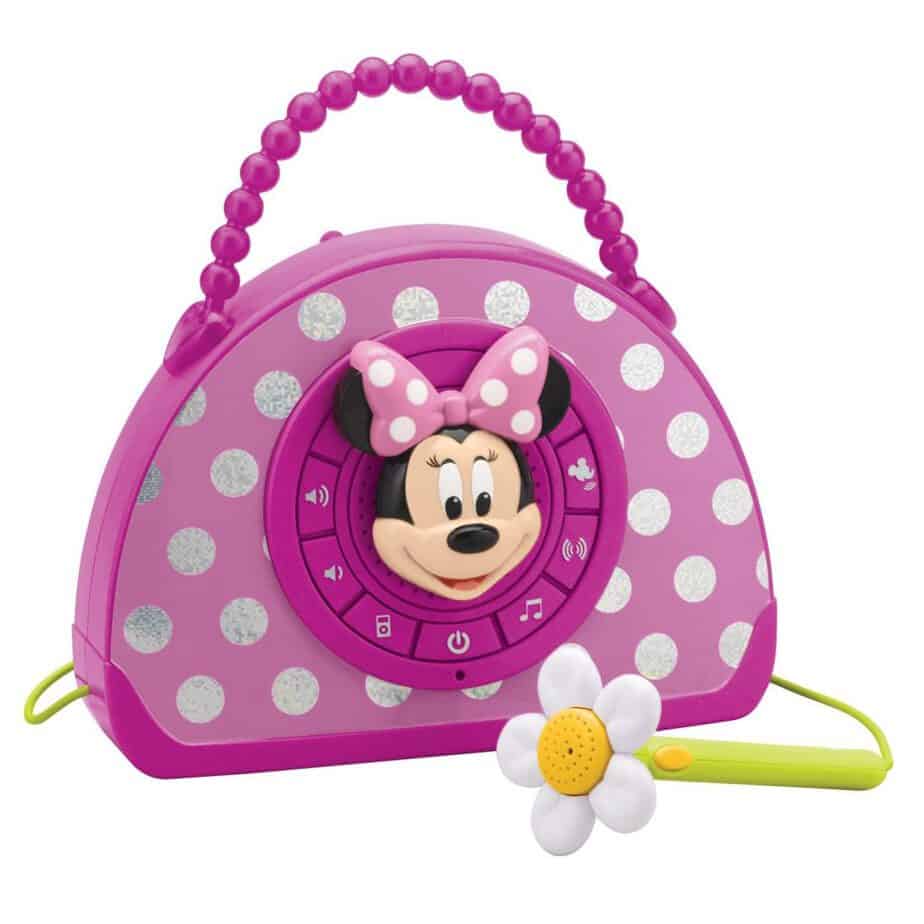 Pretty, pink, and super fabulous, the Minnie Mouse Sing & Stroll MP3 Boombox Purse lets your little music lover rock out in style.
Weighing in at only 1.6lbs, this mobile music station lets even the smallest of Minnie Mouse fans bring their favorite tuns with them wherever they go.
Whether you choose to sing along to the built-in Minnie songs, or plug in your very own MP3 player, this stylish "purse" will not disappoint. There is even a handy compartment on the back that can be used to hold your MP3 player, or another small item.
Special voice effect let your superstar sound just like Minnie, and there is even the ability to add an echo to their voice. And ever performer needs a standing ovation – the applause effect gives the perfect amount of encouragement for the next song!
And don't worry about where to find a microphone – the Minnie Mouse Boombox Purse comes with a real working daisy-style one attached!
FURREAL FRIENDS DAISY PLAYS WITH ME KITTY Pet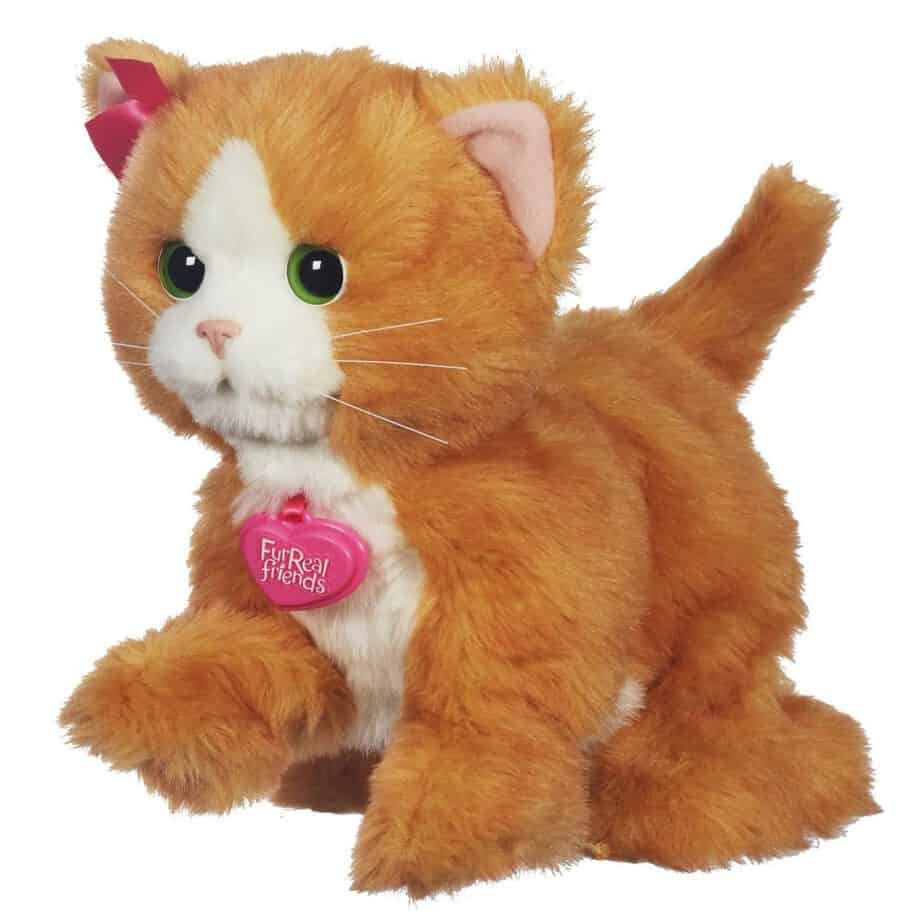 The FURREAL FRIENDS DAISY PLAYS WITH ME KITTY pet is an adorable orange tabby cat that is full of energy and eager for playtime! Show DAISY PLAYS WITH ME KITTY pet her toy and this frisky kitty will bat at it, swatting her paws in the air like a real cat. DAISY PLAYS WITH ME KITTY pet can rise up on her back legs and bat her paws, lower onto all fours and knead her front paws.  She even pounces forward, mewing and purring as she plays. A day full of fun makes for one tired kitten. When it's time to wind down DAISY PLAYS WITH ME KITTY pet loves to cuddle; stroke her back and this kitty will gently purr and knead her paws as she relaxes. Includes four "AA" demo batteries. Four "AA" replacement batteries required. Available at most major toy retailers nationwide and on HasbroToyShop.com.
PRINCESS TWILIGHT SPARKLE Pony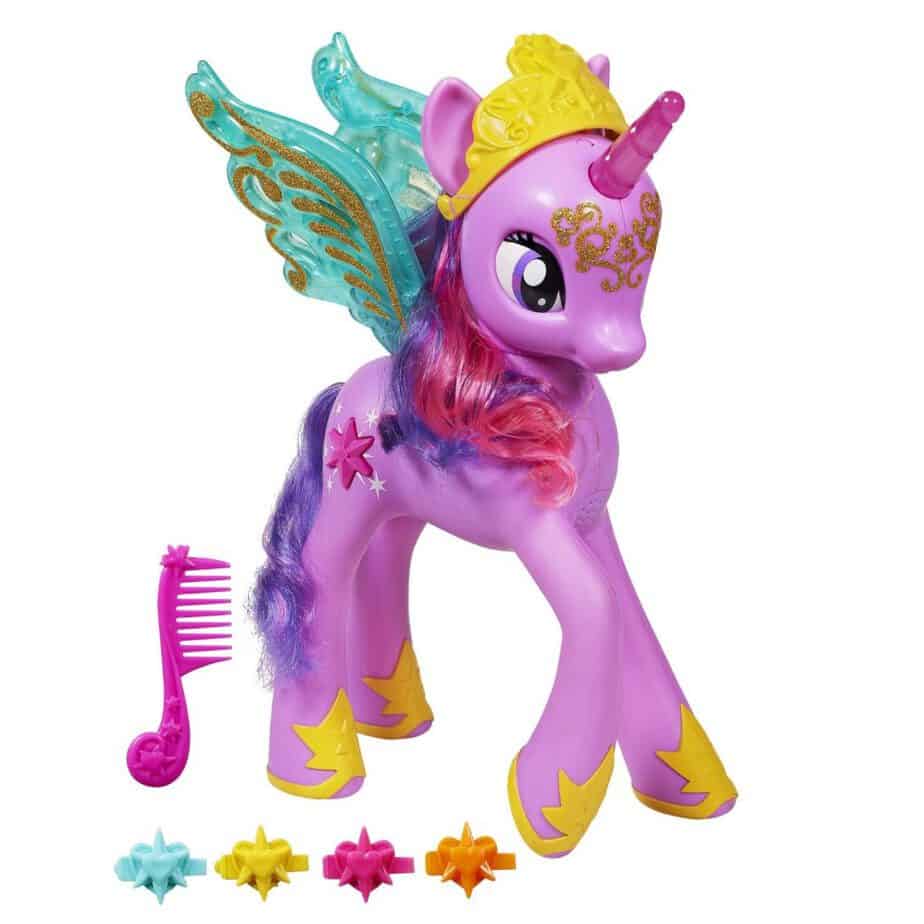 In the land of EQUESTRIA, studious TWILIGHT SPARKLE represents the element of magic. Now, the magic is in your hands with the PRINCESS TWILIGHT SPARKLE figure, a moving, talking pony that comes to life! The PRINCESS TWILIGHT SPARKLE pony is the most interactive MY LITTLE PONY friend to date.  This magical pony will respond to touch and motion; simply touch her cutie mark and she will move her head and blink her eyes as she awakens. Brush her mane and the PRINCESS TWILIGHT SPARKLE pony will hum songs and speak whimsical phrases as she's being pampered. Her iridescent turquoise wings and unicorn horn illuminate with a touch, creating enchanting patterns of light. Push her along and watch as PRINCESS TWILIGHT SPARKLE pony's wings flutter as if she was getting ready to take flight! Includes four "AA" demo batteries. Four "AA" replacement batteries required. Available at most major toy retailers nationwide and on HasbroToyShop.com.
What's on your list of gift ideas for girls? Be sure to check out our gift ideas for boys too!