I heard the absolute strangest thing the other day.  "We have too many Girl Scout cookies left."
Um, say what now?  There's 2 things I can't wrap my head around there, my friends.  First: that whole "too many" in relation to Girl Scout cookies. Secondly: "left" as in leftover?  As in, not all consumed?
After I picked my jaw up off the floor, I asked around.  To my amazement, there were others who had "too many" cookies and weren't sure what to do with them all.
So I decided maybe I could help with that.  I mean, aside from eating the cookies FOR you.
I am on a "pie" kick lately, for meals and sweets, so of course…I made a pie.
I call it Girl Scout Cookie Ice Cream Pie.
What you need:
1 sleeve of Girl Scout cookies (if you have one of the varieties that doesn't come in 2 neat sleeves, use 1/2 the box) CRUSHED up.  (I know, I know, it seems totally tragic to just crush perfectly good cookies.  But bear with me).
2 TBSP melted butter (unsalted)
2 cups ice cream (have fun with this, friends.  it's your tastebuds about to embark on a cookie journey)
1 tub Cool Whip frosting  (you can use really ANY kind of frosting, but I find that my buttercream doesn't want to stick to the ice cream and regular store bought frostings don't seem to either. The Cool Whip frosting seems to be a happy medium that likes to be on top of ice cream)
Spare cookies, to sprinkle up top for decoration.  And more cookie goodness.
What you do:
Crush the cookies.  You are only using half the package so if you need to console yourself, well, nibble a few of the surviving cookies.  Just save a few for the end)
Place crushed cookies into a pie dish.  Add in the 2 TBSP melted butter. Mix to kind of coat those cookie crumbles and press with the back of a spoon or fork into the pie dish.  At this point, I like to pop the crust into the freezer for half an hour.  Just for fun. (And it helps set the cookies for a crust).
Next, pull out the prepared crust and your chosen flavor ice cream. You'll want it to be a little soft so you can work it onto the crust.  Spread it kind of evenly.
Now cover the ice cream with the frosting.
Sprinkle some crushed cookies on top for decoration and ….
Stick in in the freezer.  I know, I'm sorry. I bet you were thinking I'd say ENJOY!! But you should let it set up a bit so that it holds that pie-licious shape when you cut into it in about an hour or so.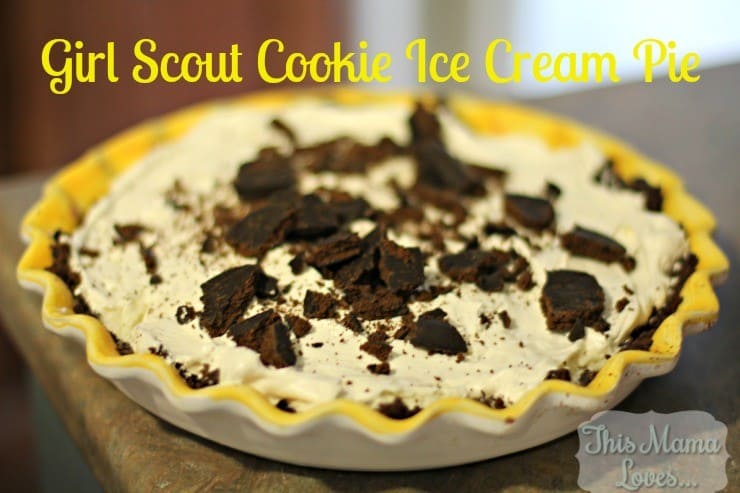 I want to know, what kind of cookies you'll use for the crust when you make this pie?  I did Thin Mints this time.  The family wants Samoas next time!!