This quick and easy meal idea is brought to you by our friends at General Mills. With back to school here and activities starting up, life is hectic for everyone, it seems. Hectic for us here at the Martin household, moreso than ever before. I've been doing a lot of meal prep and cooking dinner at 1pm on a regular basis. With activities going after school until 5:30 or 6, I can't prep dinner when we get home- it's simply too late. But I still want a balanced meal for my family. One of my go-to meals is pizza, as it is for many.

With pizza, it's hard to go wrong. You can top a pizza crust with just about anything you want- whatever sounds good. So…if we have leftover chicken, taco meat, or maybe some pepperoni or ham in the fridge, we make it work with what's there. Pizza is almost always cooked and ready to serve in under 30 minutes (which is awesome) and that's why we almost always have a pizza crust or 2 in the fridge. We usually have a Pillsbury Pizza Crust in the fridge because it's easy to work with AND all 5 of us like it.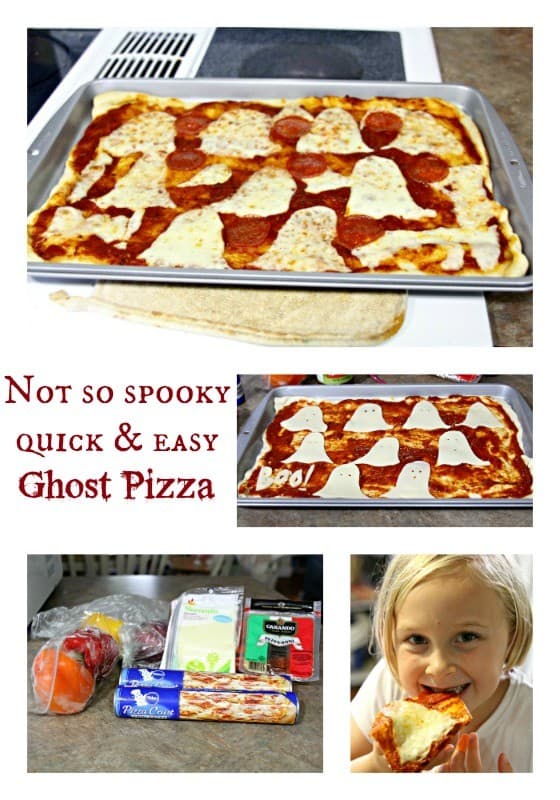 It's a little early for normal people to be thinking about fun and festive (but quick and easy) meals for Halloween, but we're not normal, we're a blogging family! So naturally, in the middle of September we decided to make Ghost Pizza with our Pillsbury Pizza crust. It took less than 5 minutes extra to make the fun shapes for the cheese and the kids were so happy to eat their dinner- it was 5 minutes well spent!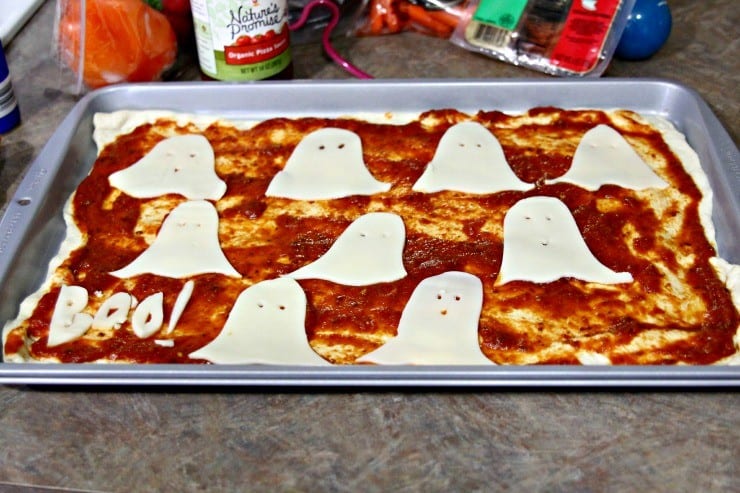 Quick and Easy Meal Idea: Ghost Pizza
Author:
Prep time:
Cook time:
Total time:
Fun and festive twist on traditional pizza
Ingredients
1 Pillsbury Pizza Crust
1 jar Pizza Sauce
8 slices Mozzerella Cheese
Ghost Cookie Cutter
Instructions
Preheat oven to 400
Spread crust onto an ungreased cookie sheet (or pizza stone)
** For a crispier crust, bake crust 6-7 minutes**
Spread sauce on crust
Using cookie cutter, cut each slice cheese into ghost shape
Place cheese ghosts on pizza in any pattern you'd like.
You can use olives for eyes, or small pepperoni for eyes as well.
If you want, use leftover pieces of cheese to write Boo!
(We always make 2 of these pizzas so pizza #2 got all of the cheese "scraps")
Bake 8-10 minutes with toppings on
What are YOUR quick and easy meal ideas?

Pizza crust that's deliciously easy! Unroll, bake and enjoy in minutes. Pillsbury pizza crust, it's the perfect canvas for your favorite toppings.
Disclosure: Compensation was provided by General Mills via Glam Media. The opinions expressed herein are those of the author and are not indicative of the opinions or positions of General Mills.