Today's featured recipe for Granola Bars made with Honey Bunches of Oats with Greek Yogurt is brought to you by our friends at Honey Bunches of Oats.  We've been doing a lot of granola bars lately and I decided to take a recipe a friend shared with me and change it up to include this cereal.  The result?  An empty plate and a lot of "mom can you make these tomorrow please?" from the kids.  I call that a win!  Of course, we do like to just enjoy this cereal in the traditional sense, with a bowl, milk and spoon, but it's fun to create new recipes and I thought I'd share this one.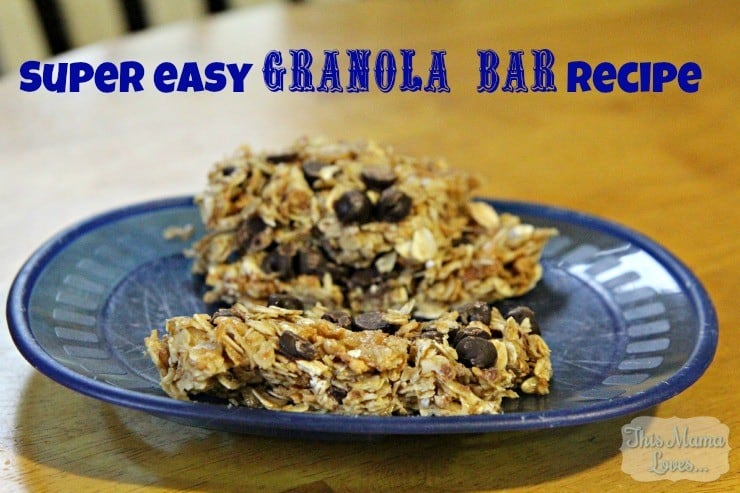 Ingredients:
4T butter
1/4 c honey (we use local honey- good for allergies, and far better for you than most of what you can get at the grocery!)
1/4 c packed brown sugar
2 c quick oats
1 c Honey Bunches of Oats Greek Honey Crunch (you can also use a rice cereal as well- just do a crispy cereal!)
1/2 tsp vanilla extract
1/4 c mini chocolate chips (I use the regular chips- because that's what I usually have in the house)
Directions:
I use a small jelly roll pan- around 9×13 or 9×11 works.  The original instructions I found were to spray the pan with cooking spray- I just used parchment paper.
Mix oats and cereal together in a large mixing bowl, set aside.  In small sauce pan, bring the butter, honey and brown sugar to a good simmer (little bubbles) and cook for 2 minutes.  Remove from heat and add vanilla.  Pour over cereal mix and stir to coat (my 7 year old loved to help with this part).  Once all of the cereal is coated, place the mixture atop the parchment in the pan.
Here's the important part: press the mixture very very firmly into place.  I have a smaller-sized Pampered Chef roller I am going to use next time (mine still weren't "tight" enough to stay together superbly) to really get the mixture packed down.  Once you have the mixture in place, sprinkle chocolate chips on top, and set aside to cool for about 2 hours.
Be warned that your house will smell really, really good and you'll be wanting to break into the granola bars before they are ready.  Plan ahead.  Use a wooden spoon to stir with and you can just lick the spoon while waiting on the bars to cool!  YUMMY!
These bars are so simple, and take about 20 minutes of time.  How's that for an easy granola bar recipe? Store for a few days in an airtight container.  If you do have a batch that's super crumbly, I'd suggest using it as an ice cream topping or just a snack mix.  It's just delicious! (If you want to find the original recipe that inspired this one please visit Mel's Kitchen Cafe for her Chewy Granola Bar recipe.  Hers also look much prettier!)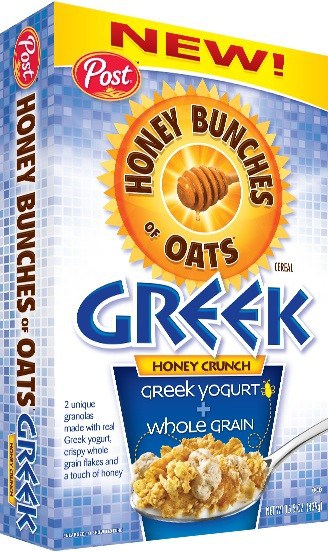 New Honey Bunches of Oats Greek is made with two granolas, Greek yogurt, crispy whole grain flakes and a touch of honey. One bowl of this cereal provides over two-thirds of your day's Whole Grains with 33 grams of whole grains!  Nutritionists recommend at least 48 grams of whole grains per day.
Nutritional Information:
33g of Whole Grain per serving – over 2/3 your day's whole grain
Serving Size: 1 Cup
230 Calories
Provides 12 essential vitamins and minerals
5g protein per serving
 
This cereal was enjoyed by all 5 of us.  My family is big on "crunch" so we were all very happy with that.  The kids love having a new cereal to try for breakfast, although they've all been very clear that the granola bars I made are a lot more fun than plain old cereal.
Stay up to date with Honey Bunches of Oats on Facebook and @HBOats!
What do you do to make breakfast fun and different?  
Disclaimer: I am part of the Mom It Forward blogger network. Mom It Forward and Honey Bunches of Oats partnered in support of this campaign. Honey Bunches of Oats compensated me for participation in this campaign. However, all thoughts and opinions are my own.
0