Mr. and Mrs. Potato Head have been living happily ever mash-er for 60 years! Can you believe it?  I wish I had one of the original Mr. Potato Head toys.  I love them- my kids love them.  Such a fun, versatile toy.  And look at the adorable  MR. & MRS. POTATO HEAD 60th Anniversary MASHLY IN LOVE Set from Playskool!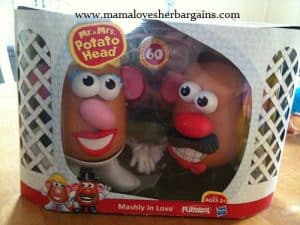 Seriously, is this not the cutest set?  If only it had been around last year before my nephew got married.  How cute for a flower girl gift!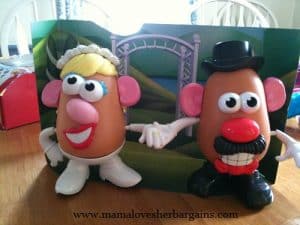 I love it.  It's Mr. and Mrs. Potato Head as we all know and love, but they are dressed to the nines and are holding hands!!  Super cute.  Super fun.  My kids think the potato head toys are hilarious for the tushy storage- hard to blame them, especially with the Toy Story movies featuring them…but oh, do they love stuffing the tushes!
Wow! Years ago, these sweet spuds knew they were a perfect mash for each other and decided to share their lives together. It's time to celebrate 60 spudtacular years! How time fries when you're having fun! Today they're still two spuds in love and want you to join them in their mix and match celebration!

Double your famous potato fun with the MASHLY IN LOVE set! Get 2 spuds and all the funny parts you need to make the perfect potato couple, MR. & MRS. POTATO HEAD! Put MR. POTATO HEAD and MRS. POTATO HEAD together with their funny features and pants. You can have a wedding with MR. POTATO HEAD figure in his top hat and your MRS. POTATO HEAD figure in her headband. Then mix up their parts so you can't tell which is which! Store their parts in each potato figure's TATER TUSH™ compartment. With these two lovestruck spuds, the potato-and-parts fun never ends!

MR. POTATO HEAD body comes with arm with wedding band, 2 ears, mouth, pants with feet, top hat, eyes, nose, mustache and bow tie. MRS. POTATO HEAD body comes with 1 pair of arms holding hands, headband, lips with teeth, arm, nose, eyes, hair, 2 ears and pants with feet.

Ages 2 and up.
You, too can live happily ever after with Mr. and Mrs. Potato Head for about $14.99 at most retailers.
I received a sample of this product to facilitate my review.  Opinions are my own.