This post brought to you by LEGO. All opinions are 100% mine.
If you know my family at all, you know we LOVE LEGO bricks, sets, Minifigures, games, apparel….all of it.  We have a LEGO Advent calendar every year. Sometimes more than one.  My son eats sleeps and breathes LEGOs.  LEGO just makes so much possible.  You can build anything with LEGO – even your own family! ! This holiday season, LEGO has created an online experience called "Minifigure Family", which enables you to create your own custom LEGO Minifigure free greeting card. Making these cards is easy, fun, and best of all? FREE!!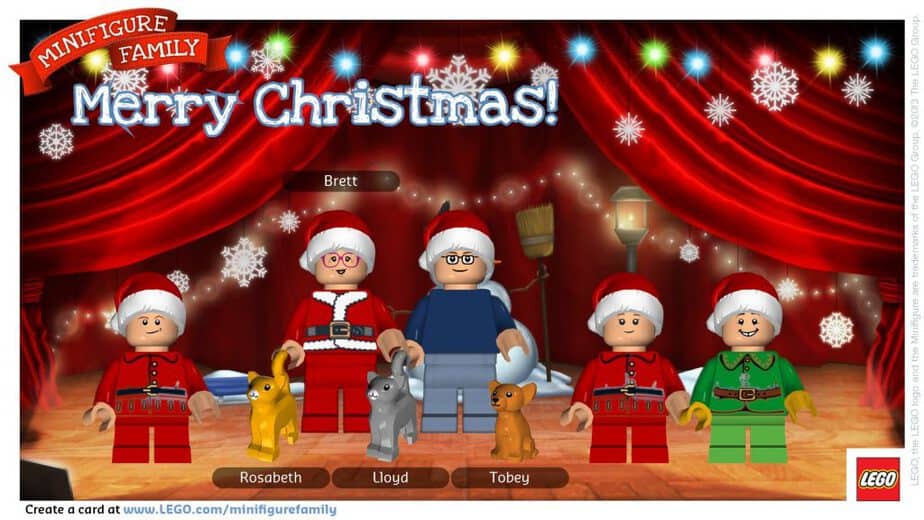 Each member of your Minifig' family can be customized to match skin tone, facial expressions, outfits and more.  The adult Minifigs have a lot more options than kids or pets, but you can still have a lot of fun customizing your Minifig.  We did a full holiday theme, except for my husband, because I'm pretty sure even in the land of Minifigures, he'd not actually wear a holiday piece of clothing.  So he's in his blue and grey.
The Minifigure Holiday Cards are TONS of fun.  My kids have actually created 5 of them, and I will wager a guess they'll probably create at least that many more.  They are fun, cute, and let kids be creative and send a fun holiday wish customized with their choice of Minifigures, Scene and greeting too!  Once you've got your family Minifig-ed, you can share the holiday card with your friends and family via your social channels. Or, if you are my kids, you can wait patiently for Mommy to share with her email account.
Head over and make a LEGO Minifigure Family for your own family (or friends…or both!) Please do leave the link — I want to see what YOUR LEGO Minifig family looks like too!!